Rail's COVID-19 Heroes – Metro Trains Melbourne
As the COVID-19 pandemic continues to drastically impact the rail industry, it can be difficult to see a light at the end of the tunnel. In spite of this, employees continue to dedicate themselves to ensuring the safe movement of passengers and the continued operation of train services. In the first instalment of a new series by Global Railway Review, Metro Trains Melbourne draws attention to some of its brave and hardworking COVID-19 heroes.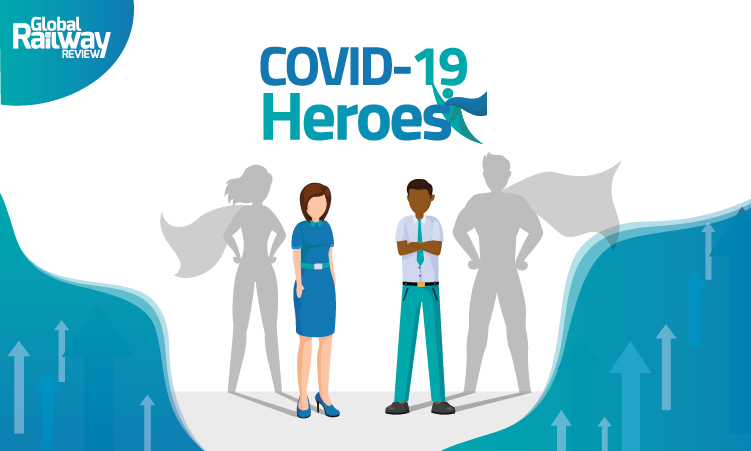 Like many businesses and rail operators across the globe, Metro Trains Melbourne (Metro) continues to manage the ongoing and unprecedented impacts of COVID-19.
Despite months of restrictions impacting the city's way of life, the rail operator has continued to deliver services to a full timetable, ensuring that people who need to make essential journeys can get where they need to go safely and reliably.
An enhanced cleaning programme is being delivered network-wide, with trains and stations undergoing daily sanitation. The focus is on common touchpoints and parts of the network that passengers interact with the most.
With around 2,200 services running on a typical weekday, Metro continues to move people who rely on public transport to get to their workplaces – including health and care workers, police and emergency services and those in the city's retail sector.
As Melbourne adjusted to tough social distancing restrictions, the men and women of Metro's 6,200-strong workforce united to deliver an essential service for those who depend on it.
From railway station platforms to maintenance depots, there have been many people going above and beyond the call of duty to keep Melbourne moving.
Today, we celebrate the efforts of a handful of some of Metro's heroes of COVID-19.
Peter Holden – Flinders Street Station's Leading Station Assistant
A familiar and reassuring sight for passengers, Peter is out on the platforms of Melbourne's iconic Flinders Street Station every day – making announcements, providing safety advice and keeping people informed on their journey.
As Melburnians managed tough coronavirus restrictions, Peter and his station colleagues continued to work hard for the passengers who depend on Metro for essential travel.
"In the early morning, from about 04:30 to 07:00, there were still quite a lot of people on the trains, particularly from the construction industry," explained Peter. "During the middle of the day, there were noticeably fewer casual passengers. It was a little bit eerie, and the iconic sounds of Melbourne were certainly missing."
Even though Melbourne lost some of its traditional charm at the height of the COVID-19 restrictions, Peter did his part to keep the city moving.
Michelle Mark – Rolling Stock Project Coordinator
Michelle is on the frontline of Metro's efforts to keep trains safe and clean for passengers and employees during the COVID-19 pandemic.
For more than two months, Metro has been delivering an enhanced train cleaning programme in response to the pandemic.
The programme includes a requirement for all touch surfaces on trains to be wiped down and carriages and drivers' cabins sanitised.
With around 200 trains on the Melbourne rail network during a typical peak period, it is an enormous undertaking, and it is done with safety as a priority.
Michelle said: "We are ensuring that anyone who uses our trains – whether it's someone getting to work, or families travelling to supermarkets and medical appointments – can do so with confidence."
She says an army of volunteers has ensured that Metro's rolling stock team can complete all of the required compliance checks to keep trains moving for those who depend on them.
"Each night, compliance checks are carried out on all our trains before they can be returned to service. We haven't stopped, and we'll keep working hard to ensure that our people and passengers can continue to travel with us safely," she added.
Jake Smethurst – Passenger Communications Expert
Jake is from Metro's centralised control centre and sits at the heart of Melbourne's rail operations.
As a communications officer, Jake is responsible for keeping passengers updated on their journey with Metro.
He provides critical, up-to-the-minute disruption updates and other information to support a safer, more reliable journey for passengers.
During a challenging few months of coronavirus restrictions, Jake and the team have kept passengers informed of any incidents impacting the network – ensuring people in essential roles can continue travelling.
Jake said: "We manage literally hundreds of incidents on the network every day – so it's very important that we provide real-time updates for our passengers. The work of our communications team during COVID-19 has made sure that those who depend on train travel – such as health workers and others in essential roles – stay informed of any changes to the network."
He added: "More than ever before, we need to keep our city moving."
If you would like to contribute to Global Railway Review's COVID-19 Heroes Series and highlight the efforts of your workforce, please email: Leah Hockley, Junior Editor of Global Railway Review.