Reimagining the future of Mumbai's mobility post-COVID-19
With Mumbai's suburban rail network expecting to see a sharp fall in ridership post-COVID-19, will locals choose to commute around the city by walking and cycling instead? Srishti Gupta from the Mumbai Division of Indian Railways' Central Railway, and Vignesh Prasanna, Co-Founder of The Bridge Project, explore further.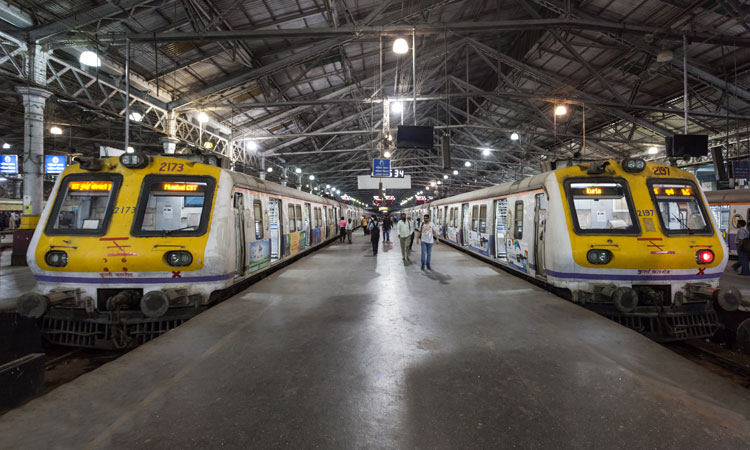 The post-COVID-19 world is the proverbial Schrodinger's cat at the moment. No one is sure how much of the world around us will change and how much of it will remain the same. In terms of mobility, this problem appears dire. Mumbai's lifeline – the suburban rail network – which used to transport over 7.5 million people on a daily basis, is expected to see a fall in ridership. According to a recent survey, 61 per cent of the respondents said they will avoid taking a local journey for the next three months. The BEST buses which carried over 3.5 million people daily in pre-COVID-19 times may also see user attrition in the coming months.
Over the last two decades, Mumbai has seen a whopping 200 per cent rise in private vehicles. As a result, vehicles spent about 65 per cent of their time stuck in congestion. Road safety statistics are also alarming with more than 400 road fatalities reported in 2018 alone. With COVID-19 instilled fear, many studies expect a fierce individualisation of transportation. This is bound to considerably worsen commuter woes and may entail serious environmental and safety related externalities. As the transport systems emerge from COVID-19 induced shutdown and adapt to the changing conditions, now would be an opportune time to consider transformative mobility solutions for Mumbai.
Walking
In urban transport, walking is widely acknowledged as a 'mode' and for its well-documented environmental, health, economic and social benefits. Over 50 per cent of Mumbai's residents walk to work and account for 50 per cent of fatalities on the city's roads. Approximately 60 per cent walk to access public transport. However, building flyovers and widening roads in a bid to accommodate more cars continue to attract disproportionate attention in both the policy arena and public imagination. Over the last decade, more than INR 20,000 crores has been invested in flyovers, elevated roads and sea-links whereas only 100Cr. has been allocated for pedestrian infrastructure resulting in an extremely deficient pedestrian infrastructure across the city.
This infrastructural deficit also contributes to what is termed as 'uncongested mobility' in a World Bank study. It refers to the hindrances to the traffic flow caused by pedestrians, stray dogs and cattle occupying road space (up to 3.0m) resulting in 'jams' due to constricted road width and high traffic volume. Pedestrians are not just the cause of traffic 'jams' but also ironically contribute to endangering their own lives by using the roads to walk. At various points, civic authorities have tried to barricade the pedestrian way and build skywalks and subways but they are woefully underutilised and in many cases abandoned. People tend to follow the path of the least inconvenience. Making them climb up and down is seen as a 'time waste' when all that needs to be done is stop the movement of vehicles by showing one's palm and cross the road.
There is thus a need to provide scientific and user-friendly pedestrian infrastructure that can contribute significantly to 'walkability'. Further, evidence from across the world confirms that enhancing ease of walkability in a city contributes to improved safety on roads. Surveys indicate that America's top five cities for 'walk commuting' were also in the top 10 in commuter safety. Lack of adequate facilities has a disproportionately high adverse impact on women, elderly, differently abled and those with serious medical conditions. Constructively designed walking environments can decisively help in reducing isolation and social exclusion in cities. The city planners could follow global cities in this regard which have focused on higher pedestrianisation to reap its wide-ranging benefits.
An 2014 report has classified lanes according to the traffic that it carries to generate actionable insghts. To start with, 'minor collector roads' that collect traffic from street lanes can be identified and made pedestrian only. Buses also ply on these narrow roads (40ft-60ft in width) making it hazardous for pedestrians. Categorising such roads as pedestrian only and restricting vehicles can be a good way to get more people in and improve road safety.  Furthermore, pedestrian facilities must also be ramped up in areas with low private vehicle ownership. Such areas would already have a sizable population of pedestrians and all that is needed is to provide facilities such as streetlights, covered manholes and sewer lines and increased security patrolling that make their experience a safe and comfortable one. Area wise analysis and pilots can be conducted to enable pedestrian-centric planning and better implementation.
Cycling
Another option that merits serious consideration is cycling. In the aftermath of the 1973 oil crisis and as a response to growing road fatalities involving children, The Netherlands began a long-term policy shift away from car-based mobility and today about 28 per cent of all trips made are by cycling. Such shifts in the developed world have established cycling as a sustainable mode of urban transportation with positive externalities such as health improvements, congestion reduction, lessening of air pollution and greenhouse gas (GHG) emissions, and minimising energy use. This trend gained further momentum as many cities across the world turned to cycling during the COVID-19 lockdown, reaffirming what the Olympian cyclist Chris Broadman famously remarked – "Pick a crisis, and you'll probably find cycling is a solution."
As other modes of transport were forced shut by the pandemic, many governments across the world facilitated funds and infrastructure for cycling. It was reported that in March 2020, use of bike-sharing systems increased by roughly 150 per cent in Beijing and 67 per cent% in New York. Many cities including Sydney, Vancuover, Berlin, Budapest, Mexico City, New York, Dublin and Bogotá earmarked space for cycle lanes with Brussels earmarking the whole city as a priority zone for cyclists and pedestrians.
A common misconception on cycling is that it is not suitable for Indian weather conditions. Here, it is pertinent to recall that MoUD in a 2014 report rightly argued that the high use of motorbikes in India suggests that a large number of people already ride in the open. Incidentally, the share of two wheelers in daily trips of Mumbai has increased from  3.8 per cent  to 14.8 per cent between 2005 and 2014. This is a strong cue for Mumbai to eschew traditional objections to cycling and facilitate its adoption by enabling policies and infrastructure. Cycling could be promoted as a sustainable 'last mile' connectivity option for urban commuters accessing public transport. Our survey indicates that more than 50 per cent of suburban rail users travel up to 5km from stations to reach their workplace/residence. Promoting cycling for such journeys may have far-reaching benefits. Improved solutions like E-bikes and scooters have expanded available choices. However, experience of other countries points to the need for an enabling policy architecture for supporting the emerging bike-sharing ecosystem and sustained and imaginative interventions for nudging radical behavioral shifts.
However, cycling may not be a suitable option for all sections of population. While Europe is indeed rightly hailed as bicycle friendly, an EU database suggests that cyclists involved in fatal accidents account for roughly eight per cent of all fatalities in the EU countries. This indicates that in the absence of proper infrastructure, cycling can be risky especially for advanced ages. Therefore, the need is to design facilities that are cycle friendly. A single earmarked lane may be encroached by other traffic putting cyclists to risk. Alternatively, streets/lanes must be entirely free of polluting vehicles. Even staggered timings by allowing only cycles to ply during certain times of day can be deliberated.
The reallocation of lanes from highways for sustainable modes such as walking and cycling is gaining traction across the world. In a stellar example of the same, between 2008 and 2010, seven lanes from an 11-lane highway in the waterfront of Central Shanghai were removed to make way for pedestrians. This transformative intervention reduced vehicle traffic by 70 per cent and expanded the sightseeing deck area of the adjoining river by 40 per cent, attracting increased tourism. Such examples are increasingly common in many cities across the world. Walking and cycling are being seen as the cornerstone of sustainable urban transport in future ready cities.
The Maharashtra Government's Mission 'Begin Again' encourages people to actively use cycling as a form of physical exercise as it automatically ensures social distancing. While this is a welcome move, COVID-19 presents a rare opportunity to envision and implement radical infrastructure changes to promote walking and cycling as safe and aspirational modes of commute. There has never been a better opportunity for the Maximum City to evolve into a role model for sustainable mobility.

Srishti Gupta is an Indian civil servant of 2014 batch serving under Ministry of Railways. She is presently the Divisional Commercial Manager at the Mumbai Division of Central Railway. She has worked on promotion of sustainable mobility solutions for enhancing last mile connectivity at stations, proliferation of paperless ticketing, and highest ever augmentation of earnings through non fare revenue segment. Innovative projects spearheaded by her include India Railway's first Self Ticketing Zone, introduction of electric vehicles at stations, behavioural science based intervention for reducing trespassing deaths among others. She is an alumna of Delhi University and Tata Institute of Social Sciences, Mumbai.

Vignesh Prasanna is the Co-Founder of The Bridge Project – an initiative to bridge public policy with academic research since 2019. He holds a bachelor's in civil engineering and masters in international relations. His research interests lie in development sectors such as skilling and mobility. He has co-authored an article on last mile connectivity options in Mumbai which is waiting for publication. He is currently engaged as consultant with The/Nudge foundation and is responsible for designing skill development products. He has also co-founded an ed-tech venture called prockc – a learning product that delivers affordable online education.
Views expressed in this article are personal.
Related topics
Related organisations
Related regions