Canadian National Railway Company's robust planning for harsh winter weather
Rob Reilly, Executive Vice‑President and Chief Operating Officer from the Canadian National Railway Company (CN), discusses the benefits of robust planning for harsh winter weather.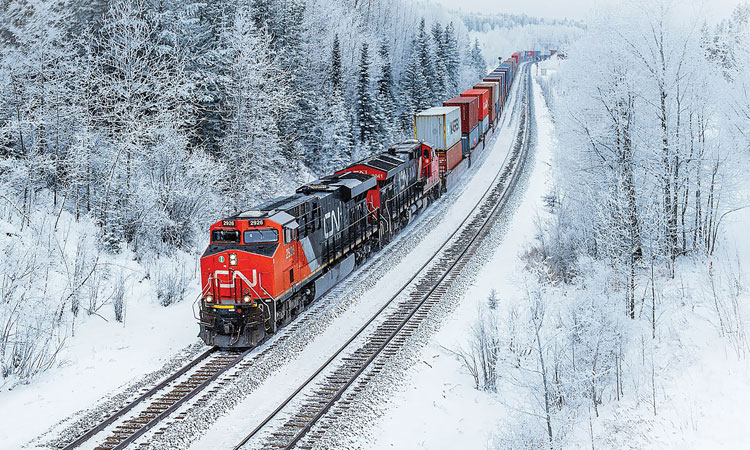 The Canadian National Railway Company (CN) is a world-class transportation leader and trade enabler. Our 20,000-mile network passes through incredibly diverse landscapes, from the Northwest Territories through the Rocky Mountains, and across the Prairies to big cities such as Chicago, Toronto and Montreal, as well as vital ports like Prince Rupert, Vancouver and Halifax. With heavy snowfalls, freezing rain and frigid temperatures commonplace in these regions, having a robust winter plan is critical to keeping our customers' supply chains fluid.
Each year in early autumn, with the input of key stakeholders, CN publishes a comprehensive Winter Plan, outlining the proactive actions that we take to reduce the effects of winter on our customers while ensuring that our operations are safe for our employees and the communities that we serve. The plan describes the challenges that CN faces when operating during North American winters and describes the steps that we have implemented to maintain our operations throughout the season.
Winter is unpredictable, so why plan for it?
Planning for winter is helpful to keep everyone focused on moving freight and improving the supply chain's performance under adverse conditions. While we know that winter will be harsh, it is impossible to know when and where it will impact our operations. Being well prepared for winter helps us deal with its uncertainties, as well as other unexpected circumstances.
For CN, the 2019-2020 winter season was especially tumultuous. It came just after a labour dispute and included: Extreme cold weather in large areas of Canada and the northern U.S. Mid-West; rain and landslides in southern British Columbia; 22 days of illegal rail blockades; and the emergence of a pandemic that plunged the global economy into recession.
Despite these significant issues, CN maintained a very strong performance during winter 2019‑2020. This was the result of two key factors:
The dedication of CN railroaders in maintaining essential rail service
Sound planning, which included the implementation of innovative best practices and contingencies, along with continuous strategic capital investments.
How CN is getting ready for winter
There is no getting around it. Steel wheels on steel rails are affected by extreme cold temperatures and so is a train's air braking system. Our resourceful team of railroaders diligently prepares for any eventuality by applying learnings from the past and new innovative solutions to keep the network fluid and safe.
Supply chains
First, we ensure the well-functioning of supply chains. For example, despite the pandemic, CN and Prairie farmers moved record volumes of grain for eight straight months in 2020. This was due in part to CN's efforts to align all components of the supply chain, from grain elevators to vessels in ports. CN continues to exercise such leadership in all sectors that we serve. We meet with our partners and ensure that their infrastructure is ready for winter. As a result, 51 terminals have equipped their sites with a ground air source so that their loaded freight cars can be released with air hoses already attached. This allows trains to depart more quickly, which improves network fluidity.
Rolling stock best practices
We have also adopted a series of best practices related to our rolling stock. The most important is our four tier system that calls for specific train length reductions as temperatures drop below -25oC (-13oF) for safety reasons. This is backed up by integrating daily weather forecasts into CN's rail traffic control system. We also right-size the fleet by fully deploying railcars at times of peak demand and placing some in strategically located storage to alleviate congestion when demand declines.
Supporting operations
There are also our procedures to support operations. For instance, during cold snaps, employees from support groups are temporarily located in operations centres to assist dispatchers with troubleshooting. We deploy generators across the network in case of power failures affecting track equipment, such as railway signals. We prep snow-clearing equipment through inspections, maintenance, repairs and prepositioning in advance of winter. CN also uses approximately 1,400 heaters, fans and other devices to keep critical switches clear of snow and ice buildup. We monitor and take active steps to control avalanches and have contingencies for unforeseen events, such as adding track patrols, deploying stand-by engineering crews and staging emergency ballast and track panels so that we can respond quickly in the event of a washout.
Working with customers
Finally, we work closely with our customers. We meet with them prior to the onset of winter to explain how to maintain their sites for safe winter operations. Our website also includes safety videos, checklists and a customer safety handbook. Additionally, we hold a webinar in October to review winter safety best practices. We proactively update our customers on winter weather conditions and their impact on the network. Above all, we communicate with customers to obtain their forecast demand for the coming winter so that we can adjust our plan accordingly, especially as business levels fluctuate during the season.
How CN is investing for winter
CN's strong winter performance is due in large to the strategic capital investments – more than CAD $10 billion since 2018 – that we are making to improve network safety and fluidity. Our capital campaign features the acquisition of modern equipment and implementation of cutting-edge technologies to help us contend with extreme winter conditions, including:
260 next-generation locomotives: CN now has more than 2,200 winter-prepped engines. While all locomotives tend to lose traction in freezing conditions, the new locomotives use alternating current to improve traction. The new engines also have distributed power (DP). When placed in the middle of a train, DP improves handling and braking through a more even flow of air pressure
1,500 high-capacity grain hopper cars: The order encourages the economic recovery through job creation in the manufacturing sector and helps CN continue to meet the growing needs of grain farmers
41 more air distribution cars, amounting to a total of 101: These assets supply a consistent flow of air throughout a train's brake lines when temperatures drop. Strategically positioning air cars along the network enables CN to maintain longer trains and improve network fluidity during cold snaps 
10 automated track inspection railcars: These hook up to regular trains and use powerful sensors and artificial intelligence (AI) technology to inspect our tracks at normal speeds. The cutting-edge tech increases capacity by reducing the number of low-speed inspection vehicles on the tracks
Seven automated train inspection portals, which feature ultra-high-definition panoramic cameras and infrared lighting that capture a 360° view of 102 components of a train as it travels at track speed through the portal. Algorithms allow detection of many defects not visible to the human eye.
The above mentioned last two technology innovations increase inspection frequency and quality, as well as provide more accurate and predictive preventative maintenance data. We believe that these technologies play an important role in increasing safety and service capacity. Our employees' expertise can now be directed toward work of greater value, such as repairing defects in anticipation of winter.
Other recent strategic investments to increase network fluidity include double tracking close to 140 miles on our mainline to create more places where trains can pass, extending sidings to accommodate longer trains, increasing the capacity of key yards and building more infrastructure near the ports of Vancouver and Prince Rupert. Our customers and supply chain partners are also investing to increase their own capacity and resilience during the cold season.
How CN is pivoting to recovery
This year, preparing for winter takes on additional uncertainty because of the pandemic and ensuing economic slowdown. Last winter, demand for CN's services dropped dramatically, with volumes in the second quarter declining by approximately 20 per cent. Except for agri-food, all commodities were negatively impacted to varying degrees. Repercussions of this uncertain time may continue into the coming winter.
Still, we understand the essential role that CN plays in the North American economy. That is why, instead of drastically cutting our capital investment programme, as many other companies were forced to do because of the pandemic, we are investing CAD $2.9 billion in 2020. This represents about 20 per cent of CN's annual revenues and maintains our position as the railway with the highest investment ratio in the North American industry. In fact, we took advantage of lower traffic volumes during the slowdown to increase the number and duration of infrastructure projects.
While we are hopeful that the current recovery trend will continue – we are recalling furloughed employees and taking rolling stock out of storage – we know that we must remain vigilant and flexible. As a result of our strong Winter Plan, CN will continue to play its essential leadership role in aligning all components of the supply chain, from manufacturers and producers to ports and markets, for the benefit of everyone.

Rob Reilly was appointed as Executive Vice-President and Chief Operating Officer in July 2019, based in Montreal. He has also assumed interim responsibility for CN's Information and Technology function since November 2019. Joining CN with 30 years of experience in the rail industry, Rob is responsible for CN's 24/7 operations, overseeing approximately 20,000 railroaders from the Transportation, Engineering, Mechanical, Network Operations and Safety groups across North America. Rob brings to the company extensive leadership in safety, rail operations, field application of rail technologies and a deep understanding of the intermodal business at major ports and large terminals. Prior to his role at CN, Rob joined the Atchison, Topeka and Santa Fe Company (now known as BNSF) in 1989. A graduate of Washburn University, Kansas, U.S., he completed the Executive Program at Stanford University. His career in the railway industry has taken him across the U.S. in a succession of increasingly senior positions, most notably in Chicago and the U.S. west coast.