The role of Indian Railways in COVID-19 crisis management
Priya Agrawal, Deputy Chief Signal and Telecom Engineer at Indian Railways, writes about the ways in which Indian Railways is dynamically adapting passenger services, freight and even train coaches to support the nation as it experiences another severe wave of the coronavirus pandemic.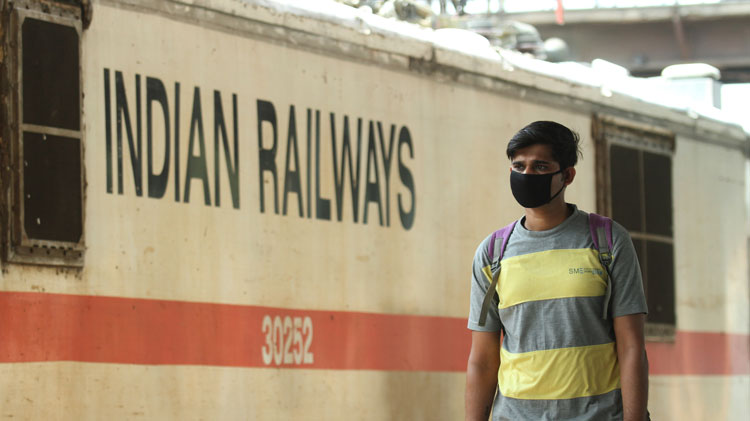 The year 2020 has already shown the adversities that COVID-19 can create. Today, in 2021, the pandemic has hit again with a second wave, taking a heavy toll on human lives and affecting the global economy like never before.
India is facing great social and economic disruption, with several industries severely impacted, including transportation, entertainment, tourism and sports, to name a few. When the central government announced a nationwide lockdown on 24 March 2020 to curb the spread of the virus, it seemed that the entire country had come to a halt. For the first time in its 167-year history, Indian Railways had to shut down all of its passenger services. The national transportation lifeline, which ferries almost eight billion passengers daily in almost 13,500 trains, was suspended as part of government directives to stall public transportation to contain the spread of COVID-19 infections.
With this suspension, a great logistical challenge to meet the massive demand in supply gaps emerged. With the supply chain across the entire nation disrupted and the transfer of essential goods and services badly affected, the national transporter emerged as a beacon of hope amid the national crisis. Through its three-pronged approach, Indian Railways has revealed its ability to resist and recover quickly from the effects of the pandemic in an efficient manner, for the continuation of its essential public transport and freight services. Below are three initiatives undertaken by Indian Railways.
'Shramik' trains
One of the biggest challenges arose when a large number of migrant workers in urban centres lost their jobs amid the economic slowdown. Now unemployed, they started to recede towards their homes in remote areas of the country. With no mode of transport available, people who usually depended on rail to get them home were left stranded. Without much time to plan, and no pre-specified timetable available, Indian Railways went straight to work and operated 'Shramik' trains to transport these stranded migrant workers to their homes. The demand for transportation across states was so dynamic and agile that the trains were run based on daily demand. People were transported from one state to another in a seamless manner by effective resource scheduling. In addition to observing COVID-19 safety directions, Indian Railways mobilised its own resources (IRCTC) and effectively collaborated with other NGOs to cater to the food and safety requirements of these passengers. Between 1 May 2020 and 26 June 2020, Indian Railways carried approximately 6.3 million migrants across the country on 4,594 Shramik trains. The trains were diverted dynamically by analysing congestion on the routes due to increased freight movement. It was the diligence and commitment of the frontline workforce of the organisation who went beyond the call of duty that made this possible.
Diversified freight
While fulfilling its social obligation, Indian Railways has seen this crisis as an opportunity to grow its freight traffic. While the crisis created supply chain disruption in the transfer of essential goods across the nation, the freight business showed remarkable resilience. As the demand for the transportation of core commodities – such as coal, cement and iron ore – declined due to economic slowdown, demand for new commodities emerged.
The additional capacity created by the temporary suspension of passenger services provided an opportunity to capture new traffic and customers. Indian Railways operated special parcel trains that have been instrumental in transporting 5.2 million tonnes of food grains across the country. Scheduled parcel trains and container cargo trains have been helping courier services and the ecommerce industry in the transportation of goods. Dedicated freight trains – such as Kisan Rail and Doodh Duronto – have enabled farmers to transport their produce (including spices, fruits, vegetables, milk and dairy products) to demand centres in record time during the pandemic.  
In addition, Indian Railways' freight business has played a key role in connecting the demand-supply centres for different medical equipment, personal protective equipment (PPE) kits and even ventilators to supplement the efforts of the health care delivery system in India. The recent initiative to operate 'Oxygen Express' trains to safely transport Liquid Medical Oxygen through green corridors from oxygen plants (located in suburban areas far from the cities) to hospitals across the country as India battles its second wave is a perfect example of Indian Railways' agility and ingenuity. As an organisation, we are leaving no stone unturned in our collective fight against COVID-19. Indian Railways needs to further its efforts to form a powerful supply chain and capture more markets and business opportunities that have emerged as a result of the COVID-19 crisis.
Expanding beyond core business
As India's health care system has faced a shortage of workers, hospital beds and equipment, Indian Railways has used the power of its significant asset base and skilled workforce to support the healthcare industry. Railway hospitals and the entire railway medical fraternity has jumped into action. Railway buildings have been converted into quarantine centres. Furthermore, in a bid to address the lack of hospital beds amid rising COVID-19 cases, Indian Railways has deployed nearly 5,600 isolation coaches with more than 70,000 beds. With minor modifications to a conventional coach carried out at Indian Railways' coach factories, these coaches are being used to treat mild, non-intensive care patients and are being managed by sufficiently trained medical staff. These mobile hospital units have been a big help in treating patients in remote areas of the country where many hospitals are not available.
Indian Railways has mobilised its resources to manufacture PPE kits, HAZMAT suits and coveralls, sanitisers, sanitiser dispensing machines, sample collection booths, hospital beds and furniture, oxygen concentrators and even ventilators. This has been made possible by effective resource management, sheer determination, resilience and the innovation of the dedicated workforce at railway production units and workshops.
In summary
As the coronavirus pandemic continues to evolve, India is facing a bigger challenge to treat sick patients and meet the storming healthcare demands. While help is coming from every sector, small to medium businesses, the government and private bodies, Indian Railways – as the national transporter – will continue to find new ways and revamp old ways to not only revive the Indian economy, but also serve as a lifeline to the nation and save as many lives as possible.

Priya Agrawal is presently working as Deputy Chief Signal and Telecom Engineer in Indian Railways, Government of India in Hyderabad. She has varied experience in signalling and telecommunication in the rail industry, working for over 11 years in areas of modern signalling technologies, including automatic train protection systems, axle counters, electronic interlocking and UFSBIs etc. She also has experience in railway procurements, tendering and has spearheaded several signalling projects. Priya has an MBA in Operations and Strategy, a Masters in Technology in VLSI Design Tools and Technology. The views expressed in this article are personal views of the author and does not represent any opinion of their organisation.