BNSF's journey to creating a safer, smarter railroad
Muru Murugappan, Vice President of Technology Services and Chief Information Officer of BNSF Railway, explains how the North American freight railroad operator is continually working to leverage and explore new technologies and what this means for its future success.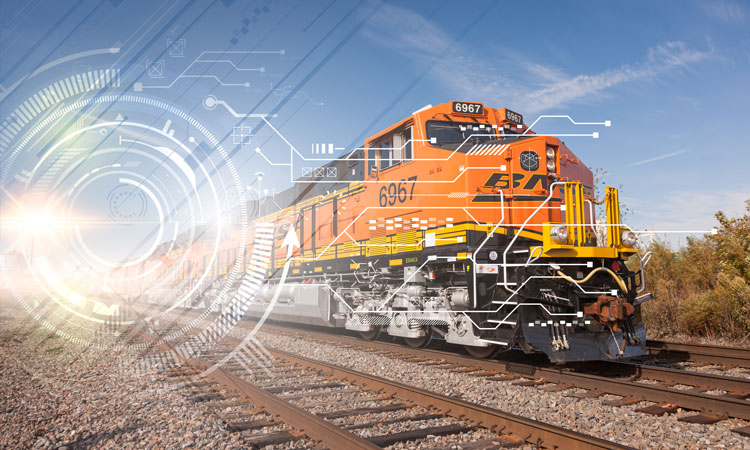 BNSF Railway is one of North America's leading freight transportation companies, with a rail network spanning 32,500 route miles in 28 states and three Canadian provinces. We play an important role in moving freight across the United States every day. Our customers ship consumer goods, industrial products like construction and building materials, agricultural commodities, energy products and other freight on our railroad.
On average, BNSF transports about 15 per cent of all intercity tonne-miles of freight that moves in the U.S. In 2020, despite the pandemic's impact on the global economy, BNSF handled 9.5 million units of freight (carloads, intermodal containers and trailers).
To handle these volumes safely and efficiently, BNSF continually looks to leverage and explore new technologies, which we know are vital to our ultimate success. Whenever we pilot or implement new technology, the first thing we address is safety.
Positive Train Control (PTC)
As an example, in 2020 we achieved a significant milestone for U.S. rail safety. That's when the rail industry collectively made Positive Train Control (PTC) – a federally mandated safety overlay that helps prevent major rail incidents – operable on 100 per cent of locations required by our federal government.
There is no doubt that every train that moves with PTC is a safer train and that's why BNSF was installing it as a safety overlay across our railroad well before it was mandated. We have also continued to install PTC on several locations not required by the mandate.
To date, we have invested more than $2 billion to deploy this technology, covering more than 90 per cent of freight volumes moving on our railroad. As a company we will continue to look for opportunities to leverage PTC for productivity gains beyond the safety purpose for which it was designed.
Big data and AI
We also continue to explore opportunities to harness information by leveraging big data analytics and artificial intelligence (AI) for accelerating results. BNSF already applies predictive technologies using AI to find defective track and freight car components, both of which could potentially contribute to train incidents.
While predictive models aren't new for our 170-year-old railroad, they are now better, thanks to the massive amounts of information that are now being collected from various IoTs, improved compute capabilities and availability of AI techniques. As a result, AI is one of the top technologies that we are pursuing to not only improve safety, but also asset utilisation, service and operational efficiency.
AI is helping us to better predict issues with equipment components and track so corrective actions can be taken before they fail. Simply put, AI is helping us turn our employees from finders into fixers, working to prevent a problem. These advancements are not only making us a safer railroad, but better able to deliver on our service promise.
Sensors
BNSF has long used sensors – thermal, acoustic, visual and force – positioned trackside to detect freight car wheel defects. Thermal/infrared scanners, for example, can detect the smallest temperature changes of various components. If a part is hot and failing, an alarm is sent so the train can be stopped and the car in question inspected. At that point, the car may be monitored until the component can be repaired or the car is removed from the train. While this process takes the bad actor out of the picture, a lot of time is spent to inspect and disconnect the car, delaying the train and impacting our service.
Today, BNSF is leading the industry for using AI to detect wheel defects as algorithms sort through more than 35 million readings taken daily from our 4,000 wayside sensors to identify potential issues. We use this data to determine the urgency of equipment repairs and to spot trends that indicate when maintenance should happen.
Machine vision systems and image analytics
Newer technologies that BNSF uses are machine vision systems and image analytics to identify cracks and breaks in wheels. More than 750,000 wheel images are captured daily and AI trained models analyse those images to identify various wheel defects on the edge and notifies the monitoring desk for quick action. AI techniques have enabled us to develop new image analytics models at a faster pace than was ever possible before.
When it comes to our track integrity, we rely on technologies such as ultrasound, radar and machine vision systems to look deep inside rail and the supporting crossties to find tiny flaws imperceptible to the human eye. These technologies are on manned and unmanned track geometry rail cars that travel across our system to register track wear and tear. When track has a defect, that stretch of the railroad is taken out of service or trains slowed until the track can be repaired, again impacting operations. The geo cars send track data back to our technology team, who then leverages AI to analyse the hundreds of millions of measurements to develop an optimal track maintenance plan.
Similar to Machine Vision System for car components, BNSF has developed a Track Optical Inspection system using high speed cameras that are capable of capturing 100s of images per second while the inspection car is travelling at 70mph. These images are then processed using AI models that identify hair line cracks, missing bolts and other rail integrity issues. We are expanding the models for identifying additional defects so that we can continuously improve our safety and service.
Some other ways we are leveraging advanced technologies include:
Computer vision: Carrying out automated yard checks at our intermodal hubs
Customer experience: Launching tools to provide customers with quick, useful and actionable information
Digital capabilities for our workforce: Delivering mobile devices and digital information to crews so they can operate safely and efficiently
Organisational capabilities: Dedicating data scientists to machine learning and computer visioning as well as looking at how to better leverage AI through cloud-based solutions and open-source tools.
Leading the industry and exploring emerging technologies
As one of the largest intermodal rail carriers in the world, we look to lead the industry in technology advancements to move consumer goods. BNSF was the first U.S railroad to use wide-span electric cranes, Automated Gate Systems (AGS) and several other technologies across our intermodal network. We have also enhanced the in/out gate process at our intermodal facilities with our RailPASS mobile app, which enables drivers to in-gate in as little as 30 seconds. Building on that success, we are piloting touchless gate technology at our South Seattle Intermodal Facility that will reduce the need for driver interaction at facility gates.
We also continue to adopt technologies that are environmentally friendly because we know that the inherent efficiencies of rail reduce transportation emissions and our overall carbon footprint. This generates value not only for our company, but more importantly for our customers and the communities we serve.
A great example of these efforts is our testing of a battery-electric locomotive. Thanks to a grant from the California Air Resource Board, we worked with the San Joaquin Valley Air Pollution Control District and Wabtec to develop and test a 100 per cent battery-electric locomotive. Paired with conventional diesel‑electric locomotives, the prototype was piloted in Southern California and met our expectations for efficiency performance and confirmed that we will continue to explore this technology's potential. We also deployed electric‑powered, cargo‑handling equipment in several intermodal facilities in California.
As we look to the future, we will continue to pioneer and explore emerging technologies that enhance our ability to run our railroad. From the early days of steam-powered locomotives to today's battery-electric models, our railroad and our people have long recognised the value of technology. It's what will carry us into the future by safely and efficiently meeting the needs of our customers, employees, communities and the environment.
Biography

Muru Murugappan joined BNSF as Assistant Vice President of Technology Services in May 2013. He was promoted to his current position in January 2018 and is responsible for information technology including application development and maintenance, infrastructure, cyber‑security, data science and advanced analytics, and end-user and device management. Muru has been in the IT industry for over 25 years and has significant experience managing business applications and IT budgets. Prior to joining BNSF, Muru served as Vice President, Head of Information Technology Operations, at Sony Electronics. Muru has a Bachelor of Science in Mechanical Engineering, a Master of Science in Industrial and Management Systems Engineering, and an Executive Master of Business Administration.