Huawei's Smart Locomotive Solution: Transitioning from person to tech-assisted rail operations
Guo Qianli, Chief Architect of Railway Industry and Chen Danfeng, Senior Architect for Global Transportation Business Unit of Huawei's Enterprise Business Group, discuss Huawei's Smart Locomotive Solution.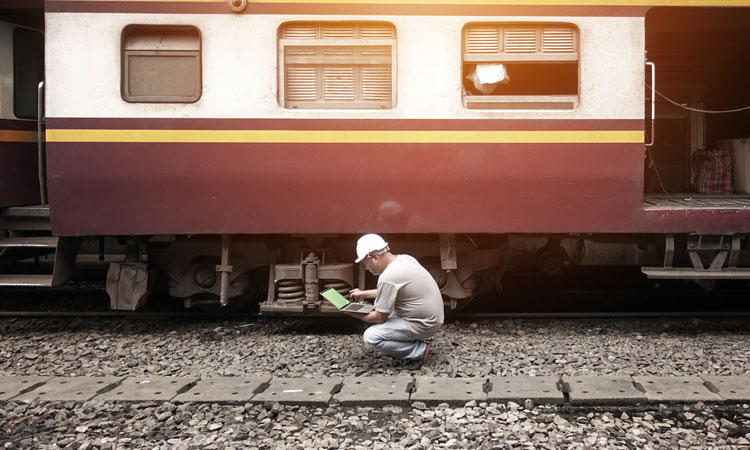 China's railways supported 3.66 billion passenger trips in 2019. The safety and comfort of the passengers on each of those train rides were ensured by locomotive experts, including several specialists.
Several of those specialists are deployed at the locomotive depot at China Railway Xian Group (CR-Xi'an), which is responsible for all passenger trains departing from or passing through Xi'an, the capital city of northwest China's Shaanxi Province, which has a population of about 12 million.
These experts are busy year-round, but their workloads increase sharply during the Spring Festival travel rush. The amount of work to be done is so vast that these experts are typically only able to spend Chinese New Year's Eve with their families every four or five years.
Implementing dedicated 'image analysts'
Due to being directly responsible for the property and safety of thousands of passengers, train drivers face a lot of pressure. Tasked with controlling safety risks, Xi'an Locomotive Depot has assigned 40 dedicated image analysts to perform correlation analysis of video footage, as well as train control and monitoring (LKJ) system data while trains are enroute to their destinations. Moreover, image analysts also conduct spot checks and record driving violations, and then implement appropriate sanctions or penalties.
Using tech-assisted methods to eradicate safety risks  
A total of 70 specialists from Xi'an Locomotive Depot's are part of the dedicated inspection and repair team that continuously check the health status of hundreds of locomotives every day. They climb on top of trains, go down to trenches, and walk around in narrow mechanical rooms. All kinds of specialists including locomotive and electrical fitters, and braking, welding, or pantograph Overhead Catenary System (OCS) system detection engineers, need to comprehensively check each locomotive in the shed within a limited period (20 minutes during the Spring Festival travel rush), quickly locate faults, and act fast. Therefore, ensuring all locomotives can drive out of the shed on time and run safely.
Huawei's Smart Locomotive Solution
After years of involvement in the industry, Huawei has gained in-depth insight into railway transportation. Applying its leading communications and digital platform capabilities, Huawei and industry partners launched the innovative Smart Locomotive Solution, which uses 5G and AI. This solution reduces locomotive experts' heavy workloads, enables more intelligent operations, and better ensures railway transportation safety, which helps CR-Xi'an embark on a smart journey.
This solution uses Huawei's world-leading 5G technologies to replace manual operations. It can lead to a ten-fold increase in data transfer efficiency and automatically obtain real, complete driver surveillance footage.
The solution works on the emerging mmWave band and uses beamforming (phased-array antennas, supporting fast attenuation and low interference beyond the coverage area) and intelligent tracking (always ensuring the alignment between the Railway Base Station (RBS) and Train Access Unit (TAU), with stable bandwidth) technologies, to achieve high-speed train-to-ground data transfer. When a locomotive slowly enters a depot, a high-speed channel of 1 Gbit/s or above is automatically established between the TAU and RBS within 300-500m in the depot's throat section, supporting a maximum transfer rate of over 1.5 Gbit/ s. About 30 GB of onboard data is generated during each locomotive operation, which can be automatically discarded within three minutes.
The entire data transfer process ensures data integrity, and it is secure and reliable without manual intervention, ten times faster than manual data copy. The smart locomotive solution is the railway industry's first intelligent application of 5G. It will facilitate more efficient manual data copy, eliminate safety risks, improve data reliability, and tackle many other issues, providing complete video data for image analysts.
The smart locomotive solution has raised the detection rate of image analysts. It uses 5G to transfer all driver-related video data to the intelligent analysis centre through high-speed cache devices, and automatically identifies violations using AI.
Huawei's AI platform, HUAWEI CLOUD ModelArts, provides industry-leading computing power, enabling partners to shorten the training duration of a single model from one week to only one to two days, therefore supporting fast application. It is the fastest training platform certified by Stanford DAWNBench, a benchmark suite for end-to- end deep learning training and inference, setting a new record of four minutes and eight seconds. Overall, it takes 18 minutes to perform the same type of model training on the AWS).
The solution also supports customised development of video-based behaviour analysis algorithms based on actual scenarios. A total of 11 driving violations can be automatically, intelligently identified, such as not making gestures, using electronic devices, not operating the steering wheel or workspace equipment properly, and showing signs of fatigue. The intelligent driver evaluation mode helps regulate driving behaviour and ensure safety, eliminating the issues caused by the inefficiency and insufficiency of manual spot checks. In the past, one employee could only check four locomotives every day and with the intelligent analysis technology, an employee can process analysis results of over 40 locomotives daily, increasing the efficiency by ten times.
The smart locomotive solution uses big data diagnosis to predict the health status of key components.
The smart locomotive solution uses big data diagnosis to predict the health status of key components. Using the Huawei big data platform's integration, storage, query, analysis capabilities, as well as support for data warehouses and Business Intelligence (BI), data connectivity and sharing capabilities of the ROMA platform, the solution streamlines multiple core service systems to build an End to End (E2E) locomotive information sharing platform.
The solution builds fault prediction and health management models for locomotive running gear based on the data of onboard sensors or concerning ground operational safety, servicing, and repair, as well as extensive expert experience and fault examples accumulated by Huawei partners. Furthermore, such models implement heath evaluation and service life prediction functions, as well as providing a scientific basis for the reform of repair processes and systems during the transition from planned to predictive maintenance.
The big data platform supports analysis of massive amounts of historical status data of running gear sensors and health evaluation of key components. By drawing endurance curves and generating timely alarms for unhealthy components, the platform minimises manual inspection and repair times and prevents minor issues from escalating into more difficult problems.
The health status of axles is crucial for safe train operations. Inefficient detection of axle damage causes larger and larger cracks, which can lead to disastrous consequences such as train derailment.
Big data can also be applied to detect flaws in railway axles. The health status of axles is crucial for safe train operations. Inefficient detection of axle damage causes larger and larger cracks, which can lead to disastrous consequences such as train derailment. The damaged key components, such as drawbars and couplers must be replaced in time for safety reasons. In line with regulations, any wheelset with over 2mm holes or 0.7mm peelings should immediately be replaced. However, damage to axles is usually very minor, and it usually takes three or four rounds of manual inspection before the damage is identified and confirmed. With big data analysis, the solution obtains the status data of axle sensors such as temperature and vibration, to evaluate whether they are healthy, and to be able to predict fault risks and generate alarms accordingly. Moreover, as well as increasing the repair efficiency, it also reduces safety hazards.
Reducing safety risks for locomotive experts
The application of Huawei's 5G- and AI-based Smart Locomotive Solution reduces the safety issues that occur while locomotives are running by more than 10 per cent and leads to an over ten-fold increase in the data collection and analysis efficiency, saving millions of CNY (CNY1 million is about US$153,000) in operational costs per locomotive depot per year, as well as greatly reducing safety risks.
The solution allows locomotive experts to spend time with their families during national holidays, while safeguarding the travel of the potential 1.4 billion train passengers who live in China.
Huawei will host Huawei Connect 2021 online from 23 September to 31 October 2021, complete with live broadcasts, digital exhibitions, and the opportunity to connect with industry experts. The theme of this year's event is Dive into Digital. We're going to dive deep into the practical application of technologies like cloud, AI, and 5G in all industries, and how they can make organisations of all shapes and sizes more efficient, more versatile, and ultimately more resilient as we move towards economic recovery.
For more information, please contact the Huawei local team or check out this website here.
(This article has been adapted from ICT Insights 04/2021, issue 30)
Related topics
Related organisations