A proactive approach to modern rolling stock maintenance
Janez Vidovič, Head of Maintenance at SŽ – VIT, explains why specialist knowledge, and the ability to adapt to specific customer needs, is key in responding to the technical challenges in maintenance of tractive and trailing rolling stock.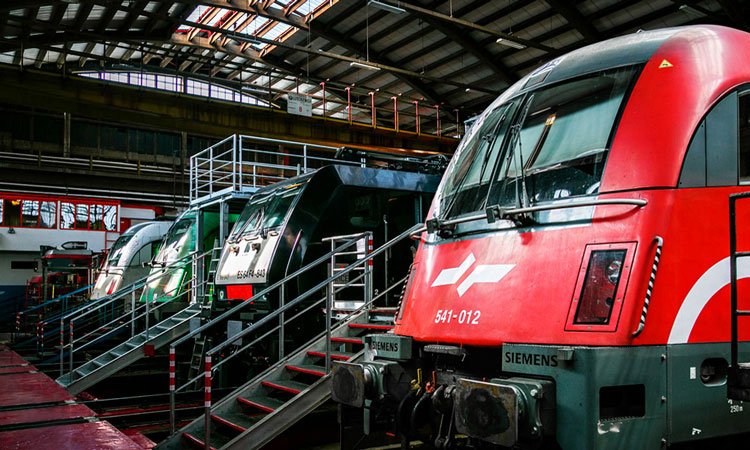 Credit: Miško Kranjec
To what extent would you agree that modern maintenance of railway vehicles consists of more than checking and repair?
For vehicle owners to stay competitive on the transport market, modern maintenance must embrace a proactive approach, continuous improvement and innovative services to ensure a high level of rolling stock reliability, safety and availability. Maintenance solutions customised to owners' particular needs play an important part in achieving this objective, together with designing solutions to repair or prevent component defects. I fully agree that there is more to modern maintenance than just checks and repairs – it takes a comprehensive approach including in-depth technical expertise and knowing the owners' specific maintenance needs, in order to improve vehicle availability and value.
What are the key advantages of wheelset maintenance offered by SŽ – VIT?  
The SŽ – VIT workshop in Ptuj delivers specialised maintenance of wheelsets and their components. By regularly investing in equipment and developing technological processes, we are able to offer maintenance of wheelset components on freight and passenger cars, DMUs, EMUs, diesel, electric and steam locomotives, and special purpose railway vehicles. In addition, we also provide maintenance of powered and non-powered wheelsets, both tired and monobloc, and renewal of axle drives to clients on export markets.
Our rapid response and flexibility allow us to adjust our services on the fly to the needs of traction and trailing stock owners, especially when it comes to specialist maintenance works, low volume servicing or cases requiring immediate attention. We also offer shrink- and press-fitting of wheelsets.
Good planning, an innovative approach and shift work help us minimise vehicle downtime and supply our services at competitive prices.
By being certified to various maintenance schemes (ECM, VPI etc.), improving our process excellence and having a skilful team of technicians, we are able to provide a complete service in wheelset maintenance, no matter the type and manner of wheelset processing.
What can you tell us about your depots and staff and about your maintenance facilities?
Having a capable team is key to success in any area of work, and even more so in rail vehicle maintenance, because of the specialist knowledge required in this kind of technical work, which cannot be obtained through general schooling. This is why we put a lot of effort into knowledge transfer between younger and older employees and regular out-of-house training, with priority given to areas such as braking and safety systems, welding, and non-destructive testing.
However, a good team also requires proper facilities and equipment to bring out their potential. Our workshops are strategically placed across the country to ensure good local coverage. To stay competitive, we regularly invest in maintenance facilities and equipment to keep up with the trends in rail vehicle maintenance.
A considerable portion of our resources is earmarked every year for investment in facilities and equipment, and we have spent a total of €5 million to this end over the last five years.
This is why our shops are able to handle all types of rail vehicles. Some of the largest pieces of equipment and facilities we use in our work include: 
Two large paint booths
Sanding booth, which can accommodate whole cars
Wheelset coating spray booth
Above-floor wheel lathe for wheel treads
Underfloor wheel lathe for on-vehicle turning of wheel threads (in-service)
Brake testing equipment (PDR …)
Car washing booth with cleaning equipment
Tank car testing facility (a 100m3 water tank which is connected to the tank car through powerful hose to fill it with water and conduct pressure testing, after which the water is piped back to the water tank)
Bogie press for locomotive bogies
Floor-mounted bogie rotator
Various wheelset machining and production facilities (vertical and horizontal turning lathes, an induction heater, a press machine, 100t hydraulic puller, and table surface grinder)
Testing table for the drive units of Series 541 electric locomotives.
In 2022, the majority of resources earmarked for investment will again be used to develop new technologies with added value and work on further improving the skills of our team.
Do you expect an increase in electric traction servicing or will you instead specialise in EMU maintenance?
We currently have approximately 100 electric locomotives at our shops for either running repairs and checks or overhauls.
We expect to see an increase in the volume of overhauls done on ES 64 F4 locomotives, and we are also starting our first overhauls of Vectron locomotives.
We are currently working to deliver a complete servicing of 33 EMUs (Siemens Pendolino and Desiro) and are also carrying out running maintenance on Stadler's FLIRT EMUs.
How does SZ – VIT plan on enhancing its know-how to be able to respond to future maintenance demands?
Similar to rail industry on the whole, our goal is to deliver services at good quality standards, which requires having the relevant certificates (ECM, VPI …) and a qualified team with specialist knowledge who are able to respond to the technical challenges in maintenance of tractive and trailing rolling stock. We make sure to keep abreast with new developments in the industry – in particular, new generations of trains and locomotives – and provide further training for our staff to gain new experience in both Slovenia, and on export markets, so as to meet the company's strategic objectives and fulfil client needs. Our short-term goal is to launch services for the maintenance of drive units on Series 541 locomotives.
In general, our vision is to become a leading provider of complete maintenance for rolling stock and traction and to offer technical wagon services along the Baltic–Adriatic and Alpine–Western–Balkan Corridors. Our operations are therefore target focused and built around the following core values:
Honesty and compliance
Trust and respect
Leadership integrity
Independence and equal treatment
Focus on the market
Environmental responsibility coupled with sustainable development.
To make the most of our business opportunities, we intend to keep developing our products and services and introduce new technologies and production practices, while ensuring that our technical and business processes conform to relevant standards.

Janez Vidovič joined Slovenian Railways in1987 where his first job was as a Technologist for DMU. After finishing studies at the Faculty of Economics in Ljubljana, Janez became the Ptuj Workshop Manager for SŽ – VIT, which is specialised in the maintenance of wheelsets and passenger coaches. Currently, Janez works as the Head of SŽ – VIT's maintenance department, of which he is responsible for the maintenance of all types of railway vehicles.