Designing train interiors for a post-COVID world
Mark Anderson, Customer and Commercial Director at Go-Ahead Group, explores what the future could hold for interior train design, and calls for a bold, dynamic and fresh approach to win passengers back, post the pandemic.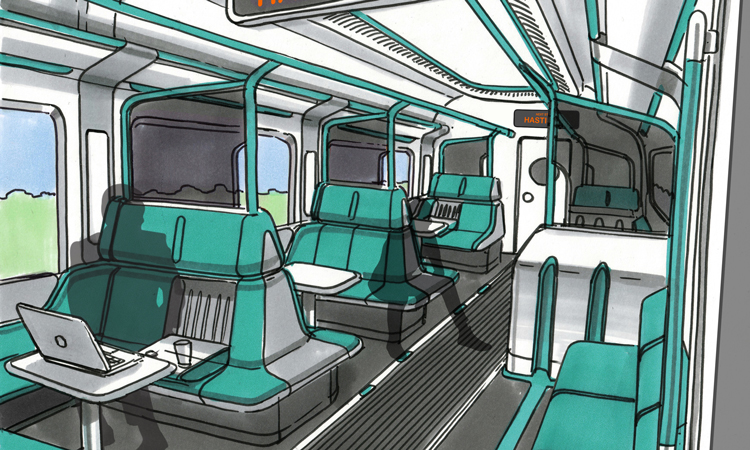 It's been a long, hard pandemic. Our lives have changed for good. And one thing's for sure – patterns of travel on the railway are never going to be quite the same as the pre-COVID 'normal'. On the UK railways, passenger numbers recovered to 70 per cent of pre-pandemic levels in autumn 2020, before slipping back when the Omicron variant arrived. So, what can we do to win the paying public back?
Attracting passengers back to rail requires smart, strategic thinking and pragmatic, creative solutions. We must enhance the passenger experience on the railway for all users, whether they are regular commuters or infrequent, leisure travellers.
One approach is by rethinking how trains are designed and, crucially, considering how interiors can better suit the passenger needs of the future.
Opinions on train design are naturally contentious. Feedback from passengers often cites seat comfort, particularly on short-distance commuter trains, as a concern. These views create an informal consensus among some passengers – unfairly – that train travel is uncomfortable.
Changing interiors for a changed world
Coming out of the pandemic, we have an advantage. All the indications are that future peak hours will be less acute, with office hours no longer set at 9 to 5. That means squeezing as many people as possible into a carriage need no longer be the primary concern. With travel more discretionary than before, we must show that comfort and ambience – two 'front-facing' aspects of travel – are matching the pace of our more technical innovations, in order to win passengers back. In spring 2021 Go-Ahead, Angel Trains and Seymour Powell collaboratively developed design concepts for 'post-COVID rail carriages'. The intention was to showcase what train carriages could look like in the future if we consider flexible solutions. Our early blueprints are bold. They challenge the norms of train interiors which we have become accustomed to in these past few decades. Typical interior layouts have rarely changed in the past 20 years, with capacity the overarching concern as UK rail journeys doubled between 1997 and 2019. Growth, in the future, will be of a different kind. We anticipate the average commute being stretched over a longer period, with people heading into the office for their first meeting of the day, or when it suits their childcare patterns, rather than at a set time every morning. We also anticipate significantly more demand for leisure journeys. Saturday and Sunday travel recovered far quicker than even we expected after the first lockdown, and there's a real appetite for travelling to see friends and families without using a car.
Adaptability will be key
Our early blueprints show a style of adaptable train carriage that can suit all types of passengers. In one of our visions, carriages can be adjusted from 'commuter' to 'leisure' mode. Sliding armrests will allow seats to switch from airline style individual seats to communal benches for family groups. This is particularly useful for encouraging both weekend travellers and families to consider rail, rather than the car, for days out and activities. In these concepts, neighbouring seats can be folded down when pressure on space is less acute to provide additional surfaces for passengers' belongings, for laptops or for food and drink. This type of flexibility challenges the current rigidity of train designs, where carriages are either for commuters with maximum capacity as a priority, or with comfort and luggage space in mind for longer, inter-city journeys. It doesn't have to be a question of either/or – we believe it can be both. Desk spaces, too, may be critical. We don't know the future of the office, but it's likely to be some sort of hybrid mix – coming in for collaboration at key moments. Remote working technology has come on by leaps and bounds and people now expect to be able to work from anywhere – including from the train. Table space for laptops is therefore important, but it doesn't mean everyone will need it all the time. In some of our models, we've designed stand-up desks that can be pulled out. This would be useful for people to write a couple of quick emails before getting off at their station, but also means that these desk spaces are not taking up space when they're not needed. In some carriages, we suggest perch seats and benches that offer extra space for passengers to plug in and work on electronic devices, reflecting an increasing expectation that it should be possible to stay connected on the move.
Meeting the needs of every passenger
The way we, as an industry, often design interiors is based on the 'average' human. Travelling on trains must be inclusive to as many people as possible. We must consider different body types who may need more room. Being tall or overweight should not be a barrier to travel. Likewise, having a disability or needing more assistance shouldn't stop you from having a comfortable, pleasant train journey. Being inclusive and accommodating passenger needs is not only the right thing to do in design terms, but there is of course the concern that if people can't find comfort in their train journeys, they may turn towards private cars. Car journeys returned to pre-pandemic levels within a year of the pandemic having begun, and we've never seen anything near those pre-COVID passenger numbers for rail or for bus. Avoiding a car-based recovery is a serious issue.
Encouraging active, and safe, travel
The railway is always going to fight against the car to win back the travelling public. One of Go-Ahead's mantras is to encourage people to walk and cycle if they can, and then take trains and buses for longer journeys. Cars should only be used if there is no alternative. Active travel must be fully integrated into the transport experience. Firstly, bicycle storage on the trains themselves is essential. We've already started integrating more bike storage into our bus designs. In our bus fleet in East Yorkshire for example, we're encouraging people to cycle in the surrounding areas by bringing their bikes onto designated storage areas within our buses. Under our blueprints, we're considering secure cabinets as a means to storing folding bicycles, with vertical racks at the end of carriages capable of holding full-size bikes. We believe that many more of our customers will arrive at stations by bicycle, with an expectation that their bikes can be onboarded comfortably onto trains. And, of course, there's the question of safety. We need to keep up our enhanced cleaning regimes, while also offering more alternatives for customers to be safe. We propose the installation of permanent hand sanitiser dispensers, antimicrobial finishes and touchless doors. This reflects the greater public awareness of hygiene we've seen over the past two years, but also indicates our resilience and how we can be resilient and stronger in the future. The world has changed, and we need to adapt to it. The railways of Britain can't afford to keep the status quo. We need to reassess, regroup, and consider what's important for the changing needs of our passengers, in order to be robust and resilient for the future.

Mark Anderson
is Customer and Commercial Director at global passenger transport operator
Go-Ahead Group
, with a remit spanning marketing, customer experience and innovation across bus and rail companies on three continents. He has worked within Go-Ahead for seven years and spent time on secondment to Japan and Norway before taking a role as part of the group's leadership team. Prior to entering the transport industry, Mark worked in the retail, leisure and hospitality industries including holding senior roles at LEGOLAND Windsor and at Warwick Castle.