Fibre to the Machine: Lighting up the road to smart urban rail
With digital transformations playing an ever-increasing role in improving business operations and public services, Huawei explain how their FTTM solution can play a vital part in fostering digital transformations throughout the rail industry.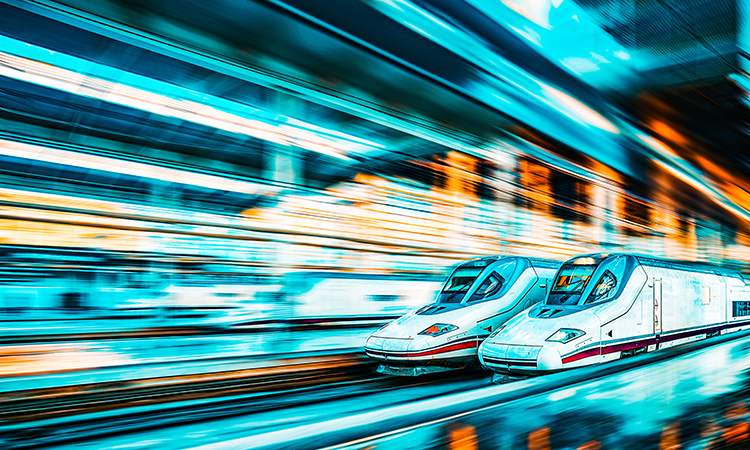 The need for railways to become digitalised and the challenges to overcome
Digital transformation has become a common way to improve business operations and public services in the rail industry. In recent years, cities in the Asia Pacific region, such as Singapore and Shanghai, have been actively building smart urban rail around digital transformation and conducting innovative projects in fields such as smart construction, smart operation, and smart maintenance.
In practice, we find that urban rail stations have the characteristics of large passenger traffic, high data concurrence, cross-site collaboration, high real-time requirements, and complex data analysis. Therefore, the integration and application of the next generation information technology, such as optical fibre communication, is important to guarantee the smooth running of rail transit systems in megacities. Huawei's Fibre to the Machine (FTTM) solution is designed to meet this trend of digital transformation that is currently happening in urban rail transit.
The Huawei FTTM solution: Playing a part in rail's digital transformation
A smart urban rail system must be a data-centred one, whose prerequisite is a secure and reliable infrastructure network for data transmission, this is why FTTM matters. It makes a reliable and efficient digital foundation for smart operation systems through the optical fibre communication.
As a complex multi-level operation system consisting of personnel, equipment, management, and environment, the normalisation of super-large passenger flow is constantly testing the overall safety management capability of the station. Therefore, we need to consider how to use the gradually upgraded digital video system to implement extensive, continuous, real-time, and cross-site intelligent operation management.
In the case of the metro system in a Southeast Asia city, the local government has high public safety requirements, and the metro operator wants to upgrade or deploy HD terminal devices on old urban rail lines and new urban rail lines. In addition, to achieve centralised management and control and reduce operation costs, all metro stations need to be connected to a large network. This is where FTTM plays a vital role. It backhauls HD signals in real time through fibre-to-device and passive optical network (PON) technologies.

The core benefits of the Huawei FTTM solution
Unlike the traditional complex switch multi-layer architecture, FTTM uses a flat, two-layer architecture to implement efficient optical fibre connections through point-to-multipoint passive optical distribution networks.
Green, reliable, and large bandwidth are the three most prominent features of this FTTM solution.
This is due to an upgrade of the network architecture. Unlike the traditional complex switch multi-layer architecture, FTTM uses a flat, two-layer architecture to implement efficient optical fibre connections through point-to-multipoint passive optical distribution networks. (See diagram below). It supports simplified network architecture from optical fibres to cameras, from optical fibres to WLAN APs, and from optical fibres to gates.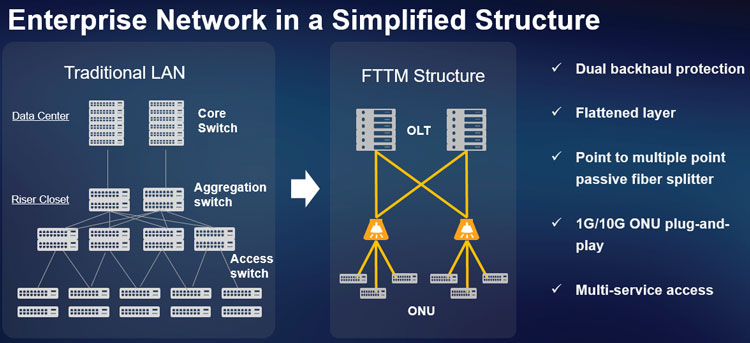 This upgrade alone saves more than 45 per cent of the length of optical cable and reduces weak-current rooms and wall cabinets by 80 per cent. It is a truly energy-saving network deployment solution.
Network reliability is essential to secure the operation of the metro. Traditional networking solutions have bottleneck in ensuring 24/7 network access, due to network bandwidth bottlenecks and network availability. At the same time, the equipment has good anti-seismic and high temperature resistance characteristics and can adapt to the harsh environment of underground rail and aboveground rail.
Finally, to meet the bandwidth evolution requirements of metro networks, the FTTM solution can smoothly upgrade the bearer bandwidth from GB level to 10 GB level and then to 50 GB level, simply by adding only a few devices. A One-time deployment of the optical fibre network can therefore serve a metro system for 30 years.
Learning from other industries
Huawei's optical network solutions, including FTTM, are already fostering digital transformation in many industries. For industries that require high-reliability and security, such as transportation, energy, and manufacturing, we are building scenario-based solutions such as railway stations, smart high-speed, smart airports, and remote control of ports. Up to now, FTTM has been deployed in more than 30 countries and in more than 10 industries.
Huawei's continuous R&D fuels innovation in the field of optical network. For example, when producing environment monitoring and inspection scenarios, such as oil and gas, the hard isolation technology implements unified bearer of multiple services, ensuring zero interruption of production services; in the port logistics, the deterministic and low-latency feature is used to implement remote control of container crane transportation, achieving a healthy working environment and improving efficiency. In mining and power generation, the high reliability of the anti-EMI (Electromagnetism Interference) and explosion-proof features ensure on-site production safety. These technologies are used in industrial environments, including metro scenarios. The mature application and value of these technologies will be gradually applied in smart urban rail.
Huawei at MWC 2022
Huawei teamed up with industry partners at MWC 2022 to showcase innovative solutions and practices, spanning government and public sectors to finance, transportation, energy, manufacturing, and ISPs. Huawei focused on industrial digital transformation, digital infrastructure innovation, and carbon emissions reduction. In addition, Huawei also released a series of scenario-based industry solutions, full-stack data centre and intelligent campus solutions, as well as the company's latest datacom, optical, and storage products. Learn more here.
Related organisations
Related regions