Connectivity and modal shift for stations in the West Midlands
Liam Brooker, Programme Sponsor for the West Midlands Rail Executive (WMRE) speaks to Global Railway Review about the West Midlands Rail Programme and the impact it is having for the West Midlands region, as well as the need for modal shift to rail and how this can help communities.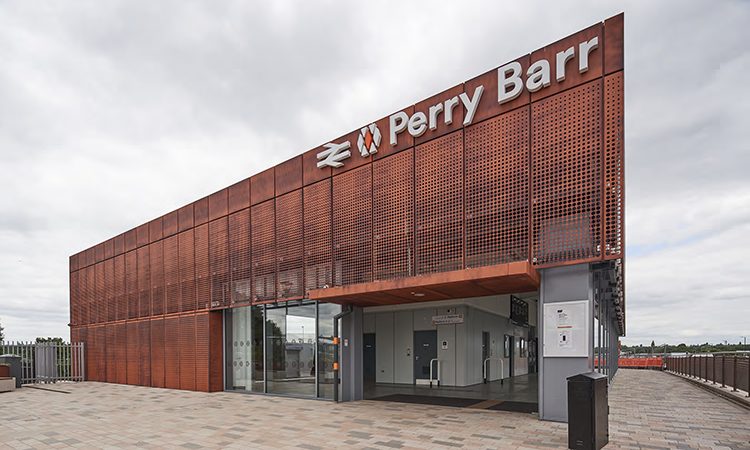 The WMRP has delivered an upgrade to Perry Barr station which has been the main point of access for people heading to the Alexander Stadium for the 2022 Commonwealth Games.
Who is the West Midlands Rail Executive?
The West Midlands Rail Executive (WMRE) was formed to lead rail delivery in the West Midlands region of England. We are jointly owned by a partnership of 16 local authorities.
The Chair at WMRE is the Mayor of the West Midlands Combined Authority (WMCA), the board of which includes representatives of all the local authorities. This gives a strong democratic oversight and strong engagement with the communities that are served by the railway.
We think about the work of WMRE under three headings: 'Planning tomorrow's railway', which is about the development of policy and future investment plans; 'Leading today's railway', which is about operations – working with the Department for Transport (DfT), operators, and the wider industry, to deliver high quality services, and 'Building Tomorrow's Railway' which concerns our capital investment programme, the West Midlands Rail Programme (WMRP).
A strong ethos of collaboration underpins all of our work and is reflected in the constructive relationships we have with partners across the industry.
Can you tell us more about the WMRP and how important it is?
The WMRP is a large project worth over £210 million in terms of investment alone, largely from public money. We are delivering seven new or upgraded stations across the West Midlands, including the recently opened Perry Barr station, which has been the main point of access for people heading to the Alexander Stadium for the Commonwealth Games in 2022. We are proud to have delivered an international quality station for international visitors to the West Midlands.
We are also building a new station at University (Birmingham) which will act as a brand-new gateway for the world leading institutions in that area of the West Midlands, such as the University of Birmingham, Queen Elizabeth Hospital Birmingham, and the forthcoming Heath Innovation Campus. That is largely being funded by partners outside the rail industry, including the university and the hospital, and will deliver benefits that extend beyond the immediate rail environment.
We are also building five new stations to serve communities that have long lacked rail services. There is a real excitement locally about the work we are doing to deliver great quality rail transport for the future, which will have a big impact on the people of the West Midlands – for businesses, communities, and residents.
Can you explain more about the role of train stations and the regeneration of stations for local communities, and how it impacts local communities? And how train stations can become green transport hubs that everyone wants to go to?
I think the impact stations can have on regeneration lies in creating places. Some of our larger schemes reflect the local environment, for example landscaping that reflects buried historical features, or provision of healthcare facilities within the stations. This will ensure stations become more than just a place to get on and off a train, but places that are embedded in our local communities.
On a smaller scale, running a survey to choose a name for some of the local stations has been a really nice way of building excitement among local people and making them realise that this is a station for them.
The impact of regeneration on the physical environment should also be considered. Whether that is about remediating brownfield land, dealing with areas that continue to attract anti-social behaviour by increasing footfall or visibility, or simply creating something that gives a new sense of place; these are really important contributions that rail stations can make to regeneration.
Finally, it is about connectivity. The more places that people can travel to work, learn, relax, then the better the quality of life for the people who live there. This doesn't just benefit residents, but also those businesses who can start to access larger pools of labour and customers.
In terms of green transport, we do not say we have all the answers in the West Midlands Rail Executive, and that's one of the reasons why collaboration is so important to us. We want to work with the right experts to help us understand how we can best do this. We are excited to be implementing things such as delivering electric vehicle (EV) charging, cycle parking, and new pedestrian connections. We are lucky to be part of the WMCA and providing the rail function there because it means we are closely linked with Transport for West Midlands (TfWM), and we can look at things from micro-mobility hubs with cycle and scooter hire, to park and ride provision.
Collaboration is key in allowing us to further our work.
In what ways can rail be integrated with other forms of travel? And why is integration so important?
Integration is very important because few people will begin and end their journey at a railway station, get a train, and then walk the other side. Often, it is part of a wider blend of transport.
In terms of integration, providing features such as facilities for cycle parking and a pleasant public realm is important and this needs to reflect the local context. In some areas that might be about providing space for buses and for 'Sprint' (the West Midlands bus rapid transit system). In other areas, it might be more about enabling park and ride infrastructure or about serving an immediate community right around a station who want to walk or use other active travel modes together.
How can improved access to rail encourage people to make a modal shift onto the railways?
It is not just about improved access to rail, although that is clearly important. It is about making rail an enjoyable and sensible alternative to driving and ensuring that the station and its surrounding area are pleasant and well suited to support active travel. In some cases, a station might ideally become more than simply a place to get on or off a train, but somewhere more akin to a civic hub, providing other services and facilities to passengers. I think we are always going to need to attract more people to rail, particularly considering the challenges the industry has faced in the past couple of years. At University station, for example, we are providing rail services to thousands of students who we hope will become lifelong rail travellers. I choose to look at this as a huge opportunity to say 'can we attract people back onto rail?' and in doing so, help them make active choices.

Liam Brooker is the Programme Sponsor for the West Midlands Rail Programme, a £200m+ investment programme delivering new and rebuilt stations across the West Midlands in collaboration with partners. The programme recently completed the first project, opening a new station at Perry Barr in time for the 2022 Commonwealth Games. Liam is responsible for securing investment, consents, and support for the programme by setting out the case for rail investment and ensuring that the projects deliver the promised benefits. He is committed to ensuring that the experience gained on the West Midlands Rail Programme benefits other public authorities delivering rail investment.