Norfolk Southern: Sustainability with every shipment
Josh Raglin, Chief Sustainability Officer at Norfolk Southern, details the customer centric strategy that the North American freight railroad are using to further their commitment to sustainability and how this drives value for customers, shareholders and the planet.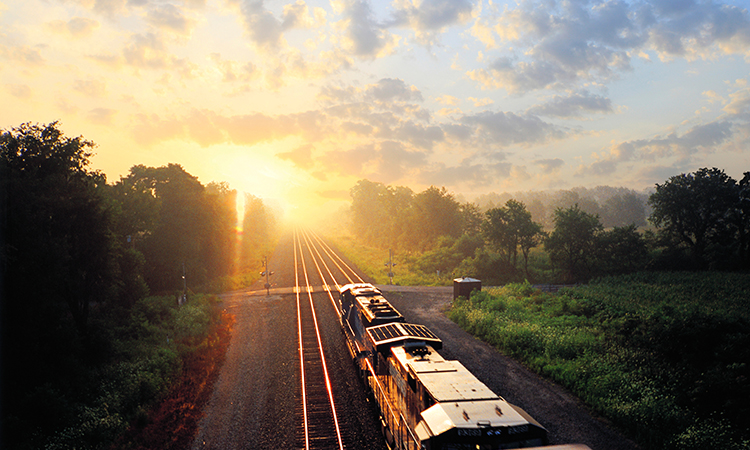 There is a global urgency to decarbonise the transportation sector. The United States Environmental Protection Agency (EPA) estimates that the sector is responsible for nearly 30 per cent of the total U.S. greenhouse gas (GHG) emissions – the largest share across sectors. Rail freight stands to play a critical role serving both the global network for the movement of goods and the decarbonisation of transportation. Modal shift to rail saves up to 75 per cent on average, of GHG emissions as compared to shipping by truck, and up to 90 per cent in some cases.
At Norfolk Southern, we are furthering our own commitment to sustainability, while helping our customers achieve theirs as well. We are investing and innovating to further cut emissions across our system to create a more sustainable supply chain that drives value for our customers, our shareholders, and our planet.
Strength in numbers
In 2021, our company had our science-based target approved to reduce GHG emissions intensity 42 per cent by 2034, with 2019 as the base year. This aggressive target was approved by the Science Based Targets initiative (SBTi) and aligned with the Paris Agreement goals on climate change. Validation from the SBTi, a joint initiative of CDP, UN Global Compact, the World Resources Institute, and World Wide Fund for Nature, confirms that the company's target is consistent with the reductions required to combat global warming. I am proud to report that in the first two years alone, we reached a five per cent achievement toward this target, primarily from continued investments and deploying energy management technology in our locomotive fleet. 
Customer-centric strategy
As an industry, we have realised fuel efficient and sustainable operations are a competitive advantage and an accelerant to long-term growth. Managing modes of transportation is one of the most powerful tools shippers can use to reduce carbon emissions. By shipping their goods with us, our customers eliminate 15 million metric tonnes of carbon emissions annually. To put that in perspective, our direct emissions are below five million metric tonnes per year. We are mitigating more emissions than we are producing, carbon negative. Our customers also avoided over 10 billion miles on our public-funded road infrastructure, equivalent to 250,000 trips around the earth each year.
Recognising the shared commitment our customers have in decarbonising operations, many of them establishing public goals for carbon reduction, our railroad is doing even more to help our customers shrink their carbon footprints, combat climate change, and drive long-term value for shareholders. We recently launched an industry-leading carbon calculator for shippers, with accurate data across the entire cycle of fuel usage. Norfolk Southern is empowering companies to make decisions to select rail as an efficient transportation service and mitigate carbon emissions from its own supply chain. 
Users can enter shipment information into the online tool, including the type of commodity they want to transport, shipment weight, frequency, and then choose from more than 75,000 origins and destinations in the U.S. The calculator provides data on estimated and avoided emissions, carbon dollars saved, highway miles avoided, trucks and cars taken off the road, households powered, and forest acres sequestered.
When users enter a commodity type, the calculator estimates the emissions that would be produced by truck shipments in comparison to rail shipments. With nearly 60 per cent of all freight shipments considered flexible between rail and trucking, this calculator encourages shippers to choose the most efficient, least carbon-intensive mode of transportation for shipping their products.
Reducing carbon emissions goes beyond Norfolk Southern and its current customers, so the railroad is making this proprietary calculator publicly available. This platform currently covers the entire U.S. rail network, and we anticipate adding the remainder of North America in the future.
Fuelling progress
To create and maximise every opportunity to further boost fuel efficiency, we are pursuing a holistic, integrated effort that includes new technologies, artificial intelligence, updated rules and policies, advanced locomotive start-stop features, top-of-rail friction modifiers and other innovations.
Norfolk Southern recognises that fuel is the greatest source of the railroad's carbon emissions, and fuel-saving innovations are a key strategic imperative. 
To create and maximise every opportunity to further boost fuel efficiency, we are pursuing a holistic, integrated effort that includes new technologies, artificial intelligence, updated rules and policies, advanced locomotive start-stop features, top-of-rail friction modifiers and other innovations. Jamie Helmer, our inaugural Director of Fuel Efficiency, leads an executive Steering Committee at our company to ensure alignment at the highest levels of the organisation and provide a platform to individual departments on the importance of fuel efficiency. For her efforts, Jamie received the 2022 John H. Chafee Environmental Excellence Award, our industry's highest honour for environmental action.
In the past two years, we have improved locomotive fuel efficiency by seven per cent, saving around 47 million gallons of diesel fuel. This is equivalent to around 47 days of fuel usage. In the first half of 2022, we have improved by an additional 2.6 per cent over the prior years' time frame.
Norfolk Southern is pursuing several initiatives across its operations to increase fuel efficiency, including modernising locomotives, increasing the use of fuel alternatives, and increasing energy management related to fuel conservation. Since 2016, more than 100 locomotives have been modernised annually, improving fuel efficiency up to 25 per cent per unit. These units were also converted from direct current (DC) to alternating current (AC) traction-motor technology for far greater efficiency. Two AC units can provide the pulling power of three DC units, which allows us to retire older, less fuel-efficient locomotives.
Part of our efforts to reduce our carbon footprint includes analysing low-carbon fuel alternatives and long-term planning of future locomotive energy sources. Norfolk Southern increased its biofuel usage up to seven per cent of total fuel usage and changed language in fuel bidding to encourage quotes on both biofuel and renewable fuel.
Fuel efficiency improvements coupled with low‑carbon fuels are the near-term solutions for us to meet or exceed our science-based target by 2034. We can do this by applying technology to make locomotives greener, using data to inform decisions, and working collectively across multiple departments to identify new areas of improvement. But we can't fix the planet alone – Norfolk Southern is actively engaged with our suppliers and the Association of American Railroad's (AAR) decarbonisation working group, dedicated to understanding new lower-or-zero-carbon fuel technologies and other climate-related issues.
Nature-based solutions
Norfolk Southern's sustainability ambition continues at our Brosnan Forest property, near Charleston, South Carolina. This ecological gem evolved from a source of timber for rail operations in the 1800s, to a demonstration forest in the early 20th century, to today's model of sustainable forestry and nature-based solutions. The 14,400‑acre protected habitat has the largest population of endangered red-cockaded woodpeckers on private land, and one of the largest remaining stands of longleaf pines forest. This vital ecosystem is as diverse as the Amazon rain forest with up to 300 groundcover plants per acre. We have enrolled over 10,000 acres in a forest carbon project along with restoring 800 acres of wetlands and six miles of streams. Through Norfolk Southern's restoration efforts and easement donations, it is now part of one of the largest intact coastal ecosystems on the East Coast and will remain protected for future generations.
In the business of a better planet
Finally, our most recent Environmental, Social, and Governance (ESG) report holds us publicly accountable for delivering on our sustainability goals. Working with our customers and other partners, when Norfolk Southern says we are in the business of a better planet, this means sustained, measurable actions for today and tomorrow.

As Chief Sustainability Officer for Norfolk Southern Corporation, Josh Raglin leads efforts to transform the company's sustainability strategy. He champions initiatives that integrate sustainability practices into daily operations to achieve efficiencies, control costs, generate revenue, and reduce environmental impacts. These efforts include close collaboration with company-wide department leaders, along with external stakeholders such as customers, investors, regulators, and communities.