Roundtable: Safer Level Crossings
Moderated by Allan Spence, Chair of the UIC Global Level Crossing Network (GLCN) and Isabelle Fonverne, Senior Advisor, Safety and Interoperability, UIC, participants from SNCF, Network Rail, Trafikverket and more, discuss their views on safety around level crossings.
"Rail travel remains the safest land-based transport mode, due in large part to the rigorous focus on safe infrastructure and procedures. Quite properly, rail passengers can expect to safely reach their destination. But sadly, there remain a worryingly high number of accidents and fatalities to others at level crossings. There has been much progress, but the 2022 Annual Safety Report from the International Union of Railways (UIC) tells a grim story. The UIC safety database compiles rail safety statistics from over 30 countries. It reveals that in 2021 more than a quarter (27%) of all significant rail accidents and almost a third (32%) of all accidental fatalities are at level crossings. That is 276 lives lost on level crossings in just one year. Worldwide, we can confidently say the toll will be many times greater.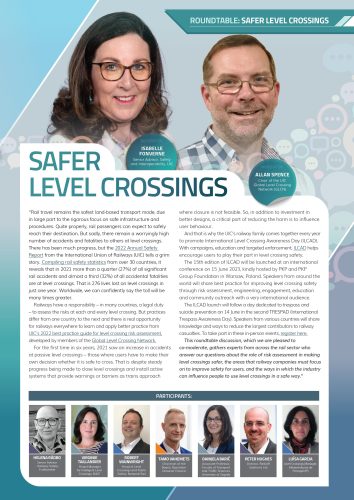 Railways have a responsibility – in many countries, a legal duty – to assess the risks at each and every level crossing. That helps identify whether the risk controls are appropriate for the location, the number and type of users, the nature of rail traffic etc. But practices differ from one country to the next and there is real opportunity for railways everywhere to learn and apply better practice from UIC's 2022 best practice guide for level crossing risk assessment, developed by members of the Global Level Crossing Network.
For the first time in six years, 2021 saw an increase in accidents at passive level crossings – those where users have to make their own decision whether it is safe to cross. That is despite steady progress being made by railways across the world to close level crossings and install active systems that provide warnings or barriers as trains approach where closure is not feasible. So, in addition to investment in better designs, a critical part of reducing the harm is to influence user behaviour.
And that is why the UIC's railway family comes together every year to promote International Level Crossing Awareness Day (ILCAD). With campaigns, education and targeted enforcement, ILCAD helps encourage users to play their part in level crossing safety.
The 15th edition of ILCAD will be launched at an international conference on 15 June 2023, kindly hosted by PKP and PKP Group Foundation in Warsaw, Poland. Speakers from around the world will share best practice for improving level crossing safety through risk assessment, engineering, engagement, education and community outreach with a very international audience. The 2023 ILCAD theme targets 'Agricultural and industrial level crossing users' and the slogan is 'Tracks are for Trains'.
The ILCAD launch will follow a day dedicated to trespass and suicide prevention on 14 June in the second TRESPAD (International Trespass Awareness Day). Speakers from various countries will share knowledge and ways to reduce the largest contributors to railway casualties. To take part in these in-person events, register here.
This roundtable discussion, which we are pleased to co-moderate, gathers experts from across the rail sector who answer our questions about the role of risk assessment in making level crossings safer, the areas that railway companies must focus on to improve safety for users, and the ways in which the industry can influence people to use level crossings in a safe way."
PARTICIPANTS:
Helena Rådbo, Senior Advisor – Railway Safety, Trafikverket
Virginie Taillandier, Project Manager for Intelligent Level Crossings, SNCF
Robert Wainwright, Head of Level Crossings and Public Safety, Network Rail
Tamo Vahemets, Chairman of the Board, Operation Lifesaver Estonia
Danijela Barić, Associate Professor, Faculty of Transport and Traffic Sciences, University of Zagreb
Peter Hughes, Director, Redcliff Solutions Ltd
Luísa Garcia, Level Crossings Manager, Infraestruturas de Portugal (IP)