Announcing The Rail Baltica Industry Day 2023 Agenda
Rail Baltica has announced the agenda for the upcoming Rail Baltica Industry Day, which will be held online on 8 November 2023 from 1 p.m. to 5 p.m. (EET). The event presents the opportunity for current and prospective suppliers and stakeholders to learn more about the latest developments of the Global Project. Designed to foster direct engagement with the Rail Baltica team, the online conference will feature interactive Q&A sessions that actively encourage audience participation.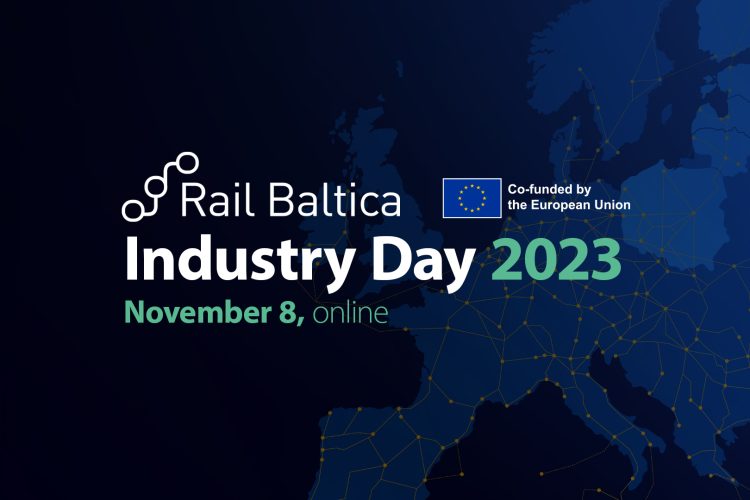 The agenda encompasses key aspects of the Rail Baltica global project, including country-specific insights, procurement strategies, upcoming plans, advancements in railway sub-systems, construction updates, and other information. Each presentation will be followed by dedicated question and answer segment, allowing attendees to directly interact with the project team.
The conference will open with a welcome address by Mme Catherine Trautmann, the European Coordinator for the North Sea-Baltic TEN-T Corridor of which Rail Baltica is a part. Following this, high-level representatives from the Baltic States' ministries responsible for the implementation of Rail Baltica – Mr Kristen Michal, Minister of Climate of the Republic of Estonia, Mr Kaspars Briškens, Minister of Transport of the Republic of Latvia and Ms Loreta Maskaliovienė, Deputy Minister of Transport and Communications of the Republic of Lithuania – will address the audience. These opening remarks will set the stage for a series of informative presentations, featuring the management of Rail Baltica delivery organizations and key experts.
To access the presentation materials after the event, prior registration is required. The working language of the conference will be English with simultaneous translations available in Estonian, Latvian, and Lithuanian.  The live broadcast of the Rail Baltica Industry Day 2023 will be available on the global project's official webpage www.railbaltica.org and Rail Baltica's social media channels on LinkedIn and Facebook.
If you have any questions to Industry Day 2023 speakers you would like to send in advance, please feel free to reach out to [email protected]. 
Agenda
13:00 – 13:05
Introduction by the moderator of the event
Linda Lappuķe, Business Relations Manager at RB Rail AS
13:05 – 13:10
Address by Catherine Trautmann, European Coordinator for the North Sea-Baltic TEN-T Corridor
13:10 – 13:25
Keynote address by:
Kristen Michal, Minister of Climate of the Republic of Estonia,
Kaspars Briškens, Minister of Transport of the Republic of Latvia,
Loreta Maskaliovienė, Deputy Minister of Transport and Communications of the Republic of Lithuania
13:25 – 13:45
Rail Baltica global project overview
Thierry Boussillon, Chief Programme Management Officer at RB Rail AS
Marius Narmontas, Chief Operating Officer at RB Rail AS
13:45 – 14:15
Project progress and future opportunities in Estonia
Anvar Salomets, Chief Executive Officer at Rail Baltic Estonia
14:15-14:45
Rail Baltica progress and milestones in Latvia
Gusts Ašmanis, Head of Infrastructure Management Department at Eiropas Dzelzceļa līnijas
14:45-15:15
Rail Baltica project progress and focus in Lithuania
Dovydas Palaima, General Manager of LTG Infra Rail Baltica Management
15:15-15:45
System engineering for cohesive project implementation enhancing Safety and Safe Integration Demonstrations
Alvaro Rex Sanchez, Head of System Engineering and Assurance Department, RB Rail AS and María Ángeles de la Sierra Aparicio, Deputy Head of System Engineering and Assurance Department, RB Rail AS
15:45 – 16:00
Preparations for large-scale construction, market capacity and construction logistics
Kristjan Piirsalu, Director of Contracting Strategy at RB Rail AS
16:00-16:10
Procurement overview 2023 and what to expect in 2024
Mārtiņš Blaus, Head of Procurement Department at RB Rail AS
16:10-16:20
Recent changes of public procurement legislation
Aiga Benfelde, Deputy Head of Procurement at RB Rail AS
16:20-16:30
Navigating the pre-tender stage: market consultations and effective supplier communication
Elīna Saule, Procurement Manager at RB Rail AS
16:30-17:00
Q&A panel discussion and closing remarks
Kristjan Piirsalu, Director of Contracting Strategy at RB Rail AS
Mārtiņš Blaus, Head of Procurement Department at RB Rail AS
Aiga Benfelde, Deputy Head of Procurement
Elīna Saule, Procurement Manager at RB Rail AS
Jean-Marc Bedmar, Head of Systems and Operation Department at RB Rail AS
Linda Lappuķe, Business Relations Manager at RB Rail AS