FLEXX Compact – the most successful bogie platform for regional and commuter trains
BOMBARDIER1 FLEXX1 Compact is now a well-established name in the world of bogies for railway vehicles. There are currently more than 7,000 FLEXX Compact bogies in service or on order worldwide…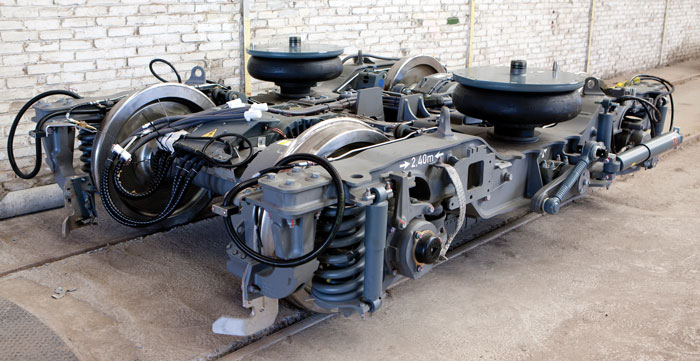 FLEXX Compact – the most successful bogie platform for regional and commuter trains
Recently, the production of the 1,000th FLEXX Compact bogie for SNCF's commuter train – BOMBARDIER1 SPACIUM1 – was celebrated at Bombardier's site in Crespin, France. Simultaneously, the 1,400th FLEXX Compact bogie for BOMBARDIER1 TALENT12 trains for Deutsche Bahn left Bombardier's factory in Siegen, Germany. The latest version of this type of bogie takes advantage of Bombardier's extensive experience in this segment, with roots dating back to the 1990s with the bogies developed for BOMBARDIER1 TALENT1 vehicles.
The FLEXX Compact platform is characterised by a modular approach for maximum design flexibility. The FLEXX Compact bogie family is versatile in its range of features and performance due to wide use of adaptable modules and proven standardised components. This gives the advantages of a flexible bogie concept that can be cost-effectively adapted to meet specific operational requirements. FLEXX Compact bogies offer high quality running performance and are easy to maintain with low maintenance costs.
Bogies of the FLEXX Compact family are lightweight and have a torsionally elastic frame for optimal safety against derailment. The bogies are compact and therefore highly suitable for lowfloor vehicles where space for under-floor equipment is limited or for double-deck vehicles where reduced height of the side beam is required to accommodate the compact bogie to carbody interface.
A wide and coherent family of bogies
FLEXX Compact is a family of bogies including Jakobs and conventional bogies, which are developed on a common base. Currently, both types of bogies are available as trailer and motor versions which optimise the use of common elements and provides advantages in terms of ease of maintenance.
Modular approach for maximum design flexibility
As mentioned , the Jakobs and conventional bogie are designed taking into account the same design principle and maximise the use of shared components, but this also applies to the complete FLEXX Compact family as a large percentage of the components can be used for different applications. This also means that the supply chain for subcomponents can be extended and assured.
An enduring success story:
From single-deck DMU to double-deck EMU, and from regional to commuter trains, from coaches to tilting articulated vehicles
Initially the FLEXX Compact bogies were mainly used as a set of bogies with conventional bogies used as front or end bogies and Jakobs bogies as the intermediate bogie of articulated trains. These bogies were used in DMU and EMU TALENT trains (for Deutsche Bahn and ÖBB) and in the widest fleet of EMUs ordered by SNCF and currently in revenue service: AGC (Autorail Grande Capacité).
In a similar way, it was feasible to share a common design when developing the running gear for the TALENT 2 EMU used for regional application in Germany and the BOMBARDIER1 SPACIUM1 articulated train for commuter applica tions in the Parisian region. Naturally, specific requirements of the final customer and train characteristics were taken into account but the common base design enabled shared practices, such as validation planning, tooling etc. It also permitted sharing of experience and the ability to apply a proactive product introduction plan.
One of the main evolutions between the FLEXX Compact motor bogie generation used in the AGC and the most recent generation is the use of the semi-suspended gearbox coupled with a fully-suspended motor.
It should be mentioned that FLEXX Compact bogies are also used for coach applications. For example, JUMBO coaches of BLS, INOVA1 coaches for the DOMINO2 trains in Switzerland and coaches for LVS Marschbahn in Germany are equipped with FLEXX Compact Bogies.
The TALENT tilting trains delivered to NSB (Norwegian State Railways) are equipped with FLEXX Compact bogies adapted to the higher axle loads, higher speed and to the harsh Scandinavian winter conditions. These specific FLEXX Compact bogies are equipped with the unique ContRoll type of tilting system: no swinging bolster is required between the bogie and the car body, but hydraulic cylinders, fitted between the anti roll bar system and the carbody, directly actuate the tilting.
From asynchronous to permanent magnet motors, and from wheel-mounted discs to tread brakes
Our FLEXX Compact bogies are also fitted to the Regio2N train BOMBARDIER1 OMNEO1 – the latest vehicle developed by Bombardier for SNCF which is very innovative from a design per spective being an articulated train set mixing single-deck and double-deck sections. One of the challenges of this application was to be able to offer a platform of bogies that were compatible, yet operating under a very large number of train set variants (including regional and commuter application with axle loads up to 20,5 T and performance requirements of 160km/h with option up to 200km/h). For this application, the motor bogie integrates a compact BOMBARDIER1 MITRAC1 TM 1510PS self-ventilated permanent magnet motor with reliable electro-dynamic braking allowing the use of tread brakes (and also in this case the integration of a cast iron tread brake for shunting purposes as required by the final customer).
Latest developments
More recently, the architecture for massoptimised design was used in order to develop the FLEXX Compact Heavy (FCH) bogie which will equip the TWINDEXX1 Vario Double Deck Powerhead produced for the DO2010 contract with Deutsche Bahn, Germany. This bogie allows the integration of the powerful MITRAC TM 1800AF forced ventilated asynchroneous motor and is able to bear up to 21T/ axle with a bogie mass lower than 10T (interface bolster and motorisation included). In contrast to the original FLEXX Compact family which uses a wheel diameter smaller than 840mm, in this instance a wheel diameter of 920mm was used in order to cope with the high traction force, loads and the Life-Cycle Cost require – ments. In this case, the interface with the carbody was standardised with another Bombardier bogie family: the FLEXX Load GIX Bogie (Trailer Bogie) used for double-deck coach application in Germany.
Another variant of the FLEXX Compact family is the mechatronic bogie developed for TWINDEXX Express double-deck trains for SBB, Switzerland and integrating the FLEXX Tronic WAKO active suspension (roll compensation device).
Perspective
Today, the FLEXX Compact family is firmly established in the major segments of regional and commuter applications. We are expecting to further develop the platform in order to cover additional needs, such as:
● Higher motorisation performance
● Increased speed range up to 250km/h
● Extended load range
● Validation for specific weather conditions and regional requirements.
A continuous improvement programme is also in place in order to collect information on the performance of our products in our different markets and applications; this will enable us to further optimise our design assumptions, optimise our Life-Cycle Cost and guide our new developments.
References
1. BOMBARDIER, TALENT, TWINDEXX, MITRAC, SPACIUM, OMNEO, FLEXX and INOVA are trademarks of Bombardier Inc. or its subsidiaries
2. Trademarks of Third Parties
Biography
Frederik Allert studied at the Faculté Polytechnique de Mons in Belgium where he acquired the grade of Civil Engineer in Mechanics. Frederik started his career in 1994 as a Structural Engineer in the Engineering Office of the Belgian Subsidiary of Bombardier where he collaborated in the development of several bogies for LRVs and Metro applications. Frederik joined the French site of Bombardier in Crespin in 1999 as Project Engineer for the development of the tilting HVP bogie of the Class 221 for the UK and continued with several projects such as the Light Tyre Metro for Taipei and the MF2000 for the Paris Metro. Frederik is currently acting as Product Engineer in charge of the management and development of the FLEXX Compact Bogie Platform.
Issue
Related topics
Related organisations