Issue #2 2014 – Digital version
This issue features articles from the German Railway Industry Association, NETINERA, and the recently inaugurated Leipzig City Tunnel; A look at Bombardier's FLEXX Eco Bogie, UNIFE's EURAXLES project, and CETEST's instrumented wheelsets work; Manfred Pisek and Stefan Gaider, ÖBB Infrastructure discuss signalling in Austria; Constructing the Copenhagen–Ringsted line and InterCity developments in Norway…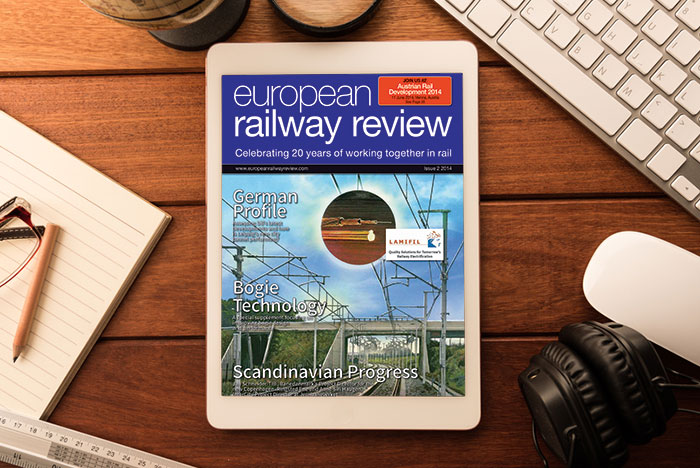 Foreword
Simon Fletcher – the UIC's Coordinator for Europe.
German Profile
Articles from the German Railway Industry Association, NETINERA, and the recently inaugurated Leipzig City Tunnel.
Bogies/Wheelsets Supplement
A look at Bombardier's FLEXX Eco Bogie, UNIFE's EURAXLES project, and CETEST's instrumented wheelsets work.
Signalling – Austria
Manfred Pisek and Stefan Gaider, ÖBB Infrastructure.
Denmark & Norway
Constructing the Copenhagen–Ringsted line and InterCity developments in Norway.
The digital version of Issue #2 2014 is restricted to logged-in members. Login or subscribe free to read it.