Borders Railway: The construction story so far
The Borders Railway will re-establish passenger railway services in the Scottish Borders and Midlothian for the first time since 1969. It is the longest new domestic railway to be constructed in Britain for over a century; and represents one of the most significant pieces of infrastructure investment seen in Scotland for a generation, with a capital construction cost totalling £294 million1. For Global Railway Review, Hugh Wark – Project Director for the Borders Railway, explains that 30 miles of new track will be laid and seven new stations are being constructed along the route. The new railway will run from Tweedbank in the Scottish Borders to Waverley Station in the heart of Edinburgh – broadly following the route of the old Waverley line…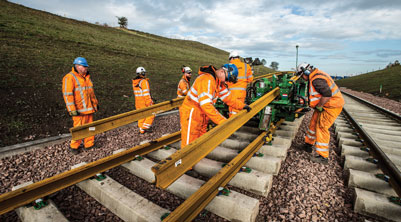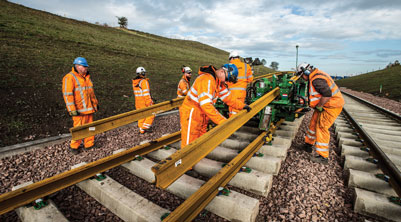 The Borders Railway will re-establish passenger railway services in the Scottish Borders and Midlothian for the first time since 1969. It is the longest new domestic railway to be constructed in Britain for over a century; and represents one of the most significant pieces of infrastructure investment seen in Scotland for a generation, with a capital construction cost totalling £294 million. For Global Railway Review, Hugh Wark – Project Director for the Borders Railway, explains that 30 miles of new track will be laid and seven new stations are being constructed along the route. The new railway will run from Tweedbank in the Scottish Borders to Waverley Station in the heart of Edinburgh – broadly following the route of the old Waverley line.
Transfer of responsibility
Network Rail signed a project transfer agreement with the Scottish Government in November 2012, following 11 months of detailed planning and negotiations between the two organisations. The agreement committed Network Rail to complete the project by summer 2015, and we are on target to deliver this.
Advance work
Advance work to make the sites safe and ready for civil engineering works commenced in January 2013. This involved the removal of trees and vegetation along the route, fencing work to secure the working areas, and the construction of access points to the railway corridor.
Demolitions were also necessary as there were a number of houses which had been built on the route after the Waverley Line was closed down, or whose proximity to the old railway line were now incompatible with modern safety standards.
Advance work also involved a programme of ground investigations, using mobile drilling rigs, to establish the type of ground and rock along the route of the railway. This activity was supplemented by a range of engineering and environmental surveys to provide detailed information to support the development of the construction plan. Finally the team also began the painstaking process of identifying and diverting or protecting water and gas supplies and other utilities.
Issue
Related organisations
Related people