The Liefkenshoek Rail Link – a true passage to Europe
Infrabel, the rail infrastructure manager for the Belgian railway network, opened the new Liefkenshoek Rail Link to freight operators on Sunday 14 December 2014. In an interview with Global Railway Review, Luc Lallemand, CEO of Infrabel, looked back one more time at the milestones in this rail link project that is strategic for freight traffic, the Port of Antwerp and the Belgian economy…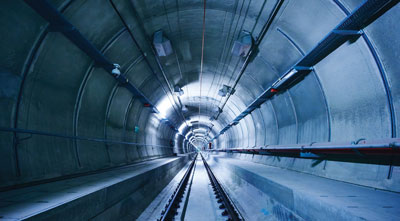 A strategic rail link in the heart of the port
The Liefkenshoek Rail Link will improve the flow of traffic between the Waaslandhaven on the left bank (including the rail installations at Deurganck Dock, the largest tidal dock in the world) and the Antwerp North marshalling yard (the second largest marshalling yard in Europe) on the right bank. Trains can now run directly, and thus more quickly and efficiently, between the two banks of the port.
Many freight trains now no longer need to make a detour via bottlenecks (Kennedy rail tunnel and the Antwerp-Berchem–Antwerp- Schijnpoort rail axis). This will also free-up capacity for passenger trains, thereby improving the flow of traffic on the Antwerp–Ghent rail line, for instance.
A central logistical gateway for Europe
The Liefkenshoek Rail Link fits in with Infrabel's strategy of gradually expanding rail capacity in and around the Port of Antwerp in order to help support growth. Through a joint strategy with the Port Authority, the Flemish government and the Belgian government, Infrabel aims to increase the share of rail traffic (containers) from the present +/-8% to 15% by 2030.
Other infrastructure projects, including the second rail access line and the 'Iron Rhine', are also planned for the future under this inter-modal strategy for improving access to the Port of Antwerp. The European rail corridors provide new access lines and allow interoperable freight traffic across national borders. The Liefkenshoek Rail Link also represents a real logistical gateway and a major boost for all freight forwarders from Europe and even the rest of the world.
The rest of this article is restricted to logged-in members. Login or subscribe free to read it.