Investment in rail in Britain's industrial areas
The Industrial Communities Alliance is the all-party association representing more than 60 local authorities in the industrial areas of England, Scotland and Wales. In October 2014 the Alliance published proposals for investment in rail in Britain's industrial areas in a document called 'Tracks to Work'. Paul Johnson, Research and Lobbying Assistant from the Alliance, provides further information about how rail investment can help rebalance the UK's economy…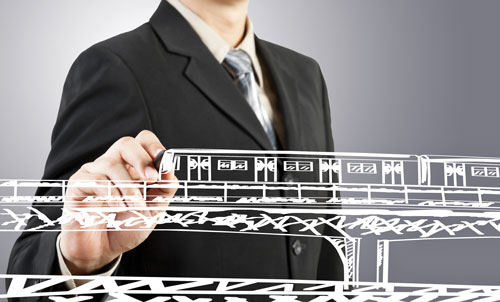 Rebalancing the economy
Rail investment can be an important tool to reinvigorate weaker local economies and contribute to rebalancing the economy. One of the reasons the pre-2008 model of economic growth failed is that the UK relied too heavily on public and private borrowing rather than on income generated through selling goods and services to the rest of the world. The UK economy needs rebalancing – away from an over-reliance on London and financial services and towards manufacturing and the regions.
The industrial areas of the Midlands, North, Scotland and Wales remain where so much UK manufacturing is located. They can contribute positively to rebalancing, but to do so they need a range of supportive interventions, including investment in rail infrastructure. At present, investment in rail infrastructure is heavily focused on London and the South East of England, which already has transport links that are superior to the rest of the country. The think-tank IPPR has calculated that spend per head in the latest National Infrastructure Plan equates to £4,893 in London, £303 in Yorkshire and the Humber and £246 in the North East.
London and the South have as much to gain from rebalancing as the rest of the country, but in different ways. The economic revival of industrial Britain would bring into use under-utilised resources of labour, land and property, and ease the relentless and unsustainable pressure on resources in the South.
This is a win-win strategy for government. Rebuilding the economy in the industrial areas of the North, Midlands, Scotland and Wales has the potential to slash billions from the Treasury's spending on welfare. It would increase tax revenue and it would lead to a more balanced economy.
Rail investment outside of cities
Rebalancing the economy by investing in rail in the North and Midlands has been proposed in the One North2 and Rebalancing Britain3 reports, which focus on inter-connectivity between the main cities of the North. The Alliance agrees that rail investment should contribute to rebalancing the economy away from London and the South East. However, the focus needs to be on links between cities and their hinterlands at least as much as on the connections between cities.
The North of England, for example, comprises a great deal more than just its big cities, for example:
Only 20% of the population of the three northern English regions lives in the North's five 'core cities' (Leeds, Liverpool, Manchester, Newcastle and Sheffield) and only 22% of the North's jobs are located there4
Even if the 'core cities' are defined more widely to include adjacent boroughs in the same urban area5, they still account for only 39% of the North's population and 37% of its jobs.
The point is here is that the majority of the North's population, and the majority of its economic activity, falls well outside the North's main cities. This applies to many of its older industrial areas, including some of the North's most deprived communities, as well as to remoter rural and coastal locations. Indeed some parts of the North – West Cumbria for example – are located a very long way from the nearest big city.
Employment growth in cities is only likely to be of value to the wider region if the new jobs can be accessed by residents in surrounding areas.
Why rail investment is needed in industrial areas
Investing in rail connections between the towns and cities of industrial Britain would give a boost to their economies and make a major contribution to narrowing regional divides. In the places presently cut off from the rail network, or only very poorly connected, it can improve access to growth centres and promote the spill-over of people of businesses from more prosperous areas to more disadvantaged communities. It also facilitates economic development in less prosperous areas by increasing the pool of available labour and by offering the option of shifting goods by rail.
The labour market has become more segmented and often requires higher skills and qualifications. Key sectors, such as advanced manufacturing, often require highly specific skills. So do many office jobs. One result is that the catchment areas for labour are far larger than 30 years ago.
The benefits of rail investment have particular resonance in industrial Britain. The development of industry in the Midlands, North, Scotland and Wales was deeply intertwined with the development of the rail network. Railways here were first and foremost about the movement of goods and raw materials. They also carried people in large numbers, but this waned with the rise of bus services and the private car.
As industries closed or shifted their business onto the roads, and as passenger numbers dwindled, the rail network in industrial Britain was cut back drastically. This never happened to the same extent in the South, where commuting by rail into London remained the norm. Moreover, what remained of the local rail network in industrial Britain was often starved of new investment. The high-speed lines into London were prioritised but not the cross-regional links or local lines.
The links to London remain important and it would be entirely wrong to downgrade the East Coast mainline, say, just because HS2 is planned. However, elsewhere nearly a century of relative neglect now needs to be addressed.
Some of the benefits of rail investment can be achieved by reopening existing goods lines for passenger services. In these cases the track is already in place but needs up-grading. An example is the Ashington, Blyth and Tyne line, which is currently a fully maintained freight line but not used for passenger services. This line connects the heart of the former Northumberland coalfield with Newcastle and the rest of Tyneside. It would open up substantial employment opportunities for the area's residents, particularly in Newcastle.
In other cases, rail lines that have closed entirely might be re-opened. This is generally significantly cheaper than creating new rail lines. Many rail lines which were closed in the 1960s pass through communities that suffer from poor accessibility to major employment centres. In other cases, what Britain's industrial areas need is improvement to existing services – electrification, more frequent services, new rolling stock, better stations, improvements to junctions to allow new routes to operate.
The Treasury's investment criteria
The Treasury's criteria for investment in transport infrastructure are flawed.
At present, the Treasury's investment appraisal techniques prioritise easing congestion. This is always going to result in yet more investment in and around London.
Indeed, after a while, rail investment in London becomes self-defeating: the pent-up demand for travel means that new infrastructure quickly fills to capacity, building a case for yet more investment.
The Treasury's cost-benefit methods skew investment towards areas with high population densities and high wages. This is because the methods favour schemes used by large numbers of people whose time is valued highly. This decision-making process ignores wider economic benefits and does nothing to address the glaring regional imbalances in rail infrastructure investment.
Judging rail projects merely by travel time saved is limited. Rail investment should be judged not just in transport terms, such as decreasing congestion, but also in terms of regional and local economic development objectives. Wider and indirect benefits are also important and if these are taken in to consideration more rail projects will be delivered in industrial areas where local economies are struggling.
Rail infrastructure investment is one of the key tools to reinvigorate these economies. Unfortunately, the Treasury's present decision-making process for infrastructure schemes is hampering this.
The Treasury needs to move away from appraisal techniques that prioritise easing congestion. Investment in rail infrastructure in the regions lays the foundation for future economic growth. Despite these benefits being harder to quantify they are no less real.
Conclusions
Investing in rail in Britain's industrial areas can help rebalance the national economy and revive the fortunes of some of the country's most disadvantaged areas.
To achieve this, 'Tracks to Work' argues that there needs to be investment in industrial areas to improve rail links between cities and their hinterlands as well improving inter-connectivity between the cities themselves.
The Treasury needs to change its cost-benefit methods for appraising rail infrastructure projects, which skew investment towards areas with high population densities and high wages, to also incorporate regional and local economic development objectives.
References
Rebalancing the books, IPPR North, 2014.
One North: a proposition for an interconnected North, Core Cities group, 2014.
Rebalancing Britain: From HS2 towards a national transport strategy, David Higgins, 2014
2013 mid-year population estimates, and 2012 employment totals, from NOMIS.
Using the Centre for Cities' definition: Leeds, Liverpool (plus Knowsley, St Helens), Manchester (plus Bury, Oldham, Salford, Stockport, Tameside, Trafford), Newcastle (plus Gateshead, North Tyneside, South Tyneside), Sheffield (plus Rotherham). 
Biography
Paul Johnson has a geography degree from Durham University and a Master's in Town Planning from the University of Liverpool. He joined the Alliance in January 2014. He has worked on the lobbying of the 10-point plan, the 'Tracks to Work' report and 'Welfare-to-Work isn't Working' report. Previously, Paul worked for Lancashire County Council and South Ribble Borough Council, working primarily in Planning.
Issue
Related topics
Related regions