Scandinavian rail freight: Time for change
National governments have to create level playing fields between rail and road, writes Gottfried Eymer, CEO of DB Schenker Rail Scandinavia A/S. Driven by globalisation and changes within manufacturing industries, the demand for freight transportation is increasing to levels never seen before. Various things like raw materials, consumer goods and technical components for the manufacturing industry are being sent off from one city or country to another. The problem is that too much is transported by road and too little by rail and this causes a number of problems and costs to society.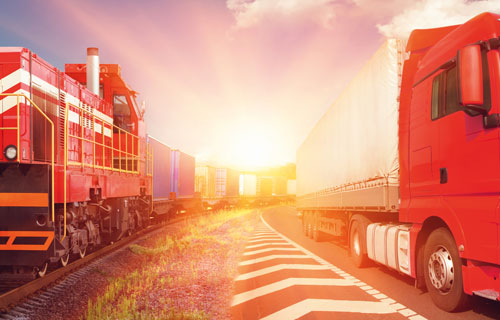 European Environmental Agency (EEA) statistics state that the modal split is currently in EU 15 favouring road over rail with an 82/18 (2013). And according to the European Commission, freight transportation is expected to grow another by 80% before 2050.
According to the Danish Ministry of Transport, in Denmark alone the total external costs of road transport have been estimated to be around 10,000 million DKK (2004) while rail freight is only responsible for around 425 million DKK per year. This equalizes an annual amount of damage per capita of around 18,000 DKK caused by road freight respectively 750 DKK by rail freight.
Looking at these effects on a much smaller scale for a Danish stretch between Hirthals and Hamburg, the estimations from the Ministry are supported which shows that it is not only society costs as congestion, traffic accidents or noise that is the result of the existing favouring of road transportation. Rail freight is also by far the most climate-friendly mode of transportation and will most likely continue to be so for decades.
Level playing field
We currently face a situation that is dominated by unbalanced competition between the different modes of transportation.
The simple facts of today are that rail freight is inflexible. To get access to the rail-infrastructure everything has to be planned weeks or months in advance to get the right channels and capacity for our trains. Therefore the rail system is in many ways a closed circuit compared to road transportation. We need to change that.
In order for freight customers to be able to make healthy choices in the interest of both society and the climate, we have to ensure a level playing field between the different modes of transportation.
On shorter distances within the Nordics we see the expense of shifting goods from road to rail as a very damaging factor. The fixed terminal cost is essential to the competitiveness of rail freight on shorter distances. It is simply not relevant unless the goods have to be sent over longer distances.
Apart from that, road transportation is for the time being in Scandinavia not subject to road or kilometre tax. Rail freight transportation is. Trucks can cancel a planned trip over Øresund and The Great Belt connection in Denmark with no costs attached. If a rail freight customer is to change their mind regarding a planned trip over The Great Belt a week before, they would be subject to a payment of more than 6,000 DKK for the 'no use'. This will prevent any freight transportation customer that is not absolutely sure the goods have to go on that specific date and time to choose road transportation.
Competition is good – but road transportation is being favoured due to these reasons. And this will lead freight customers to making unhealthy choices in these matters – keeping the society cost in mind.
It is a major challenge to convince transport providers to switch from road transport to other modes, and it will only succeed if rail freight transportation is not too expensive or too difficult or too inflexible.
European legislative support/benefits
In order for Scandinavia and Europe to maintain an effective transportation system, to reduce costs for society and for the many benefits to society related to rail transportation, the European Union is supporting rail freight development.
In the White Paper 'Roadmap to a Single European Transport Area White' from 2011, the European Commission formulated an ambition of having a 50% shift of medium-distance freight journeys longer than 300km from road to rail and waterborne transport by 2050.
Moving freight from road to rail seems to be a reasonable ambition due to the point that electric freight trains are already today up to 10 times more climate-friendly than trucks, including the assumption that trucks and ships will most likely not run on batteries for the foreseeable future, and the fact that EU is aiming for a reduction of overall greenhouse gas (GHG) emission by 60% in 2050 compared to the 1990 level.
The increasing demand for effective freight transportation makes – in combination the GHG-emission challenge – rail freight play a very important role providing a range of benefits to society.
We should clearly avoid a vicious circle, where high rail freight transport costs and low service levels discourage trade, which will further undermine rail freight transport and reduce connectivity. Freight transportation is a vital component of the economy. The transport and distribution of goods basically influences all sectors of the economy. It supports production, trade, and consumption activities by ensuring the efficient movement and availability of raw materials and finished goods in time.
Policymakers need to act
The directives enacted by the European Parliament are addressed to the governments of the member states, and consequently it naturally takes time before the directive approved in the European Parliament will be implemented into national legislation and take effect in a specific member country.
However, national policymakers need to make sure that the time from legislation to the concrete implementation is minimised. National commitment and legislative framework are definitely needed to support rail freight and reach the goal of GHG-emission reduction and economic growth. 
In addition, policymakers have to take into consideration whether the combined infrastructures investment strategy actually leads to an effective freight transportation system. A system that enables businesses to choose the mode of transportation in the best way possible supports economic growth and provides as much benefits to society as possible. An effective transportation system is about connectivity where goods can be shifted seamlessly from waterborne transport to rail to road.
Enacting a regulatory model that included all the society effects of the different transport modes would significantly influence transportation prices and the relations between transport modes driving the development.
In terms of government investments for tracks to help increase the competitiveness of rail freight, there first needs to be assurance on an optimal location of terminals and a good hinterland connection. This would mean that the fixed costs of the terminals could be spread out over more kilometres. Secondly, there needs to be low-cost terminals; lowering the terminal costs would positively affect the distance at which rail becomes competitive. Thirdly, there needs to be low infrastructure and cancellation fees. And finally, additional regulations are needed to establish the necessary equal playing field. For instance road tolls for heavy goods vehicle (HGV).
On the other hand, policy makers also realise that investing in rail freight transportation, focusing on EU's transport potential, and focusing on the Scandinavian Corridor will contribute to the creation of a single multimodal transport market. They also have to realise that this will support the development of a sustainable and efficient multimodal transport system in Europe. Investing in connectivity is investing in the future.
Freight volumes will increase for decades, so the market is there. The external costs to society will also increase for decades, so the need is definitely there. But we need to combine European strategy with national strategies, we need to create level playing fields and we need take responsibility for driving the change.
DB Schenker Rail Scandinavia A/S – facts and figures
DB Schenker Rail Scandinavia is the largest Danish rail freight operator and the production company in the Danish part of Europe's largest rail freight carrier.
Together with DB Schenker Rail Danmark Services A/S, DB Schenker Rail Scandinavia A/S constitutes the Scandinavian part of the fine-knit European railway network which the DB Schenker group has established in recent years.
DB Schenker Rail Scandinavia A/S was established as a production company in 2009 and is owned by the German Deutsche Bahn AG (51% ownership) and the Swedish Green Cargo (49%).
DB Schenker Rail Scandinavia is responsible for the daily production of the company's many freight trains which travel between destinations in Denmark every day or contribute to connecting Scandinavia with the rest of Europe in effective transport corridors.
The company's primary activities are constituted by routes between the stations named hereafter and the corridor between Malmø and Hamburg.
The company also operates two combi terminals in Taulov and Høje Taastrup and mans 13 railports and stations in Kolding, Fredericia, Herning, Nyborg, Ringsted and Køge, among others.
DB Schenker Rail Scandinavia employs more than 200 employees in Denmark. Approximately 80% of these are locomotive drivers and station personnel.
Biography
Gottfried Eymer passed his second state examination as a lawyer in Dresden in 1996 and from 1997 to 2003 worked for Decathlon – the world's No.1 in Sports Retail as Head of Development, first for Nordrhein-Westphalia, later for the whole of Germany. In 2003 Gottfried started at Deutsche Bahn in Berlin as Head of the Rental and Commercial Department at DB Station & Service AG. After three years he became Head of Strategy of DB Services, DB Energy and DB Passenger Stations before he was responsible for the foundation of the DB Schenker daughter COBRA, the rail freight services between Belgium and Germany, located in Brussels. Since June 2012 Gottfried has been CEO of DB Schenker Rail Scandinavia A/S.