Moving towards the opening of Birmingham New Street station
Posted: 6 August 2015 | Chris Montgomery, Network Rail's Project Director for the Birmingham New Street project | 1 comment
After five years of engineering and building works, the finished product is now in sight at Birmingham New Street Station. In an article for Global Railway Review, Chris Montgomery, Network Rail's Project Director for the Birmingham New Street project, details what the new station will mean for its passengers, and the city as a whole…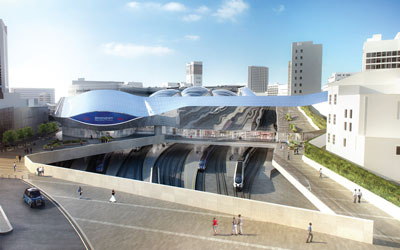 It is not long to go now until the opening of the new Birmingham New Street Station, and it is really taking shape. The building of the new station has been a long and exciting journey for both passengers and all those involved as they have watched as we transformed an old, tired 1960s structure into a fantastic eye-catching building at the very heart of Birmingham.
New Street Station is the busiest station outside London and the busiest interchange station in the UK with a train movement every 37 seconds. Back in 2010, 140,000 passengers used the station everyday – which was over double the number it was built for in 1967. At peak times the station had to close as it could no longer cope with the number of people trying to get to their trains. The completion of the upgrade to the West Coast Main Line saw increasing numbers of business and leisure travellers leaving their cars at home and taking the train. Today we see over 170,000 daily passengers using the station so we can see that Network Rail's plans for New Street were vital to meet that ever growing demand. The new station will be able to cope with this increase in passenger numbers and forecasted increases for the next 40 years…
The rest of this article is restricted to logged-in members. Login or subscribe free to read it.