Modernisation and improvement brings a bright future for Ceské dráhy
The joint-stock company Ceské dráhy (CD) is one of the most important carriers in Central Europe, providing services for passenger transportation plus rail freight services through its subsidiary company, CD Cargo. For Global Railway Review, Chairman of the Board of Directors at CD, Pavel Krtek, explains that improving the services it offers is having a positive all-round effect for the company…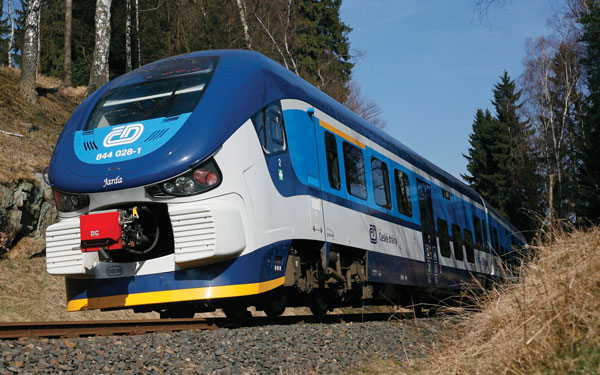 CD transports 170 million passengers a year Ceské dráhy recently went through substantial changes; we used every possibility a business company has to modernise our rolling stock fleet and to improve our services. We have repeatedly and successfully issued Czech and international bonds and we receive EU grants to purchase coaches and to, for example, equip tractive vehicles with GSM-R.
Until recently we operated seven Pendolino trains which represented the highest level of services in passenger transport on the Czech railways. At present, Railjet trainsets connecting Prague, Vienna and Graz as well as many new regional trainsets were added to our fleet. Furthermore, coaches of classical construction for domestic and international long-distance trains are undergoing modernisation; almost 100 coaches are currently being adapted for the Prague–Berlin–Hamburg route. Since 2008, CD has invested approximately 40 billion Czech Crowns in coaches and lowered the average age of our rolling stock fleet by about 10 years.
Both domestic and foreign manufacturers took the opportunity to participate in tenders, and the contract for the production of regional trainsets was awarded to the Polish company PESA and DMUs for local mountain railway lines were produced by the German branch of the Swiss company Stadler.
Ceské dráhy pays great attention to being able to transport people with reduced mobility; after having consulted with them, CD modified 64 coaches of long-distance trains and equipped them with a hoisting platform, restrooms for wheelchairs and other helpful elements. Each day we dispatch approximately 7,000 trains and almost two-thirds of them have barrier-free access. Ceské dráhy thus fulfils one of the main roles of a national carrier, which is ensuring network transport servicing for all passengers, not only in the Czech Republic but also reaching out to Central Europe.
Improved offer and services to passengers
České dráhy is a customer-oriented company that provides services for all kinds of customers. One of the most sought-after services in the Czech Republic is the transport of bicycles. ČD currently provides this service in approximately 6,500 trains, including Pendolino and Railjet trains. Modern services also include Wi-Fi connection which is being gradually installed both in long-distance express trains and in new commuter and regional trains.
We pay great attention to modern communication technologies both as part of our own rail operation and with respect to our customers. For instance, all trains running on main corridors, or just going to the junction stations of these corridors, are now equipped with the GSM-R system. Train conductors have portable cash registers with an on-line connection to the central sale server, which facilitates and speeds up ticket control, especially if tickets were purchased via the e-Shop.
České dráhy on-line
Purchasing e-tickets via ČD's e-Shop is a popular sales tool and the number of transactions using this method is constantly growing; our passengers made 1.9 million transactions in 2013, with approximately 800,000 more in 2014. We fully expect a similar trend in the future. ČD's e-Shop sells domestic tickets that also include discounts and all stations in the Czech Republic. There is a wide selection of e-tickets to many places in Germany, Austria, Slovakia and selected destinations in Poland, Hungary, Denmark, Switzerland and Slovenia. E-tickets can be purchased not only on the Internet but also via smartphones; our latest application 'Můj vlak' provides fast information about timetables, current operations and train delays and sells tickets. This application became popular very quickly among users and received several professional recognitions. 
International passenger transport
We keep developing traditional international cooperation and restoring disrupted connections, such as the route Aš–Selb. Starting on 13 December 2015, nine pairs of direct international passenger trains run every day through the new border crossing on the return route Hof–Aš–Cheb–Marktredwitz. Passenger transport on this route was restored after approximately 70 years when the viaduct over the Ohře River was taken down, which disrupted the train connection for many years. Our passengers can now also take a direct Stadler train from Liberec all the way to Szklarska Poręba in Poland; the train used to end in Harrachov where passengers had to switch to a train of another carrier. New trains to Poland also go to the border with the Moravia-Silesian region. With the agreement of the Silesian province and the Polish carrier Koleje Śląskie, we dispatch four pairs of passenger electric train-sets EN57 from Bohumín to Katowice / Racibórz / Rybnik and back through Chałupki. Six pairs of passenger diesel train-sets Regionova now run between Frýdek-Místek, Český Těšín and Cieszyn every two hours during the day. The current timetable shows a direct connection with a sleeper coach between Prague and Kiev that we have restored in cooperation with the Ukrainian Railways. The sleeper coach of the Ukrainian Railways has special equipment for changing bogies in the border crossing station Chop where the track gauge changes from 1,435mm to 1,520mm. The last direct train connection between Prague and Kiev was provided through Poland on the route Prague–Cracow–Kiev in 2011. On this currently restored route used to run the famous express train 'Dukla' providing transport between Prague, Košice and Kiev and all the way to Moscow until the beginning of the 1990s. The joint project of ČD and ÖBB connecting Prague, Brno, Vienna and Graz with Railjet trains proved to be very successful. These trains consist of seven blue ČD units and three red ÖBB units. Thanks to these new train-sets running since December 2014, passenger numbers grew considerably, both in international and in domestic transport. Starting with the current timetable, the journey from Prague to Vienna is shorter by approximately 10 minutes. For the first time in history, a journey by train between our capital cities takes less than four hours. Furthermore, the train connection to Berlin and Hamburg is very important to us. This is where we shall gradually put in service a fleet of modernised trains to further improve the quality of transport services and to attract more passengers. All our trainsets on this route shall have a coach for wheelchair users, an enclosed children's compartment with a room for a baby buggy as well as a coach for transporting bicycles. The trainset shall also have Wi-Fi that has become a standard part of domestic and international connections.    
Liberalisation and competition in the Czech Republic
In spite of the growing competition, we have maintained our market share both in passenger and freight transport. Our strategic goal is to create a strong ČD Group focusing on three basic areas: passenger transport, freight transport and support activities such as repairs. For us, market liberalisation means that we have to be more effective and cheaper and provide better services than our competitors. Our big advantage lies in our network transport servicing, longstanding support and good business relations built-up over time.
We have become actively involved in drafting legislative changes that are to prepare the Czech Republic for full market liberalisation in passenger transport. Other carriers can now compete for the favour of passengers in the Czech Republic; however, there is no independent market regulator, the mutual recognition of tickets has not yet been resolved, and the role of a national carrier, which every state should have, has not yet been defined, etc. Meanwhile, we watch private companies taking over profitable routes, which is exhausting the infrastructure capacity for regional passenger transport as well as for freight transport. It mostly concerns the third corridor between Prague and Ostrava. There are growing disputes among carriers who expected state-owned České dráhy to relinquish these profitable connections to them, which, however, České dráhy as a business company cannot and quite logically does not want to do. Our goal is to service the entire Czech Republic and abroad to avoid a breakdown of the train connection network where one can travel with a single ticket under the same transport conditions and with the same services across the entire Czech Republic.
Freight transport
Our subsidiary company ČD Cargo, a.s., which transports all kinds of freight, such as raw materials, high value-added products, containers and special shipments, leases train coaches and provides siding and other transport services, is gradually getting recognised on the international market. In terms of annual transport volume, it is one of the five biggest rail freight carriers in the EU's Member States. ČD Cargo services customers at approximately 1,000 places in the Czech Republic and, through its subsidiary companies, across Europe as well. It currently operates trains in Poland (mostly with black coal), Slovakia and Hungary (intermodal) and Germany (automotive). The combination of the 'last mile' on the home territory and complete train loads in Central Europe gives ČD Cargo a unique opportunity to maintain and develop its leading position among European carriers in an increasingly competitive environment of future rail freight transport. The transportation via rail of containers between China and Western Europe also has great potential.
Railway Research Institute – VUZ, a.s.
VUZ is an important part of the České dráhy Group, accredited and authorised to perform comprehensive activities related to rolling stock and general rail equipment testing and certification. The VUZ Accredited Testing Laboratory performs driving properties and safety tests, brake tests, traction tests, noise tests (in compliance with TSI), electrical and power supply system tests, electromagnetic compatibility tests, power collector tests, plus tensile strength and fatigue tests.
The Testing Centre Velim has two test circuits; the Dynamic Testing Laboratory and the Training Centre is especially important. The large rail circuit makes it possible to test typical trains with maximum speeds of 210km/h and tilting trains with maximum speeds of 230km/h. It also has a platform for aerodynamic tests in compliance with TSI HS RST, a noise section and two noise measuring stations in compliance with TSI CR – noise and TSI HS RST, ETCS L1 and ETCS L2 systems and GSM-R signal coverage. Thanks to these parameters, the majority of developed, manufactured and certified trains are tested at the Testing Centre Velim.
Biography
Pavel Krtek graduated from the French state technical university – Ecole Centrale Paris. He became a Member of the Board of Directors of České dráhy in February 2014 and was elected the Head of the national carrier on 10 November 2014. In September 2015, the General Assembly of the Community of European Railway and Infrastructure Companies (CER) appointed him as Member of the CER Management Committee.