VR Track heads full steam towards Nordic expansion
Posted: 23 March 2016 | Jouni Kekäle – VR Track's Vice President of Corporate Strategy and Development | No comments yet
VR Track Oy is Finland's biggest rail constructor, with expertise covering all aspects of railway engineering, from design to project implementation. The company employs some 1,450 expert personnel in Finland and approximately 350 people in Sweden. In an interview for Global Railway Review, Jouni Kekäle – VR Track's Vice President of Corporate Strategy and Development – explains that it now has its eyes set on the entire Nordic region which offers good growth potential for the future…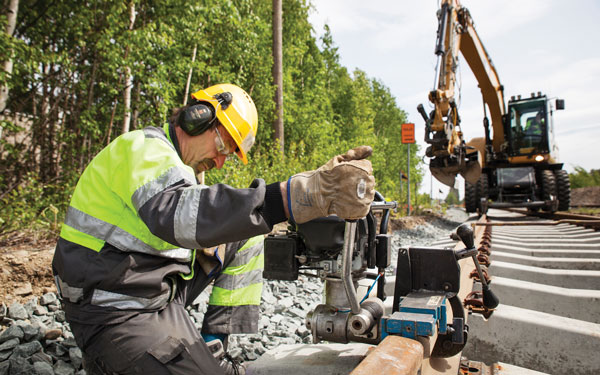 VR Track's services cover the whole infrastructure of a project's lifecycle: the design, construction and maintenance. The company is also a major provider of track machinery services and railway materials to the transport industry.
VR Track's customers include the government, municipalities, ports and companies that require high-quality railway infrastructure engineering services and other types of infrastructure engineering work. The company is part of the Finnish state-owned railway company, VR-Group, and its largest customer is the Finnish Transport Agency.
"Our competitive advantages in the infrastructure field include our unique overall expertise in complete project life-cycles, a solid experience in railway systems and project management of large contracts in today's highly competitive market environment," says Jouni.
Project alliancing paves the way for growth
Since VR Track's establishment in the mid-1990s, Finland's infrastructure-engineering market has transformed profoundly. In today's infrastructure engineering business, every contract is either won or lost through competitive tendering.
"During VR Track's early years, competition in the industry was minimal and track laying and track maintenance contracts were mainly assigned based on negotiations between two parties – us and the customer," explains Jouni. "However, for the past 10 years VR Track has operated in a fully competitive business environment. Today infrastructure engineering projects are large and so-called project alliancing, or alliance contracting, has also found its way to the Finnish market."
The rest of this article is restricted to logged-in members. Login or subscribe free to read it.