VR Track heads full steam towards Nordic expansion
VR Track Oy is Finland's biggest rail constructor, with expertise covering all aspects of railway engineering, from design to project implementation. The company employs some 1,450 expert personnel in Finland and approximately 350 people in Sweden. In an interview for Global Railway Review, Jouni Kekäle – VR Track's Vice President of Corporate Strategy and Development – explains that it now has its eyes set on the entire Nordic region which offers good growth potential for the future…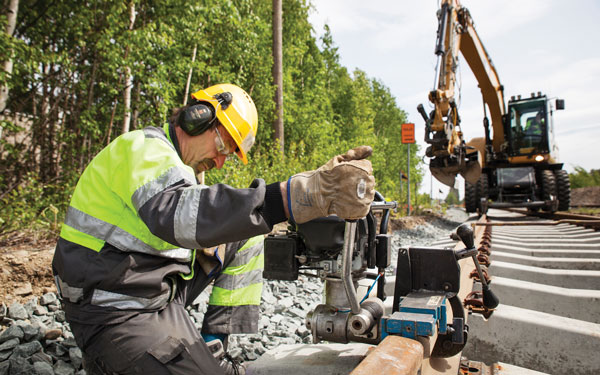 VR Track's services cover the whole infrastructure of a project's lifecycle: the design, construction and maintenance. The company is also a major provider of track machinery services and railway materials to the transport industry.
VR Track's customers include the government, municipalities, ports and companies that require high-quality railway infrastructure engineering services and other types of infrastructure engineering work. The company is part of the Finnish state-owned railway company, VR-Group, and its largest customer is the Finnish Transport Agency.
"Our competitive advantages in the infrastructure field include our unique overall expertise in complete project life-cycles, a solid experience in railway systems and project management of large contracts in today's highly competitive market environment," says Jouni.
Project alliancing paves the way for growth
Since VR Track's establishment in the mid-1990s, Finland's infrastructure-engineering market has transformed profoundly. In today's infrastructure engineering business, every contract is either won or lost through competitive tendering.
"During VR Track's early years, competition in the industry was minimal and track laying and track maintenance contracts were mainly assigned based on negotiations between two parties – us and the customer," explains Jouni. "However, for the past 10 years VR Track has operated in a fully competitive business environment. Today infrastructure engineering projects are large and so-called project alliancing, or alliance contracting, has also found its way to the Finnish market."
Jouni notes that such changes have sparked the need for the company to restructure its business. The company has also successfully gone through a multi-year turnaround programme in order to enhance profitability and enable future growth in an optimal manner. Today the company is, in fact, one of the most profitable major construction companies in Finland.
"In addition to today's open-market competition in the infrastructure sector, customer behaviour in the industry has also changed markedly," says Jouni. "While already having been able to show our competitiveness in winning new business through traditional bidding contracts, we have also been able to demonstrate our strengths in more collaborative, project alliancing contracting models."
Jouni explains that project alliancing is a project-delivery system originating from Australia and New Zealand. The method is based on a joint contract between the key players in a project – i.e. the project owner (customer) and service providers – whereby all parties assume joint responsibility for the design and construction of the project to be implemented through a joint organisation. The basic idea behind it is that risk is borne jointly and reward is shared on the basis of the success of the entire project.
Jouni explains: "This makes the parties take each other's views into account and collaborate more efficiently for the benefit of the project. The method also allows for combining a wide range of expertise needed to foster innovation and making demanding ventures successful."
Successful realisation of an alliance requires a more-collaborative working culture than before. VR Track has already proven successful in winning contracts through the new contract-delivery method. Together with the Finnish Transport Agency, VR Track carried out the first public procurement contract in Europe in accordance with the alliance contract model for the Lielahti–Kokemäki track section. Moreover, last summer a consortium consisting of VR Track, engineering company Pöyry PLC and Finnish construction company YIT was selected to construct a 23.5km-long light-rail line in the city of Tampere, Finland. The project, valued at €250 million, is scheduled to conclude in two phases: the first in 2019 and the second in 2023.
"Our alliances place a big emphasis on safety," states Jouni. "In large sites, it is vitally important to react immediately to shortcomings and observations on points of safety. We discuss these and resolve problems openly as an alliance."
The construction work on the Lielahti–Kokemäki alliance project – completed in early-2015 (nearly one year ahead of schedule) – received, in fact, an occupational safety award1 for promoting occupational safety. It was also awarded a prize by Finnish local newspapers for actively communicating about the project.
Eyes on Nordic expansion
Jouni admits that the company worked hard in recent years to improve its competitiveness in a changing market situation. However, now the company has reached a turning point in which past restructuring and cost-cutting measures are starting to pay off. For VR Track, this means an even stronger focus on growth.
"Over the past three years we have been concentrating on restructuring our company in order to build a strong foundation for the competitiveness of our business," Jouni says. "Now, our strategic focus is on achieving international growth. We want to see strong growth in the Nordic countries; our strategic mission is to become the top railway-infrastructure service provider in the Nordics by 2020."
Because VR Track already holds a major market position in Finland, Jouni adds that it is natural for the company to seek new business opportunities outside Finnish borders. Already holding a major share of the Finnish market, Sweden and Norway are becoming increasingly attractive targets in the field of railway engineering because of their good future-growth prospects.
Jouni notes that Sweden especially offers prime growth opportunities. VR Track has offered its railway network construction and maintenance services in Sweden since 2004. In 2012, the company opened its Swedish subsidiary, VR Track Sweden AB.
"We see great demand for our services in the Nordic countries in the near future, especially in Sweden," explains Jouni. "First of all, the size of Sweden's railway engineering market is about three to four times larger than in Finland. Unlike in Finland, where we already hold a strong market position, the Swedish and Norwegian railway infrastructure markets are expected to grow in the near future."
In 2015 VR Track entered the Swedish market with its new brand, VR Infrapro. In addition to offering railway network construction and maintenance services to Swedish customers, VR Track now also sells design and consulting services to the whole infrastructure market in Sweden.
So far, some 25% of VR Track's total sales of around €300 million are generated from their Swedish operations. With help from the new design and consulting services division, Jouni anticipates the share to grow 'significantly' over the next five years.
In terms of Norway, Jouni says that VR Track is closely following how the rail-network market develops there, because the country has set out plans for railway reforms in a bid to bring more competition to the industry: "The Norwegian market isn't as open to competition as the Swedish market is, but we are following developments in the country closely to be ready to take action when the time is right." 
Digitalisation for efficiency and safety
Track construction and maintenance work requires a lot of specialised rolling stock. VR Track's heavy machinery represents the latest in technology to streamline work-flows and enable a consistently high-quality standard of work. With the use of highly automated equipment, work can be carried out quickly, efficiently and accurately.
Jouni highlights that in addition to improving the efficiency of VR Track's projects, the use of 3D machine-controlled maintenance and heavy-duty construction equipment, such as ballast cleaning machines and excavators, helps create clear time and material savings for the company.
"The use of 3D machine-controlled equipment and guidance systems has particularly revolutionised the way VR Track builds superstructure layers in new rail production and in the renewal of existing ones," explains Jouni. "With the use of such advanced technology, staking out and manual surveying can be reduced. This saves time, money and personnel requirements, and at the same time improves work performance."
Jouni adds that the use of high-tech construction equipment is VR Track's key to its high-quality work performance. When using 3D machine-controlled equipment, the machine itself knows when a particular work stage is being accurately performed.
"3D machine-controlled equipment knows what quality its operator is reaching, and quality feedback from that is immediate," Jouni states. "This produces outcomes that are of more uniform quality, thus reducing the need to fix mistakes made during the construction of superstructure layers after having already moved on to the next stages of rail construction."
One important cornerstone of VR Track's business is its heavy emphasis on safety. So far, the company's efforts have paid off well, with the frequency of work-related accidents having halved in the past five years.
Jouni says: "We are taking actions to ensure that none of our activities may endanger passenger or freight safety and, in addition, that rail traffic may not endanger the safety of our employees or our partners. Occupational safety has been systematically improved at VR Track over recent years through a focus on measures such as accident investigation, preventive action and safety communications targeting all employees."
Jouni adds that the use of modern, digital technologies is not only increasing the efficiency of VR Track's projects but also helps reduce risks related to them and improves safety through increased construction awareness from easy review of complex details or processes on site.
Today VR Track uses 3D technology in its planning and construction phases. So-called building information modelling (BIM) is the process of generating, building and managing data through the life of the project by using model-based technologies linked to a database of project information.
"BIM enables us to enhance the productivity, efficiency and safety of our service," explains Jouni. "It has and will be used in a number of our projects, including the already-completed Lielahti–Kokemäki track project, the tramway project in Tampere, and the rail link project related to the construction of a new bioproduct mill in Äänekoski, central Finland."
Another area of digitalisation at VR Track is the use of machine vision technology. This provides valuable information in a variety of areas to enhance productivity and reliability of the company's operations – for instance in tracking rail safety conditions.
So far, machine vision has been used by VR Track in the digital evaluation of the condition of speed signs located along the mainline. Traditionally this task would have been carried out manually, thus requiring a significantly higher amount of time and effort of VR Track's personnel.
"We also use drones in our measuring and mapping operations and plan to exploit them even further in the future and in a growing number of applications," states Jouni. "Moreover, today's fast advances in remote sensing technology and the significant decline in its price are creating new opportunities for us to use real-time data gathered from our railroad equipment and infrastructure."
Jouni notes that digitalisation is also an integral part of the company's new enterprise resource planning (ERP) system, as well as a new maintenance control system that is currently being built for the company. With the new system, the company will be able to combine information gathered from a number of different sources and add real-time spatial information (GIS) to, for instance, the company's design projects.
"Digitalisation significantly enhances the efficiency of our project planning and management operations," Jouni says. "In particular, the new maintenance control system will significantly change the everyday lives of our supervisors. This requires, of course, that our workers have access to modern working tools. Over a year ago, we updated our principles related to smartphones: all employees are offered the opportunity for versatile communication and use of mobile services via smartphones and tablets."
Reference
From the H. Roos Foundation
Biography
Jouni Kekäle is Vice President of VR Track Oy and responsible for corporate strategy and development. He has worked within the company for more than 20 years, and the past 10 years as a member of the company's Senior Management. Jouni has held different roles within the company and led various business units. He has a wide competence of railway technology, railway infrastructure business, leadership and different aspects of development including M&A's. He is a Member of the Board of Vossloh Cogifer Finland Oy and Vossloh Rail Services Finland Oy.