Is travel by train faster than by plane?
In a recent report, travel search engine Omio (formerly GoEuro) talks about Europe's rail renaissance and finds out why passengers are choosing train over plane.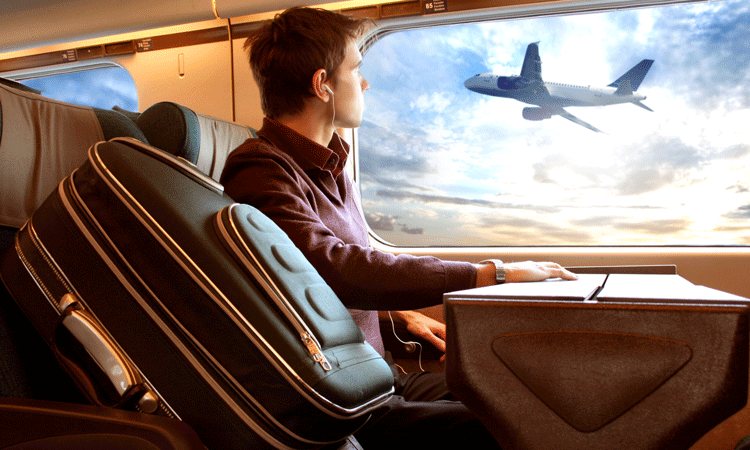 Train travel is making a revival in Europe, and for reasons one might not immediately assume. Travellers are beginning to shy away from flying, not only because trains are more comfortable, more punctual, often cheaper and easier to catch, but also in many cases, as travel search engine Omio (formerly GoEuro) has found, trains are actually faster.
The ever-growing development of high-speed trains means that now nearly all areas of Europe are connected by high-speed train providers. In a recent global review of high-speed trains, it was found that 13 of the fastest train networks were in Europe, with top performing provider TGV ranking in third, moving travellers from A to B at speeds of up to 320km/h.
But it's not only speed that contributes to trains often being a faster option for travel in comparison to flying. Travellers tend to forget to add the travel time to and from the airport when reviewing whether to travel by train or plane. Train stations are nearly always located in the centre of a city. This provides wonderful convenience in comparison to navigating your way out of the city fringe in order to reach the airport. In many cases such as in London, Brussels and Paris, travel to the airport can add an additional one to two hours to your journey alone! By train you jump on board in the city centre and arrive at your destination again in the centre of town ready to start exploring.
Why choose the train over the plane?
Beyond the additional travel time to and from the airport, travel by plane also means more time finding your way to your gate, security checks and queuing to board. All of this can add a further one to two hours to your journey, not to mention the additional stress the entire experience causes. A 2011 report found that 25 per cent of Brits find navigating an airport more stressful than moving house, and not surprisingly they avoid flying because of this. By far one of the best things about travelling by train is the ability to arrive at your station around 30 minutes prior to departure, walking to your platform, jumping aboard with your luggage and relaxing back in your seat ready to go.
So what are some of the travel journeys that are faster by train than plane? Omio has discovered at least 14 routes in Europe. Brussels airport is renowned for being difficult to get to and from, so not surprisingly five of the routes include the Belgian city, such as between Brussels and Paris, Amsterdam, London and Lyon, where travellers can save up to four hours when choosing trains over flying. Other key routes include London to Paris, Milan to Barcelona and Dusseldorf to Amsterdam where time saved ranges from around one to two hours.
Most popular connections for high-speed trains in Europe
Although travel time is key factor when choosing a mode of transport, other factors also come into play, and these other factors tend to be far better when travelling by train than plane. Take for instance the ability to bring additional baggage aboard without extra cost (while avoiding the annoyance of putting all of your liquids into tiny plastic bags!). Or what about comfort? Even economy class train fares provide you with copious leg space and cushiony seats. Then there are the trains that include free Wi-Fi and charging abilities for your phones and devices, incredibly useful services in this day and age.
One last worthy mention is the view…
When travelling by train you are privy to learn more about your destination through experiencing not only the city, but also the surrounding landscape. Train rail winds its way across the countryside, along the coast, around mountains and through small towns. You don't get to encounter any of this when flying thousands of feet above ground.
Further information about the study can be found here.
Related topics
Related organisations