A new railway for the longest rail tunnel in the world
Posted: 25 July 2016 | Philippe Gauderon, Head of SBB Infrastructure | No comments yet
On 1 June 2016 an exciting new chapter was added to the Gotthard story. With the opening of the Gotthard Base Tunnel, Switzerland made railway history with a once-in-a-century construction project that embodies the innovation and competitiveness that makes the country the envy of Europe. For Global Railway Review Head of SBB Infrastructure, Philippe Gauderon, reflects on this major project and highlights the benefits renewed passenger and freight operations will bring to the Gotthard region…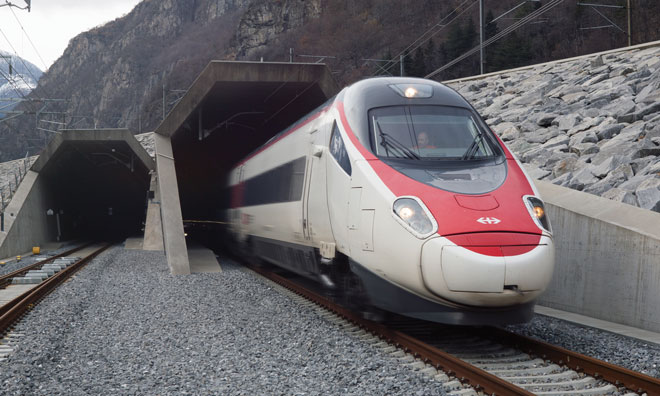 The new Gotthard Base Tunnel is the longest rail tunnel in the world at 57km and is emblematic of Switzerland's pioneering spirit which remains bright even 100 years after the construction of the Gotthard mountain route. Swiss Federal Railways (SBB) is proud to operate the longest railway tunnel in the world. The once-in-a-century construction project illustrates the value of cooperation and reliability at all levels, from the electorate and politicians to public officials and industry representatives.
Greater capacity and efficiency thanks to the new flat-rail freight route
When it comes to freight traffic, the new Gotthard tunnel will bring increased capacity, faster services, lower production costs and greater reliability. Meanwhile, customers will receive efficient, congestion-free and environmentally-friendly solutions for their logistics requirements. From the 2016/2017 timetable change onward, four freight trains will travel through the tunnel every hour in each direction. Heavily-used service points in Ticino will receive up to three deliveries and collections a day. Also, for the first time, Ticino will be connected to western Switzerland by an overnight service enabling evening container dropoffs in Ticino and arrivals in Romandy by the morning.
For international transit traffic the new Gotthard Base Tunnel marks the first major step towards a flat-rail route through the Alps. With the Ceneri Base Tunnel and the four-metre corridor that enables the transporting of four-metre-tall semitrailers by rail, railway services will become significantly more competitive on the Gotthard axis. The Gotthard Base Tunnel will then be able to accommodate up to six freight trains – equivalent to a daily capacity of 260 trains – which represents a 44% increase on current throughput…
The rest of this article is restricted to logged-in members. Login or subscribe free to read it.