Austria's Southern Line – the future of travelling and transport
Posted: 25 July 2016 | Franz Bauer, Member of the Executive Board at ÖBB-Infrastruktur AG | No comments yet
The Southern Line in Austria is one of the largest and most spectacular infrastructure projects of the coming decade. Approximately 200km of railway lines will be modernised and 170km newly built. This will lead to the employment of 5,000 people during construction. In 2026 trains will travel from Vienna to Klagenfurt in just 2h40 and from Graz to Klagenfurt in 45 minutes. Covering a total of 470km, they will pass at high speeds through numerous new railway stations and through the Semmering and the Koralpe mountains. Franz Bauer, Member of the Executive Board at ÖBB-Infrastruktur AG, provides more information about construction as well as the other benefits the line will bring…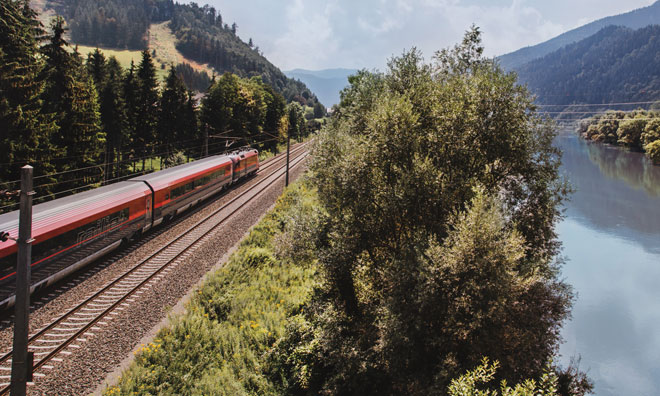 Increased mobility, fewer detours
Approximately 3.5 million people live in the Southern Line's commuter belt. They want to be mobile and enjoy internationally imported goods from all around the world. ÖBB-Infrastruktur AG – Austria's largest creator of railway infrastructure – is dedicated to fulfilling this wish and one of its most important tasks is to expand the North-South railway connection. In concrete terms, this translates into more than a quarter of a century of hard work and dedication for 170km of new and 200km of modernised railway lines.
More Europe, fewer borders
ÖBB-Infrastruktur AG is working on more than 100 large- and small-scale projects along the so-called Baltic-Adriatic Corridor from north to south. Stretching between the Baltic and Adriatic seas, this area covers a total of 1,700km and is both favoured and co-financed by the European Union. For Austria, the inclusion of the Southern Line in this far-reaching, trans-European connection means valuable access to emerging economies and the most important seaports.
More railway, less road-use
The Southern Line includes: the expansion of the Northern Line; the new Vienna Main Station; the new Freight Centre Vienna South; the Pottendorfer line (soon-to-be a high-performance line); the Semmering Base Tunnel; eight modernised railway stations between Bruck and Graz; the revamped Graz Main Station; and the 130km-long Koralm Line. Together, this mix will lay the foundation for future-orientated passenger and freight transportation.
The rest of this article is restricted to logged-in members. Login or subscribe free to read it.