InnoTrans 2016 round-up
Last week the global railway industry gathered in Berlin for the 11th edition of InnoTrans. Here, we provide a round-up of this year's event.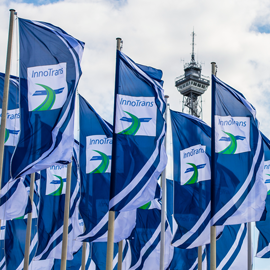 Last week the global railway industry gathered in Berlin for the 11th edition of InnoTrans. Cementing its position as the leading event for the marketplace, the exhibition grounds saw 144,470 trade visitors from more than 140 countries walk through its doors (up 4% from 2014 numbers) and there was a total of 2,955 exhibitors from 60 countries presenting their products and solutions (up 7% from 2014 numbers).
The Outdoor Display area featured 127 innovative vehicles. Among the highlights were 149 products making their international debuts – convincing proof of the innovative strengths of the railway industry and the appeal of this trade show as a marketing platform and its ability to promote innovation.
Contracts worth millions and numerous joint-ventures were signed and announced during the show, and for visitors and industry experts the InnoTrans Convention offered a great platform for professional discussions. Seminars and conferences dealt with mobility issues of current and future relevance. At the Dialog Forum the focus was on digitalisation in rail passenger and freight transport, and on the technology for digital services.
With involvement of some prominent figures, the Rail Leaders' Summit took place under the heading of 'Innovation in the Digital Age: Rail Faces the Challenges of the Future'. Alexander Dobrindt, German Federal Minister for Transport and Digital Infrastructure, emphasised the innovative strengths in the railway sector.
Global Railway Review correspondent Ian Hall was providing live-coverage during InnoTrans 2016, and you can look back at the latest announcements, innovations and world premieres plus interviews with industry experts, here.