Infrabel is digitalising the Belgian railway network to secure the future of rail
Infrabel, the Belgian railway infrastructure manager, is currently engaged in digitalising its railway network for the benefit of its customers, workforce, and all citizens. Exclusively for Global Railway Review, CEO of Infrabel Luc Lallemand considers the challenges, advantages and milestones of this ground-breaking strategic transformation.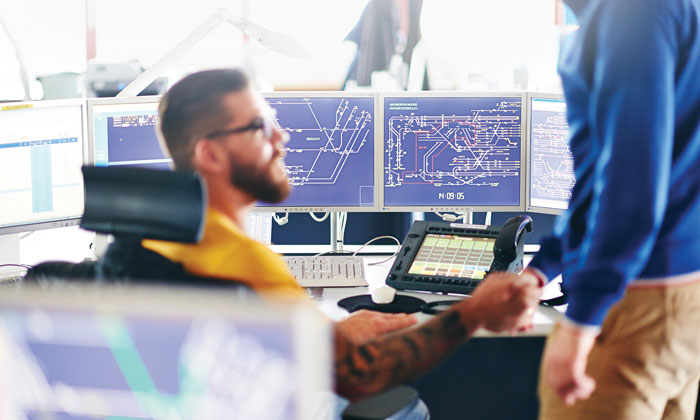 Railways must revive themselves to continue their leading role in transport Railways in Europe are a fascinating business with a rich history and immense track record spanning over 180 years. However, the sector has witnessed decreasing popularity over the course of several decades with significant drops in market shares. It is now time to act and engage in building a change platform so that rail can continue to play a leading role in the transport of passengers and freight.
This is first and foremost the responsibility of the railway actors themselves. We must find better, more effective, and more economic ways of using our limited resources. Furthermore, rail must revamp itself in order to adapt its product and service offering to the ever-changing needs of its customers. Interestingly enough, these two objectives are complementary rather than contradictory, and can reinforce one another to a considerable extent.
Economic pressure and evolution through digital revolution
For quite some time, railway funding has been under severe pressure. This is not a new situation, as the European economy has been experiencing hard times since 2007-2008. The financial crisis has affected all industries and businesses; economic growth remains below expectations; and pressure on govern ments and authorities to cut back on public spending has mounted greatly. Under these circumstances a railway infrastructure manager such as Infrabel, with no commercial activities and therefore almost entirely reliant on public funding, is particularly impacted.
The digital revolution is in full swing, re shaping economies worldwide and touching all sectors. New products and services shaped around smart devices, Big Data, the Internet of Things, cloud technology, etc. are emerging every day. Sometimes these are physical products; however they increasingly concern non-tangible data-based services. This is also the case in transport and mobility. The business model of companies such as Uber is one based on the principle of not owning a vehicle. Instead, travellers – who are almost permanently connected to communication networks today – can plan their trips in real-time and select their preferred mode of transport last minute based on estimated journey time and travel cost.
Infrabel is determined to take the digital ride
The information revolution is not only apparent in consumer markets; business-to-business environments are also hugely impacted. Therefore, Infrabel has explicitly chosen to actively ride the digital transformation wave wherever it can, both in its core activities as well as its supporting process. In this way, amongst others, we will be able to do more and better with fewer financial resources.
State-of-the-art traffic management
At the end of 2016 Infrabel changed to a brand-new, ultramodern traffic control system overnight. In doing so, we accomplished an unprecedented digital switchover in Belgian railways. Our new Traffic Management System tracks movements on our network in real-time; automatically provides reliable predictions on the estimated time of arrival of every train; and flags potential future conflicts on our rail infrastructure. In this way it takes account of various kinds of data: type of train; rail infrastructure characteristics; temporary speed reductions; planned works, etc. Relevant intelligence produced by our system is transferred to railway undertakings' information systems, enabling them to convert it into useful travel planning information for passengers.
The opportunities and benefits are huge, and the new technology is an essential building block of our New Traffic Management policy: a modern traffic control system and a gradual clustering of our 360 local signal boxes to only 31 cutting-edge centres as a first interim step; to ultimately just 10 control centres. This way, Infrabel will introduce an entirely new way of working, allowing traffic controllers to focus exclusively on managing and monitoring rail traffic. This will enable them to respond to unexpected events quickly and appropriately, thereby enhancing punctuality and the safety of rail operations (the specific safety tasks will be performed by dedicated staff).
Smart maintenance of railway infrastructure
Likewise, the manner in which Infrabel monitors the quality of its rail network is undergoing a profound renovation. We are gradually digitalising all processes for planning, organisation and actual maintenance of our infrastructure under the name Smarter-M, using new IT-based technologies. Measurement trains will assess and digitise the state of tracks and catenaries. Switches, level crossings, electrical power systems for railway barriers and bells will be equipped with sensors that transmit alerts over the internet when technical interventions are required. Railway maintenance workers will be able to consult work orders on tablets; view various tasks to be performed; enter asset condition data and take pictures of possible damage. Also, here, safety is our number one concern: being Europe's first rail infrastructure manager to do so, Infrabel recently started using a 3D simulator in its training programme for staff overseeing the safety and protection of workers on the tracks.
This transformation to predictive maintenance allows us to carry out maintenance before an asset actually fails, which has multiple benefits. It increases both the safety and reliability of our network, and thereby the quality of service provided. Also – especially since it will become much easier to acquire, store and use information on our asset components – we will be able to considerably improve our inventory management and lower operational costs.
Digital workplace
Apart from its core business, Infrabel is also digitalising its support processes, such as HR and financial management. Paper-based administrative processes are being automated whenever possible. Since the beginning of 2017 Infrabel staff whose activities permit are allowed to telework; the required IT-equipment has been made available to them.
This dimension of the Digital Workplace initiative fits with our ambition to shift our company culture in a direction where ownership and responsibility gain importance. Once again, in this respect digitalisation pays off: the automation of processes reduces costs; teleworkers are more focused and deliver a better product; and increased mutual trust is equal to increased employee motivation and satisfaction.
Digitalising is investing – there is no alternative for core activities
The return on digitalisation is delivered gradually over time. However, considerable upfront investments are required, and the funding thereof is to be found within the budget that the Belgian government allocated to Infrabel. Owing to financial constraints, we are currently not launching any major new projects to extend our network. Instead, we are choosing to focus on progressing with projects that have already launched. Fortunately, planned investments in rail safety, in particular the roll-out of ETCS, will be fully realised because of a strong political commitment.
It is nevertheless conceivable that in certain other areas some clear choices will have to be made in the coming years. At Infrabel we believe that a well-maintained rail network is the foundation of a safe, high quality and reliable service for our customers. For this reason we are continually seeking ways to improve our asset management in order to keep maintenance and renewal costs under control and with a view to realising productivity gains. Increasing efficiency is vital and digitalisation is an important instrument in this respect.
Digital transformation cannot address the need for rail maintenance or traffic control in any way. It will nevertheless radically change the way we perform these core tasks so that, over time, we will provide a better service offering at a lower cost. As a result all stakeholders – public authorities, railway undertakings, passengers and taxpayers – will ultimately benefit.
Biography
Luc Lallemand has been the CEO and Chairman of the Management Committee of the Belgian rail infrastructure manager Infrabel since October 2004. He is also Chairman of Vinçotte Group and TUC Rail; member of the Board of Directors of bpost; and RATP Dev (Paris). Infrabel's maintenance workers will be able to consult work orders on tablets With digital technology, Infrabel will introduce an entirely new way of working, allowing traffic controllers to focus exclusively on managing and monitoring rail traffic