Rail Baltica: Making a real difference to the region
As Rail Baltica's main coordinator and implementer, Baiba Rubesa shares the most up-to-date information regarding this mega project.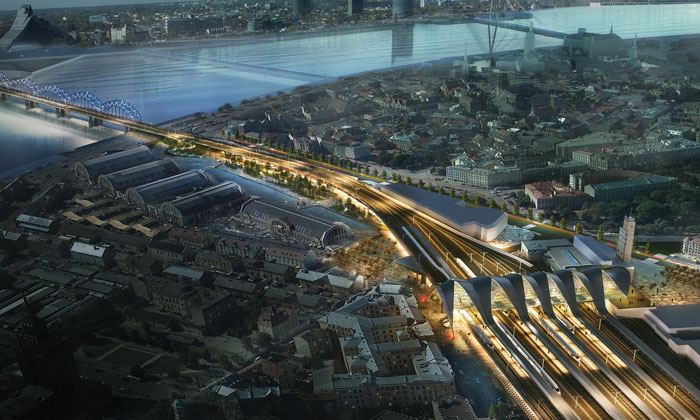 It is a rare occasion in Europe that a greenfield railway infrastructure project is undertaken. Not only is it the project of the century for Estonia, Latvia and Lithuania, but also for the entire North-East Europe, set to change the face of the region forever. It is unique among other cross-border infrastructure projects, as it involves three – and potentially even five – EU countries if Poland and Finland decide to become shareholders as well. The railway is designed for passenger and freight transportation. Technically, Rail Baltica will anchor a European gauge, electrified, high-speed connection from Tallinn via Parnu to Riga; with a stop at Riga Airport; and continuing to Panevezys and Kaunas (with a connection to Vilnius) to the Lithuanian/ Polish border. Poland is building its Rail Baltica segment from Warsaw via Bialystock and Elk to connect to the Lithuanian border.
Establishing a new economic corridor
However, Rail Baltica is much more than an infrastructure project: It is the establishment of a new economic corridor in North-East Europe that will affect many aspects of our current lifestyle. In the next decade Rail Baltica should affect areas beyond that of passenger and freight mobility; encompassing economic activity, logistics, the environment, employment and education, digitalisation and innovation as well as safety. Most of these areas are tightly interconnected and will bring changes that we cannot precisely predict today. It can be assured, however, that the availability of modern infrastructure is among the key factors for driving wealth and competitiveness in the Baltic nations.
In fact, it is valuable to view Rail Baltica as something more than a physical railway line. Rather, the physical infrastructure will serve as an enabler for the emergence of an entirely new economic corridor. It will set in motion a powerful virtuous circle of transnational regional integration, while integrating the Baltics into new supply chains of regional, European and global signifi cance. Rail Baltica is already designed to become part of the EU TEN-T North Sea–Baltic Core Network Corridor, which links the largest ports in the Netherlands and Germany with the three Baltic States; further connecting to Finland with short sea shipping connections in the Gulf of Finland. The possibility of a future fixed link between Tallinn and Helsinki is also being considered.
The northbound extension of this corridor paves the way for future connectivity with the emerging Arctic corridor, especially considering the lucrative prospects of an alternative Northern Circle maritime route between Europe and Asia. Furthermore, the North Sea–Baltic Corridor intersects with the Baltic-Adriatic Corridor in Warsaw, creating opportunities for new supply chain developments between the Baltic and Adriatic seas, connecting the Baltics with Southern European markets. Similarly, Rail Baltica shall strengthen the synergies between North-South and West-East freight flows, creating new trans-shipment and logistics development opportunities along the European and Asian overland trade routes.
Freight potential
According to the Rail Baltica Global Cost-Benefit Analysis (CBA) prepared by Ernst & Young Baltic Ltd (EY), it is estimated that approximately 57 per cent of all cargos on the new railroad will be in transit – firstly, consisting of Finland's trade with the rest of the EU and, secondly, composed of trans-shipment between the rest of the EU and the Commonwealth of Independent States (CIS). The remaining cargo flow will be made up by exports and imports of the three Baltic states. Altogether it is estimated that in the low case scenario Rail Baltica's freight potential would be about 13 million tons in 2030, 13. 5 million tonnes in 2035 and approximately 16 million tonnes in 2055.
Wider benefits of Rail Baltica
However, the new economic corridor will not be merely about freight. While the new infrastructure will certainly put the Baltics firmly on the European rail logistics map, creating massive opportunities for value creation along its infrastructure – with such secondary economic benefits as commercial property development, revitalisation of dilapidated urban areas, private spin-off investment, new business formation, technology transfer and innovation, tourism development and other catalytic effects – it will also shape new passenger habits and opportunities for private individuals.
Greater passenger mobility
The CBA's low case estimates indicate that approximately 3.9 million passengers would use the route in 2030, 4.0 million passengers in 2035, and approximately 4.7 million passengers in 2055. Of these, 46 per cent will be point-to-point travellers; 36 per cent intra-Baltic travellers; and 19 per cent extra-Baltic travellers. An individual's quality of life should improve with modern high-speed connectivity that offers a comfortable, safe and environmentally-friendly alternative for passenger mobility that is currently non-existent. Moreover, greater passenger mobility will enhance Baltic labour market connectivity. Job catchment areas, especially along the Rail Baltica route, will expand, enabling new daily commute patterns between hitherto distant agglomerations and improving the flexibility of the labour market. In the same vein, multiple higher education institutions along the Rail Baltica will expand their student catchment areas by becoming more immediately and conveniently accessible.
Safe and environmentally-friendly
Rail Baltica is bound to reduce the environmental footprint of human mobility in the Baltic States. Railway is the only major transport mode that does not depend almost entirely on fossil fuels and its share of Europe's transport energy consumption is less than two per cent, despite a market share of over 8.5 per cent. Furthermore, by inducing a modal shift from road to rail – both for freight and passenger traffic – Rail Baltica will promote a significant reduction in the monetary effects of climate change mitigation (approximately €3 billion) due to economies of scale, as well as help slash road maintenance costs and reduce noise pollution (approximately €843 million). Notably, the project will increase levels of safety, both for individuals and the infrastructure itself. Technological advancements in the rail industry makes it the safest mode of transportation. The new railway infrastructure would lead to a significant reduction of casualties by the mere shift from other transport modes to rail, as the average fatality rate travelling by train is 28. 5 times lower than that of road vehicles and 2. 7 times lower than public buses. Regarding national and regional safety, it is no secret that in terms of transport infrastructure accessibility to the rest of the EU, the Baltic States are currently more akin to islands than continental locations. Baltic integration with the EU is currently incomplete. Rail Baltica intends to bridge this gap by eliminating the missing transportation link, thereby restoring historical justice by re-integrating the Baltic into the European railway system while also contributing to regional safety.
A priority project with great potential
The Rail Baltica project is an enormous vote of confidence in the Baltic region by the European Union. It is truly a priority project for the European Commission, presented at the G7 Transport Ministers' Meeting in summer 2017. After signing the third Grant Agreement with the Innovation and networks executive agency expected towards the end of 2017, the project will have attracted €683 million of Connecting Europe Facility (CEF) financing for activities in the planning and designing phases. It is worth pointing out that in the last CEF call, for the first time ever the Commission has attributed additional funding beyond national allocations, demonstrating the Commission's strong commitment to the Rail Baltica project. Consequently, Rail Baltica is a project of national, regional and European value with great potential to provide benefits far beyond the Baltic Sea Region. However, the true value of this project will depend on the ingenuity of Baltic and European entrepreneurs, engineers, politicians, passengers, environmentalists, cultural workers and many more to be ready to take advantage of this opportunity.
Biography
Baiba A. Rubesa has been Chairperson of the Management Board and CEO of RB Rail AS since October 2015. Prior to that she worked as a consultant and new business developer in her own company, RFactor Sia, and served as a Supervisory Board Member for a Latvian bank.