Virginia Railway Express: Regional benefits and informed expansion
The Washington, D.C. region consistently ranks towards the top of the list of US cities with the highest levels of traffic congestion. One way the region and the Commonwealth of Virginia are helping to reduce the peak period congestion is with a robust commuter rail system – the Virginia Railway Express (VRE). Doug Allen (VRE's Chief Executive Officer) gives an insight on how the project's expansion will help reduce congestion.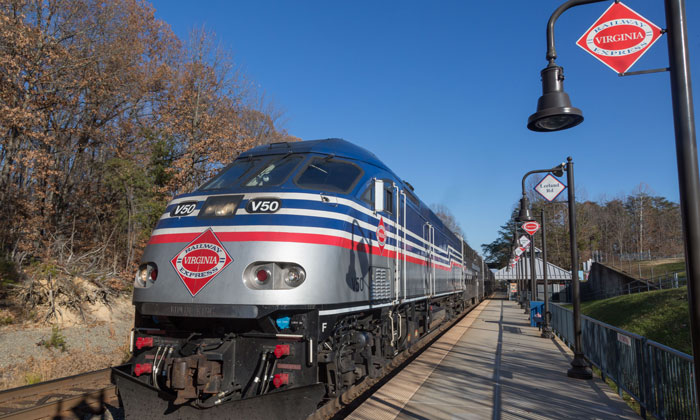 One stretch of I-95 in Northern Virginia, a little south of Washington, D.C., won the honour of being named the worst traffic 'hot spot' in the nation. The effects of the greater Washington area's over-saturated interstates have been felt for decades and the familiar bumper-to-bumper daily grind in Virginia extends as far as 60 miles south. With Virginia Railway Express1 (VRE) already credited with removing approximately one lane of traffic from both I-95 and I-66 in the peak periods, VRE's planned expansion is expected to play a vital role in the area's long-term congestion relief.
What is the Virginia Railway Express?
VRE serves Northern Virginia and Washington, D.C. as a joint project of its two parent transportation commissions; the Northern Virginia Transportation Commission (NVTC) and the Potomac and Rappahannock Transportation Commission (PRTC). Running on railroad tracks owned by CSX, Norfolk Southern and Amtrak, the VRE carries long-distance commuters along two lines into Alexandria, Arlington and the District of Columbia every weekday morning and returns them in the evenings.
Regional impact
Although discussion for a rail system to alleviate Northern Virginia's commuter-filled roadways began as early as the 1960s at NVTC, it wasn't until 1992 that VRE was introduced in the region. Ridership in VRE's first full month averaged about 3,000 per day, but as VRE celebrated its 25th anniversary in summer 2016, it reported a daily average ridership upwards of 20,000 and growing.
VRE conducts a detailed customer survey every year and has determined that 40 per cent of VRE passengers drove alone before they began using the VRE. Given the current 20,000 daily ridership average, this finding equates to a significant number of cars taken off the road during the rush hour. In fact, according to a 2015 Texas A&M Transportation Institute study, the VRE removes more than 100 million vehicle miles from the region's interstates annually; improving air quality by reducing 50,000 tonnes of carbon dioxide and other emissions. This same study calculated the VRE to be equivalent to 150 more lane miles on the major interstates leading from Virginia into D.C.
The system's service is also credited with economic stimulation. In September 2017, NVTC released a report stating the VRE and Washington Metropolitan Area Transit Authority's Metrorail boosted state revenues by $600 million annually. For every dollar the state invests in Metrorail and VRE, it receives $2.50 in return. Improvements in the VRE capacity can be achieved in less time and at a comparable cost to other highway and rapid transit projects constructed in the region. Investment in the railroad corridors will enable VRE to provide a rush hour passenger-carrying capacity equivalent to two rush hour lanes in the I-95 and I-66 corridors while augmenting freight railroad capacity and supporting future expansion of intercity passenger rail services.
VRE System Plan 2040: Capital investments and service improvements
With customer approval ratings consistently over 90 per cent, the hallmarks of the VRE service are safety, quality and reliability. These will remain foundational traits as VRE looks to expand capacity. The objectives of VRE's long-range plan, System Plan 2040, are simple: To enhance railroad fluidity and add capacity to double ridership by 2040. The System Plan 2040 provides for logical, incremental expansion of railroad infrastructures and services to accomplish this goal.
The plan includes an initial set of actions linked to VRE's six-year Capital Improvement Program to address short-term growth objectives. Phase I of the System Plan will maximise the capacity of the existing service by adding cars, expanding yards, lengthening platforms and increasing customer parking. These actions will result in the VRE capacity reaching about 25,000 weekday passengers. As the initial enhancements proceed, VRE will continue to work with the host railroads to identify mutually beneficial actions that enhance their operations as well as VRE's.
The System Plan identifies some of these longer-term improvements that offer wide-ranging VRE, intercity passenger rail and freight rail benefits including expansion of the Alexandria to Washington, D.C. railroad corridor and the operational bottleneck of the Long Bridge over the Potomac River. With these and other investments, the long-term growth potential for VRE, intercity passenger and freight trains in this corridor can keep up pace with demands for service.
Asset management and lifecycle maintenance: Driving improvements and capital expenditure decisions
Recent federal legislation requires all transit agencies to develop an asset management plan to track and report on the conditions of their assets. The Federal Transit Authority (FTA) defines asset management as a 'business model that uses the condition of assets to guide the optimal prioritisation of funding at transit properties, to keep our transit networks in a state of good repair'. VRE's approach to developing an asset management plan is not to merely meet federal requirements, but to refine and utilise it to improve operational efficiency, maintain assets in a state of good repair and make data-driven decisions regarding improvements and capital expenditures.
In summer 2017, a VRE consultant partner conducted condition assessments at VRE's 19 passenger stations, three VRE-owned passenger parking facilities, two administrative buildings, 10 maintenance facilities, and its two maintenance and storage facilities. The condition assessments used FTA's Transit Economic Requirement Model (TERM) five-point scale, ranging from (5) Excellent to (1) Poor. VRE's newest station, Spotsylvania Station, opened in 2015 and received a (5) Excellent rating, while most of the facility and infrastructure assets received a (4) Good rating. Three of the assets received a (3) Adequate rating, however one of those three stations was under construction at the time of the assessment. One is scheduled for enhancements and the third station has several components nearing the end of their useful life and are slated to be replaced.
In 2014, the VRE Operations Board adopted a lifecycle maintenance strategy for VRE rolling stock. The basis of this strategy is to maintain VRE locomotives and passenger cars at the highest level of reliability throughout the life of the equipment. As VRE continues to acquire new vehicles to extend the trainsets, the ongoing maintenance will become increasingly important. A new building will be constructed to specifically perform this work and will be fully dedicated to these activities. This new building, appropriately named the Lifecycle Overhaul and Upgrade (LOU) building, will be almost twice as large as the existing Service and Inspection building at approximately 33,000ft2. The new Track 0 will be added, Tracks 2 and 3 will be reconfigured, with Track 3 ending as a stub track providing additional storage. The final design plans for the building and site design were completed and approved in early 2016 and all work will be done without affecting the adjacent CSX railroad tracks. The LOU project benefits include facilitating higher levels of maintenance, upgrades and overhauls in-house; greatly decreasing the need to move equipment offsite for service, reducing equipment downtime and minimising the need to purchase additional spare equipment.
What to expect in 2018 to improve the overall passenger experience
Each year VRE conducts a Customer Opinion Survey to gauge customer satisfaction and identify the perceived strengths and weaknesses of the service. The findings are used as a tool for planning and service upgrades. VRE expects capital and communications projects to improve operational efficiencies and the overall passenger experience, and to result in high satisfaction scores again in 2017.
Longer trains
During the 'peak of the peak' commuting window, VRE experiences many trains with standing room only. At the end of 2017, VRE received and commissioned nine new railcars. Work is almost complete on new storage tracks in the District of Columbia and once the storage tracks are operational, VRE will lengthen existing trainsets. This is a paramount customer service initiative to provide all VRE riders a seat.
Automatic parking counters
VRE cannot increase ridership without also considering parking at the stations. VRE has entered into a contract with Parking Logix of Montreal, Canada to install an automated parking count system at VRE parking lots. The system uses embedded sensors in the entrance and exit lanes to count the cars coming in and out. The data is then transmitted using a solar powered repeater to a cloud-based back end. The data provided will detail how many cars enter or exit the lot at any specific time, or window of time. VRE will also be able to see, in real-time, the remaining spaces available in the lot for planning purposes. The information will be provided through the VRE Mobile app and on VRE.org for passenger use. For example, passengers who live between two stations could check the parking availability at each and determine which station to utilise that day.
Ticket vending machine upgrade
Design and manufacturing is currently underway for upgraded ticket vending machines at stations, with installation scheduled to begin late summer 2018. The upgrade will include:
New touchscreens to replace the existing optical sensor touchscreens
New pinpads for entering debit pin numbers. The upgraded system will comply with the latest Europay Mastercard Visa (EMV) standards, utilising the embedded chips in the cards for greater security 
New and more reliable credit card readers
New computer with upgraded software and operating system, making the system more stable and dependable
New magnetic stripe read/write head and ticket printing mechanisms
An audio jack for headphones so that visually impaired customers can use the machines in conjunction with the audio commands.
VRE is working on other passenger-centric improvements to be implemented in the near future including enhancements to the mobile ticketing app, automatic passenger counters installed on-board the railcars and real-time status information.
Reference
www.vre.org
Biography

Doug Allen is a graduate of the University of Northern Iowa (BA) and the University of Iowa (MA). He has over 30 years of experience in public transportation; primarily focused on planning, development and executive leadership. Doug is a member of the American Public Transportation Association (APTA) Board of Directors and Chair of APTA's Commuter Rail CEO Committee. He was named Chief Executive Officer for the Virginia Railway Express (VRE) in September 2012. Prior to coming to Virginia, Doug worked in Texas for Dallas Area Rapid Transit (DART) and Capital Metro in Austin. Doug came to northern Virginia with goals to build on VRE's success by realigning internal processes, improving external communications and expanding VRE's role in northern Virginia and the greater Washington, D.C. area. His accomplishments in Virginia include developing and advancing plans for financial sustainability, long-term growth, and strengthening VRE's safety and security programmes.