Interview Spotlight: Marcel Ujfaluši, Head of Business Development and Marketing at GHH-BONATRANS
Marcel Ujfaluši, Head of Business Development and Marketing at GHH-BONATRANS, discusses how their products can help the rail industry reduce noise emissions.
Can your BONASILENCE® solution by tailor-made to suit different operational requirements?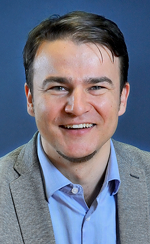 Yes, indeed. BONATRANS designs, manufactures, and supplies complete systems specifically aimed for different market segments of rail passenger transportation (urban, suburban and inter-city). Furthermore, cargo transportation is not forgotten as noise emissions regulations on mainline networks is becoming increasingly stringent. Therefore, we cover several types of rail vehicles including tramways and light-rail, metro/subway cars, EMUs and DMUs, high-speed trains, and locomotives wagons. All these solutions for noise mitigation carry the umbrella trademark, BONASILENCE®.
Over the last 20 years we have developed four main types of wheels dampers. BONASILENCE®R is based on stainless steel ring and is suitable for wheels braked by blocks. In terms of initial costs, it is the least expensive measurement. BONASILENCE®P, BONASILENCE®D and BONASILENCE®M combine metal and rubber and are chosen and tuned up depending on the noise limits as specified by the customer. One should not forget that there are several types of noise that occur during operation including rolling, squealing, braking and aerodynamic. The lifetime of the three latter, more sophisticated, solutions is at least 15 years, so exceeds the lifespan of one or several wheels. Furthermore, due to easy replacement, dismantling of whole wheelsets from the vehicle is not required.
How much noise reduction you can reach?
BONASILENCE® is able to reduce squealing noise in curves (where the wheel is the dominant noise source) by up to 30 dB(A) in frequency band, where the squealing noise is significant. It can also reduce the rolling noise of wheels by up to 10 dB(A).
Although dampers significantly reduce the rolling noise of wheels, the overall noise is also caused by track (and the whole vehicle). Without any joint effort (of damping other elements) BONASILENCE® reduces up to 3 dB(A) in the range of vehicle speeds from 80 to 160km/h for the position of the microphone according to the TSI (7.5m from the centre of the track at the height of 1.2m above the top of the rail). Recalling the mitigation limit, it usually comes from the vehicle manufacturer (for the new rolling stock) or from the vehicle operator (for the existing fleets). In either case, once we can integrate noise mitigation design into wheel design, the solution is always more efficient noise-wise and/or less costly.
Which transport services are using BONASILENCE® and what feedback have you received?
Since 2005 we have supplied approximately 100,000 wheels with BONASILENCE® (in four types of aforementioned noise dampers, or their combinations, and mounted on steel monoblocks or rubber sprung resilient wheels). They have been successfully in service in city metro cars and tramways around the world including Toronto, Boston, Oslo, Berlin, Prague, Athens, Helsinki, St. Petersburg and Hong Kong, as well as in inter-city Pendolino trains in Finland and the Czech Republic, to name just a few. 
Related topics
Related organisations
Related people