Mind the gender gap: Women train drivers
MTR Crossrail HR Director, Alison Bell, ASLEF District Organiser, Nigel Gibson, and the drivers themselves explain how MTR and ASLEF quadrupled the number of female drivers in less than 12 months.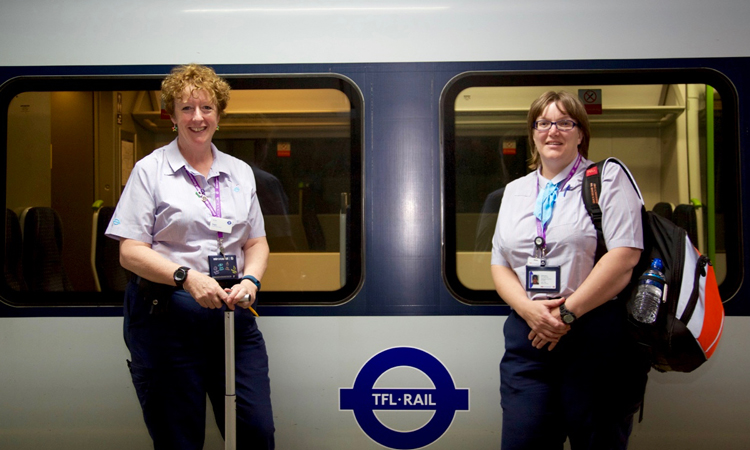 Maggie Rolfe, Train Driver and Vicky Badham-May, Trainee Driver
Little girls never used to aspire to be train drivers, but times have changed. A new wave of women, recruited into MTR Crossrail in response to concerns expressed in October 2017 by ASLEF's General Secretary, Mick Whelan, about the lack of train driver diversity, are now inspiring young ladies across the UK to discover the "most fun job you'll ever have" (said by Vicky Badham-May, Trainee Driver).
How did MTR and ASLEF engage with women?
"From a practical perspective, we needed to recruit 450 trainee drivers by 2019 for the new Elizabeth line, and there was no reason that we couldn't make the opportunities for train drivers more visible to audiences including women and ethnic communities," said Alison Bell, MTR Crossrail HR Director. "We undertook several initiatives, alongside our ASLEF partners, to engage with less traditional applicants, from Open Day events and female driver Q&As, to women-specific recruitment adverts offering greater flexibility in the driving roles, like job-shares. We aren't just interested in their applications, we want them to enjoy a long and productive future with MTR enabling them to have a successful career and add value to our company on a long-term basis.
"Since summer 2015 we've received over 24,000 applications for trainee driver vacancies and more than 3,000 of these were from women. We have noted that the traditional model of the male main wage earner is now diluted and we must provide facilities and conditions that work for all combinations of family structures.
"We, with ASLEF's support, also turned our Train Driver Training Programme into an apprenticeship, under the Rail Services (Driving) Apprenticeship Framework, with more than 200 trainee train drivers joining the programme since it was set up in February 2016."
ASLEF's District Organiser, Nigel Gibson, noted: "Our partnership with MTR gives us a key role in improving pay, conditions and prospects for employees, and by engaging with a wider female workforce, we have been able to bring mutual benefits to the women employed. We worked closely with MTR to develop improved recruitment practices, particularly on issues around diversity, and it has paid off for ASLEF as well as MTR. MTR was the first train operator to officially sign our Charter of Apprentices and now 97 per cent of trainee train drivers have joined the programme since its inception.
"Twelve per cent of all MTR train drivers are now women and, alongside MTR, we are hoping we can continue to improve this percentage."
Who are these female train drivers and what appealed to them about the role?
Elizabeth Surrey is one of the younger recent female recruits (31) joining MTR in October 2017 after time in the Navy and as a Prison Officer. She said: "Years ago I really wanted to be a train driver but I assumed that you'd need an engineering degree and lots of technical qualifications, so I didn't even look into it. When I saw a job advert looking for train drivers many years later, I found out you didn't and so decided to give it a go. The recruitment process was tough and the training tougher, with 12 weeks in a classroom, lots of written exams, all sorts of assessments and, of course, 175 hours driving with an instructor.
"However, it's amazing driving a train. I love the self-reliance, the fact that I'm responsible for safely transporting all those people. Of course, there is plenty of support if you do need it, but working on your own is a key part of the job, it's essential really – you need 100 per cent concentration all the time and you are constantly taking on and filtering information.
"MTR is a completely different environment to my previous roles. MTR has a very progressive atmosphere with a real holistic approach towards training and development. ASLEF support this culture by offering a whole range of opportunities including courses on topics as varied as autism, organisational management and mental health. MTR and ASLEF complement each other and between them offer a complete development path."
Eight times a grandmother, Maggie Rolfe (58), applied to be a train driver in 2002, leaving behind her own business services firm, and has had several rail-related roles since. Although Maggie rose through the ranks to some senior posts, she missed the driving and came back to MTR as a driver in January 2018.
"I love the shifts," she said. "I think I prefer lates to earlies, but it's all good if you're driving a train! When I first started driving, my kids laughed at me, they couldn't quite believe their mum was a train driver, but they have certainly changed their tune now."
The MTR-ASLEF culture appears to be catching, Maggie's husband originally joined the railway as a Duty Station Manager then became a Staines Driver and her eldest daughter and son-in-law joined as Guards and are also now both drivers at Staines, co-ordinating their different driving shifts alongside raising their four young children.
Carinne Spinola (38) knows a lot about juggling too. With a firefighter husband and two young girls, Carinne, a photographer in her previous career, joined MTR as a trainee driver, but she is also an ASLEF Union Rep. In fact, Carinne was a Union Rep before she even got out of training.
She explained: "I went to a meeting in Autumn 2017 and they asked for volunteers. At first, I thought I couldn't do it because I hadn't even completed my training but the support I received was fantastic, and I really wanted to give something back. There aren't many female Union Reps at the moment but I didn't consider that an issue, I was just glad I could get involved – and as female driver rates increase and women find their feet, I am sure I will be joined by lots more women in positions at the Union.
"My journey to become a driver started when I saw an advert on Mumsnet and I began to research the role. The more I found out about it, the more I wanted it. I've had to work hard – it's a gruelling selection process – and it's been tough at times, but being accepted onto driver training was life changing for me, and for my family.
"Driving a train is like nothing else, and I have to confess, it makes me smile when you see the look of surprise on travellers' faces when they realise it's a woman driving their train! I encourage women to consider train driving all the time, just ask my girlfriends, but I don't need to convert my daughters as they are already very proud.
"I think it helps that MTR is a really refreshing organisation, certainly a contrast to those I have experienced before, it's really supportive and works very well with Union Reps. It also helps when you are driving from Shenfield to Liverpool Street and the sun is setting, it's the best feeling. When I qualified, I felt like I'd won the lottery."
Biographies

Alison Bell is a Chartered Fellow of the Chartered Institute of Personnel and Development and joined MTR Crossrail as HR Director in August 2014, a month after the firm won the contract to operate the Elizabeth line. Alison was previously Senior HR Business Partner and Deputy HR Director at London Overground.

Nigel Gibson has spent his life in the railway industry, first as a train driver and then as trade union official. He was a local rep and served on company council before being elected to the union's eight-strong executive committee. He is now ASLEF's full-time District 5 Organiser, a position to which he was first elected in 2012, and the lead officer for negotiations and relations with c2c, Crossrail, Freightliner Heavy Haul, Freightliner Intermodal, GB Railfreight and Greater Anglia.
Related organisations
Related people