Erex: 'standardisation key' to the EU's Energy Union
Eress is an open partnership for infrastructure managers, jointly owned by its partners, committed to the development, implementation and supply of Erex – an efficient, reliable, accurate and flexible energy settlement system which allows infrastructure managers to fulfil requirements for a neutral and non-discriminatory operation, and allows train operators to save energy and costs. Terje Stømer and Dyre Martin Gulbrandsen are the leaders behind Erex and they maintain that it will play an integral role in helping Europe achieve its '20-20-20' targets set for 2020.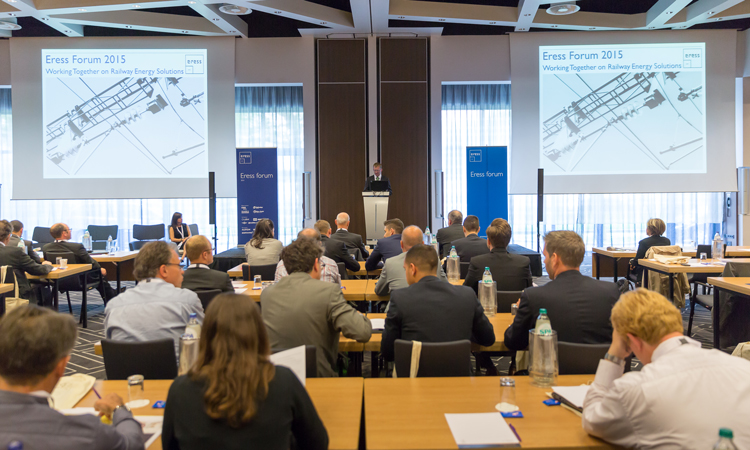 Six countries are currently members of Eress: Denmark (Banedanmark), Belgium (Infrabel), Norway (Jernbaneverket), Sweden (Trafikverket), Finland (Liikennevirasto) and Switzerland (SBB). New members are welcome to join with the same rights and obligations as existing partners.
The European railway network is the lifeblood of the continent – linking cities, towns and villages across the EU. As a European partnership for railway energy settlement systems, Eress is underpinned by a goal of providing simple, efficient, reliable, accurate and flexible standard solutions for both the current and future rail market.
Until now, the railway industry has never been pinpointed as an energy offender. Yet with the launch of the European Energy Union, the continent's rail network has found itself in the spotlight. The greater challenge, which is unknown to the average European citizen, is that the railway industry, unlike the automobile or the aviation industry, has never been subject to regulations on energy efficiency, until now.
EU visualises an energy efficient continent
As part of its goal to ensure secure, affordable and climate-friendly energy for all, the union has identified cross-border standardisation as the key to success. The Eress partnership is at the forefront of the standardisation movement with its intelligent Erex system that enables precision measurements in railway energy consumption.
The leaders behind Erex maintain that it will play an integral role in helping Europe achieve its '20-20-20' targets set for 2020.
These include a 20% reduction in EU greenhouse gas emissions from 1990 levels, raising the share of EU energy consumption produced from renewable resources to 20%, plus a 20% improvement in the EU's overall energy efficiency. The core goal is to reform how Europe produces, transports, and consumes energy across the continent.
The EU aims to ensure the European Union meets its ambitious climate and energy targets for 2020.
Rail industry at the heart of the reform
The European Commission has identified the railway industry as a key area to target. Frank Jost, Policy Officer at the European Commission once explained that: "Energy measurement and consumption based on precision billing are important milestones to a more energy efficient rail transport."
Erex addresses an age old issue
The majority of Europe's railway network still runs with no metering systems in place. This means that until now, energy efficiency has been virtually unachievable. Furthermore, each member state has its own formula used to calculate energy consumption which results in inaccuracy and extreme fluctuation. The beauty of Erex lies in its ability to address a complex concept with simple execution. The system actively collects, interprets and distributes data across all phases of locomotive operation. This is then used to help incentivise energy reductions on electrified lines. The open data system has been engineered to seamlessly integrate with other eco-driving technologies and can be tailored to address country specific needs across the EU while simultaneously maintaining standardisation and facilitating interoperability across the continent.
Europe united
The EU has made it categorically clear that cross-border standardisation is essential if the continent is to successfully slash the energy consumption of its railway network. Erex presents an intelligent solution that will allow all European Union member states, both wealthy and developing, to access and benefit from the same world-class measurable energy standards. This will unify Europe's energy efficient strategy and allow the continent to enshrine energy efficiency into the heart of its railway industry. 
Shared lines, individual bills
As well as measuring energy usage, Erex also measures the electricity that is returned to the grid. When implemented the system simultaneously measures energy consumption and deducts energy generation to create fair and accurate billing for all. Plans are currently underway to introduce an additional EU regulation demanding that all electricity fed into a network should equal the amount that is taken out in any given period of time. The rule is designed to ensure that consumers pay for the electricity they use, as well as determine which producer supplied power to which consumer. However the model is not simple and would require sophisticated 'big data' technology capable of processing large amounts of information across all 28 member states. Erex is at the vanguard of this 'big data' concept and would allow railway operators to track energy usage to a tee. Even traction electricity, which peaks when trains accelerate and immobilise to nil in a matter of seconds, will be measured with incredible precision.
Erex enjoys continental success
Erex has already been tried and tested across six partner countries over the past eight years, including Norway, Sweden, Denmark, Finland, Belgium and Switzerland. SNCF, France's national state-owned railway company, is currently testing the system in a bid to slash operational costs and minimise environmental impact. Virgin UK is trialling Erex across its privately owned network of British railways while Dutch-based railway consortium Vivens is set to become the seventh Eress partner in autumn 2015.
By using Erex, infrastructure managers and train operators will be armed with the power to accurately measure the exact amount of energy they consume at all times, in real-time. When it comes to meeting the all-important '20-20-20' this makes the system a invaluable tool.
Reaching the '20-20' targets
As well as hitting the high profile '20-20' targets, the European Commission also has its sights set on shifting 30% of road freight over 300km to rail or waterborne transport by 2030. By 2050 all core sea ports should be connected to rail freight networks, while the majority of medium-distance passenger transport options should be rail based. Erex will play a pivotal role in allowing locomotives to communicate while on the tracks. It will then be possible to relay consumption data in real-time to train operators who are invoiced according to how much energy is consumed. Already, Erex has set the standards to make this an easy and achievable reality across Europe.
An eco-friendly insurgency
Handing member states the power to measure the energy consumption that transports citizens from A to B will instil an inherent sense of energy consciousness and environmentally aware nationals.
Erex allows policymakers to be in the position to name and shame key pollution and energy culprits. These offenders will then be forced to pay their fair share of usage and comply with the long-standing principles as outlined by the policy of Common Transport.
International acclaim
Eress hosted the 2015 Annual Eress Forum in Amsterdam, which attracted major players within the global railway industry, such as Bombardier, Alstom, and most of the energy metering system suppliers. Infrastructure managers from 13 different countries in Europe and Japan were there, plus organisations like CER (Community of European Railway and Infrastructure Companies), UIC (International Union of Railways), EIM (European Rail Infrastructure Managers), ERA (European Railway Agency) and DG Move (Directorate-General of the European Commission responsible for transport within the European Union). Elizabetta Garofalo, European Commission official and currently in charge of the inter-institutional negotiations on the governance proposal of the Fourth Railway Package, was among those of whom hailed Erex settlement system.
Scandinavian innovation
Efficiency lies at the heart of Scandinavian culture, so it comes as no surprise that the revolutionary Erex system was developed by Norwegian innovators, almost a decade before the European Union officially mandated the creation of the EU Energy Union. Before cross-border standardisation of the railway industry was even considered as a fundamental step towards the completion of a single energy market, the authors of this article and their team were already reimagining how Europe could produce, transport and consume energy across the continent.
So what does Eress and Erex have in store for the future? Chairman of Eress, Terje Stømer, reveals the inside story in this exclusive Q&A.
What benefits does Erex offer the railway industry?
By using Erex, infrastructure managers and train operators are enabled to accurately measure the exact amount of energy they consume at all times, in real-time.
Cross-border standardisation has been identified as the key to success. How can Eress and Erex help?
Erex can, with financial support from the European Commission, or in direct cooperation at an EU level, become a truly European standard, part of a common European solution and available for all railway operators in Europe.
Such a solution would make all railways in Europe able to get the correct prices for their own electrical consumption of electric power, regardless of the individual state's financial situation, allowing train operators to compete on equal terms across borders.
This would also promote energy efficiency as a culture that coincides with our objectives for the railway sector.
How will EU citizens benefit?
For passengers, Erex represents the potential for significant financial savings in the form of lower fares. In the UK alone Brits spend a huge 17% or more of their wages on railway commute. Other European countries are also forced to endure high percentages, with the French forking out 12%, the Germans 9% and Italy, Spain and southern Europe averaging around 6%. While cheaper ticket prices would be at the discretion of operators, Eress hopes energy efficient savings will be passed on to travellers. We would certainly be providing them with the necessary hard data needed to roll out fare reductions.
What's in store for the future?
These are exciting times for Eress as we are now actively creating long-term strategies on how to expand across Europe and play a more active role in the implementation of the Energy Technical Specifications for Interoperability or ENE – TSI, with EREX at the core.
This initiative is driven by Eress Board Members in collaboration with the Eress Administration.
Erex is unique but there are other competitors out there. Why should Europe entrust the efficiency overhaul of its railway network to Eress?
First, the Eress organisation is owned by the users based on a non-profit principle where no pay outs appear; you don't buy Eress, you join it! Secondly, Eress has the experience of more than eight years of testing, implementing, innovating and growing. The Erex system gives the European Commission the tools to make legislations in favour of Railway Energy Efficiency based on concrete accomplishments in interoperability and metering. This is not simply based on theoretical or assumptive ideas but on highly technical, meticulously tested data and measurable results.
Erex is currently focusing on Europe. Is there global potential for the system?
Erex has already completed all the groundwork needed to define the future European railway standards, which will make it far easier for other countries to simply join in with little to no hassle.
Erex is without a doubt the technology of tomorrow, and it's not just Eress partners that uphold this belief. Both the EU and a flock of European industry representatives agree – not to mention railways from distant countries who have already expressed interest in testing the system. The final verdict? Watch this space, because the European railway network is on-track for an energy efficient overhaul.
Biography

Dyre Martin Gulbrandsen has held the position of Eress Director for over a decade. During this time he has been in charge of the development, implementation and daily operation of the Erex settlement system. He was appointed as Energy Trading Manager of the Norwegian National Rail Administration (Jernbaneverket) in 2003, where he oversees energy procurement strategies, settlement and billing across the Norwegian railway network.

Terje Stømer has a professional background in electrical power engineering that has given him an in-depth understanding of the ins and outs of railway electronics. He is currently Chairman of Eress as well as Director of the Energy Department at the Norwegian National Rail Administration (Jernbaneverket).