Interview Spotlight: Justin Southcombe, Commercial Director at Perpetuum
Justin Southcombe, Commercial Director at Perpetuum, discusses how digital solutions such as continuous condition monitoring will challenge the industry's preconceptions, change its business models and ultimately improve its knowledge of the assets our businesses depend on.
How do you forge relationships with customers and at what stage does your attention turn to their technology needs?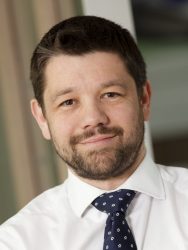 A relationship is built on trust and a win/win outcome. To this end we always work on building a bespoke business case with every client and opportunity. The most sustainable ones are those built on improvements to bogie maintenance methodology – extensions of overhauls and automation of inspection tasks. We do have leads from safety concerns, but we quickly discover together that these are often results of maintenance issues that can be improved through continuous condition monitoring. So, we resolve the question "can things be improved" first before discussing how that might be done. Focusing on understanding the benefits helps both parties assess the potential success of any future venture – through technology or otherwise. The choice of RCM technology is one of the final decisions when moving to condition monitored maintenance – coming after financial reviews, resourcing assessments and asset management planning.
To what extent do you think digitalisation is a means to an end, and not the end itself?
Good question. I believe that we will look back on this era and the debate around 'digital' in the same way as we do for 'quality' now. Forty years ago, quality was new outside of the production line and normally the responsibility of a single individual. Now it's everyone's responsibility, whether in a factory or a bank, as we have realised that quality is not a strategic destination but a core tactic in getting there as quickly and as efficiently as possible. Anyone thinking that hardware and cloud computing can substitute for poor process or myopic business ambition will be disappointed…and poorer too. I think that Perpetuum is helping to do to rail for 'digital' what Honda did for automotive on quality.
What are the main objectives to future success considering digital solutions could expose how little rail knows about key assets?
The main objective must be seat availability – done safely and competitively. The opportunity that IoT and cloud computing offers in this area should not be understated. But there will be some uncomfortable truths that we must accept if we are going to be able to truly change to improve. We are an industry regimented by standards, rather than continuous learning. There are too many components that are 'compliant' to a requirement that bears little or no relation to the actual asset used today. Capturing this usage has been impractical until now and so we have used processes and standards to contain the risk or wait for a new generation of vehicles to arrive before taking a step forward. However, we are seeing, reassuringly, elements that challenge the status quo with hard evidence collected continuously on vehicles, track and in their environment – not normalised to a lowest common denominator as an output of a laboratory test. Claiming to have optimised availability when our experience of our assets' true capability is witnessed so infrequently through an incident or a lab test is rather disingenuous. Some of those well told myths about our assets will indeed have to be disposed of, which will be no simple task.
To what extent do you think technology must be used to drive new business models in the future?
New technology has no future without changing the business model. If the substitute is no different to the predecessor, then who will risk the move? However, the OT/IoT convergence offers more than this like-for-like swap. Like the airline industry, we will see commercial models emerge as the supply chain learns more about its asset's actual performance, the level of conservatism contained in the current contracts and the opportunity to deliver more availability with less…a model that should provide benefit for both supplier and user in the long-term. I have been very encouraged by the response this year from some of the OEMs in the sector who are looking beyond the marketing angle of 'digital' and into the nuts and bolts of their business and how 'digital' can accelerate and optimise its strategy as never before.
Related organisations
Related people