Improving services in Hong Kong: MTR's signalling upgrade project
To meet increased demand for mobility in Hong Kong and further enhance the customer experience, MTR Corporation is adopting state-of-the-art signalling technology and advanced train control facilities. For Global Railway Review, Adi Lau, Operations Director, and Gordon Lam, Chief Signal Engineer – Operations, explain that the scale and critical importance of the signalling upgrade is an unprecedented challenge for MTR in Hong Kong.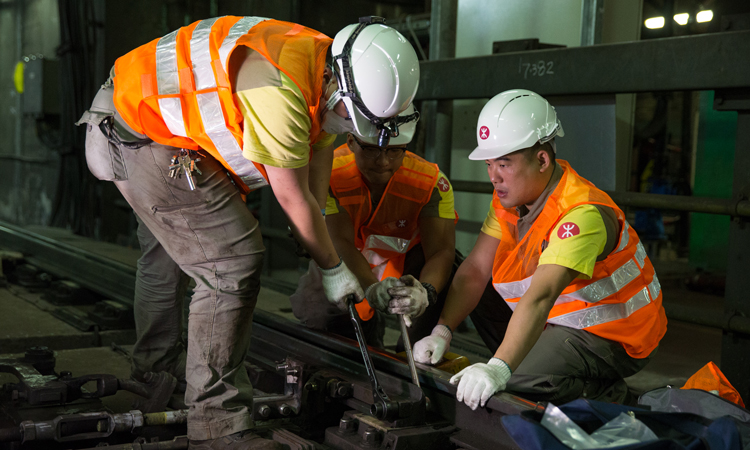 MTR Corporation has carried out extensive risk assessment covering all possible risks during the different stages of signalling replacement works and testing
MTR operates 11 domestic heavy railway lines and a light-rail system, and carries approximately 5.8 million daily passenger trips in Hong Kong. It is regarded as one of the world's most reliable railway systems, as demonstrated by its achievement of 99.9 per cent on-time service. While the railway strives to upkeep its high performance, similar to other railway operators in the world, we are facing a number of challenges including Near Capacity Operation (NCO) and increasing demand for train service reliability.
To meet the growing demand for mobility in Hong Kong, and further enhance customer experience, a series of initiatives known as 'Rail Gen 2.0' have been launched which aim to upgrade and extend the existing network in order to bring superior connectivity, better facilities and improved services. One important mission is to upgrade the signalling system by adopting state-of-the-art technology and advanced train control facilities. The signalling upgrade will bring enhancement to eight out of the 11 heavy railway lines and cover over 70 per cent of MTR's existing heavy railway route length in Hong Kong.
Upon completion of the signalling upgrade projects, train service frequency, overall capacity, operational resilience and train reliability will be further enhanced.
Key features
The new signalling systems adopt a number of key features with an aim to maximise the capabilities of MTR's signalling systems, enhance reliability and improve operational efficiency:
Communication Based Train Control (CBTC) with moving block
Compared to the previous generation of signalling, trains are able to operate with shorter headways achieved by advanced moving block signalling.
Enhanced redundancy and resilience
The new systems have enhanced service reliability and availability without compromising safety. Fault tolerant design is adopted by providing sufficient redundancy. For critical subsystems in urban line resignalling works – for instance, the Zone Controller which provides integrated functions for interlocking and train control – warm-standby is provided in addition to typical hot-standby which provides extra assurance on availability. 4G-LTE also serves as a back-up for Wi-Fi communication with a similar consideration of enhancing availability.
Fully Automatic Operation (FAO)-ready
The new signalling systems are equipped with facilities to enable FAO which will bring more flexibility to train deployment and operation, further enhancement on reliability and hence improved customer service.
Project overview
The signalling upgrade projects cover more than 160km of route length across eight railway lines. Works on four lines are underway concurrently. The current priority is given to the East Rail Line and Tsuen Wan Line, which are the busiest railway lines in Hong Kong carrying more than two million passengers per day. The upgrading of these two railway lines is expected to be completed in 2019. A six kilometre-long extension of the East Rail Line that is under construction is due for completion by 2021. Signalling upgrade works for the remaining lines are expected to be completed progressively from 2020 to 2026, as shown in Table 1. The contract sum of the signalling upgrade projects amounts to approximately HK$4.16 billion (US$530 million). The work has been progressing steadily since the contract award for the East Rail Line and DUAT Lines (see Table 1) projects in December 2012 and January 2015 respectively.
Challenges
The replacement of signalling systems, on such a mega-scale, is unprecedented in MTR's history. However, the challenges are not just confined to the scale but are multi-faceted as demonstrated by the following characteristics:
Brownfield work
In contrast to greenfield work (new railways or extensions), the upgrade work is being carried out in the existing railway. Robust consideration and care have been taken into account while conducting installation and testing work to prevent any unexpected event that might cause interruption to regular train service. Also, space limitation in existing Signalling Equipment Rooms posed challenges for both equipment placement and installation work while ensuring system reliability.
Limited installation and T&C windows
Due to heavy reliance on railways in daily transport in Hong Kong, the public expects zero service interruption to the railway during upgrading works. No closure or suspension of railway services are planned for the entire project and the upgrading work will be entirely carried out during non-traffic hours where typically only a two-hour window is available for installation and testing and commissioning (T&C). The project team has to allow sufficient time to ensure that the original system can resume normal operation through a series of functional tests after the night's work without causing any interruption to the next day's train service.
Optimised possession allocations
The non-traffic hours are also of paramount importance to other critical maintenance work such as point maintenance, rail replacement and overhead line inspection. It is essential to ensure the signalling upgrade work will cause no adverse effect to asset condition. Meticulous planning of engineering possessions is thus essential to ensure works can be coordinated and optimised in a seamless manner.
Approach
MTR adopts robust project management approaches with a highly effective and efficient implementation team. Here are some examples of how MTR manages these challenges with due consideration to maintaining its high standard of service reliability:
Flexible changeover
New trainborne signalling is installed alongside existing trainborne signalling on trains. Also, changeover circuits have been designed in an optimised way to allow safe and efficient switch over between the new and existing signalling systems. With such provisions, after completion of testing work during non-traffic hours, the existing system can be promptly resumed for train service in normal traffic hours.
Migration to new system operation
The system design allows Mixed Fleet Operation (MFO, East Rail Line) or Mixed Mode Operation (MMO, DUAT Lines). Such provisions enable pragmatic migration approaches including direct or progressive changeover respectively.
Maximising possession availability
The Works Management Office (WMO) was set up to coordinate engineering work so that non-traffic hours engineering possession availability can be planned meticulously with foresight and hence maximised to cater for the needs of both signalling upgrade and maintenance work, and other projects in the pipeline.
Reliability demonstration
The signalling suppliers are required to conduct necessary demonstrations to assure that the system satisfies MTR's reliability requirements before entering into operation. For instance, reliability proofing and shadow running has been implemented to gain confidence for reliability.
Closer Partnership Arrangement (CPA)
CPA has been adopted to enable early involvement of the maintenance team during the implementation stage. The CPA team is involved in the installation and T&C which enable the maintainers to become familiarised with the system and understand the system behaviour before the operation and system takeover, in order to derive the best recovery strategies and plan in case of failures.
Governance for O&M assurance
Corporate level governance has been adopted to ensure the project's progress and O&M readiness are well-planned and under scrutiny. The maintenance team has to ensure readiness well before operation by constantly reviewing that the asset takeover, maintenance documents and spares, staff training, and recovery plan are all in place. Extensive drills are conducted to ensure O&M parties understand how recovery could be completed in the most effective way.
Safety assurance
Enhanced system safety governance has been introduced during implementation of the signalling replacement works. This is a proactive measure incorporating views and experience observed from brownfield signalling works undertaken in other railways globally. Currently, governance frameworks consisting of five layers covering system suppliers, in-house project team, external Independent Safety Assessor, in-house independent signalling expert, and external Independent Reviewer have been engaged for overall safety assurance.
Conclusions
In summary, the scale and critical importance of the signalling system upgrading is an unprecedented challenge for MTR in Hong Kong. We continue to strive to carry out the project in a seamless and efficient manner, without causing interruption or suspension to regular train services. As safety is of absolute paramount importance, the five-layer safety governance approach is adopted.
Upon completion of the signalling upgrade projects, the railway system can run more frequent trains at shorter headways with higher reliability and resilience. This ultimately brings better customer services and cements MTR's standing as one of the world's most reliable railway systems.
Biographies

Adi Lau joined MTR in 1982 and has held various management positions related to the design, construction, operations and maintenance of the company's railway system in Hong Kong and rail businesses in the Mainland of China. He took up the position of Chief of Operating in 2011 and was the Deputy Director-Operating between August 2013 and April 2016, and Chairman of Ngong Ping 360 Limited between January 2012 and December 2017. Adi has been the Operations Director and a Member of the Executive Directorate since May 2016. He is responsible for overseeing the company's railway operations in Hong Kong.

Gordon Lam is a railway signalling engineer with 28 years' experience covering design, installation, integration and commissioning. He has managed MTR signalling projects in Hong Kong including the Lantau Airport Railway, Tseung Kwan O extension, and Disneyland Resort Line with various different challenges in terms of integration, interoperability and introduction of radio-based CBTC systems. Gordon has also spent over 10 years working in MTR's Mainland China hubs including Shanghai, Hangzhou and Beijing including in project management, operations management and joint venture company management, etc. He is currently overseeing resignalling works and overall signalling development for MTR in Hong Kong.