Japanese railways: How does the UK rail network compare?
Caroline Field, Customer Information Manager at MTR Crossrail, and Jonathan James, Head of Contracts at MTR Crossrail, discuss their experience of Japanese railways, highlighting lessons that the UK rail sector could learn.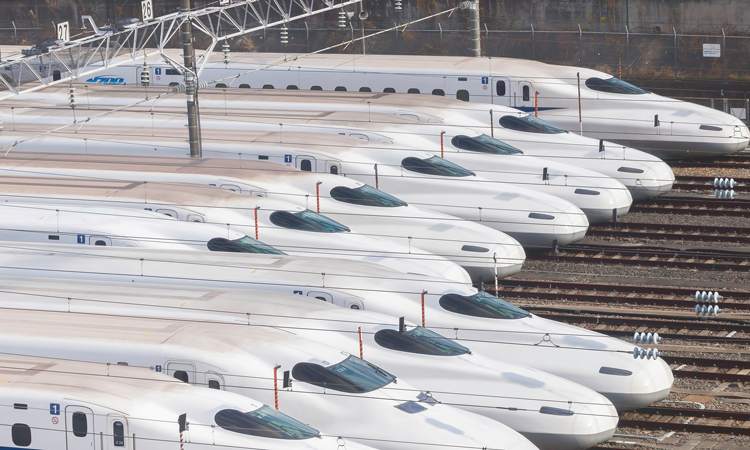 Shinkansen bullet trains lined up at Torikai rail yard
Despite being privatised in 1987, the Japanese still see their railway services as their national railway (with any other providers labelled as the 'private railways'). The country as a whole is very proud of the quality of their trains, and this makes a crucial difference to recruitment, operations and efficiency for services that famously manage seven billion passenger journeys each year.
The 'Doctor Yellow' phenomenon says it all. 'Doctor Yellow', the nickname for the high-speed trains that are used on the Japanese Shinkansen dedicated express passenger train routes, has been branded onto t-shirts, hats, shoes, soft toys – and it's basically just a maintenance train. We experienced Doctor Yellow first hand in November 2018 as part of a two-week exchange visit with JR Central. We raced past Mount Fuji at 160mph – an experience closer to being on an aeroplane than an engineering train checking on the track and overhead lines. Inside each of the seven carriages of hi-tech monitoring equipment are teams of smartly dressed on-board technicians, a vivid insight into what makes the JR companies some of the country's most admired.
The UK and Japanese railways have been working together and sharing knowledge since the days of British Rail – and that continues in the form of the annual Anglo-Japanese exchange programme coordinated by Adrian Shooter (a respected railway manager who has worked for British Rail and a number of private rail operators) since 1993. Our fortnight visit provided a unique behind-the-scenes insight into a remarkable operation. We were given access to the control room, training centre and top-secret research centre, visited the Shinkansen maintenance depot and saw first hand the innovation and continuous improvement that defines the railway culture in Japan; identifying a number of ideas that could be adopted in the UK and a few from the UK that could benefit Japanese railways, especially in the run up to the Tokyo 2020 Olympics.
There is constant innovation and investment taking place on the infrastructure and in the trains themselves, which are typically replaced every 10-15 years in order to keep up with the latest inventions and safety initiatives. Some of the Shinkansen lines, as well as many of the Metro and monorail lines, are fitted with platform-edge doors to improve safety. They are similar to those used on the Jubilee line in London, although generally the doors are hip height rather than full height as in London.
The marketing team use historic data to forecast the potential passenger numbers on any given day, enabling the timetable to be adjusted each day to reflect the predicted demand, taking into account holidays and special events. The timetable is constructed in such a way that additional trains can be switched on as required without rewriting the plan. The timetable has more trains running on Mondays to accommodate an influx of people returning to Tokyo after the weekend, and a similar increase on Thursdays and Fridays for people leaving the city for the weekend. The forecasting was very accurate, meaning that resource utilisation was extremely efficient and profits were maximised.
The biggest difference between UK and Japanese Railways is probably the organisational structure. In the UK, private operators generally bid to operate fixed-term franchises or concessions, whilst in Japan the railways are fully privatised, with businesses taking on the ownership of track, stations and trains. This enables long-term investment opportunities backed up by a certainty that they will reap the benefits from every yen they spend. 
High-quality passenger information is essential, with clear information screens present at stations and on trains to provide live travel information, including details of any problems on the rare occasions when there are delays. All of the announcements and information screens provide information in Japanese and English and more staff are learning English ahead of the 2020 Olympics. As a whole the system is very easy to navigate, helped by ideas such as colour-coding to clearly indicate fast, semi-fast and stopping services, helping passengers to identify their train and ticket validity. We tend to think that Japanese railways run like clockwork but this is not entirely true. We did experience a few delays on some of the commuter lines and there was even one occasion when the Shinkansen 'bullet trains' were suspended. Away from the big cities the train service is still fairly good, but there is less English signage and fewer English-speaking staff. 
The staff are very disciplined and maintain very high standards across every aspect of the operation, whether that's in train maintenance, control room operations, customer service or train cleaning, and everyone knows exactly what is expected of them. This is particularly obvious when it comes to dealing with safety. The safety culture includes the process of 'pointing and calling' for example, when operational staff, including drivers, conductors and station staff, point and articulate their next series of actions. These simple, but vital routine measures are an example of the uncompromising safety culture, with staff encouraged to look out for themselves as well as for their colleagues. If they see others doing anything unsafe they will let them know and report the behaviour, with management usually preferring retraining over disciplinary action. 
One of the characteristics of JR employees is that they are always immaculate, whatever their role, or time of day. It's an outer reflection of employees' sense of pride in their company and the service they provide for the country. There does seem to be a cultural difference compared to the UK, perhaps because staff in general join JR Central from school or university and stay with the company for life. New staff rotate in their roles for the first five years, often starting work at a station before progressing to become a conductor and then a driver, before returning to a station again. This provides them with a full experience of the operation, seeing how each element works, as well as what it's like to deal with customers directly. Staff take ownership of their own development and training in order to do the best they can for JR and the people they work with. All employees spend blocks of time at the General Education Centre at Mishima, living alongside their trainers and colleagues, whilst they adjust to the culture and values of the company. It's not unusual for staff to fund their own courses and study in their own time.
The development of London's new Elizabeth line is the opportunity to create a new kind of railway. We have the chance to introduce best practice from wherever we find it, whether it's our parent company in Hong Kong, our operations in Sweden or from our recent visit to Japan. There are always some regional and cultural differences and we need to find the right balance for the British context and develop our own culture that we can be equally proud of. 
Biographies

Caroline Field joined MTR Crossrail in March 2015 as Disruption Manager in the Performance & Planning department and became Customer Information Manager in April 2017. Caroline has worked in the rail industry since 2012. Prior to MTR Crossrail, she worked in TfL's Train Service Planning team as a project manager and sponsor responsible for the train service change process on the Piccadilly and Sub Surface lines. The main aim of the role was to reduce the amount of time the customer spent on the train, and waiting on the platform, by balancing capacity with reliability.

Jonathan James joined MTR Crossrail in 2016 as Access Contracts Manager, being promoted to Head of Contract Management in January 2019. Jonathan joined British Rail in 1989 and worked in several roles before joining Connex South Eastern at privatisation. He later worked for West Anglia Great Northern (WAGN) before joining Railtrack in 2000. Jonathan held a number of different positions at Railtrack/Network Rail including Commercial, Project Sponsorship and Train Planning and was involved in a number of projects including Thameslink, High Speed 1 and the East London Line extensions.
Related organisations
Related regions
Related people