Steaming ahead to a digital future with AI, IoT and big data
The rail sector is rarely perceived to be at the forefront of cutting-edge logistics technology. But this could not be further from the truth; huge strides are now being made to modernise rail by enlisting the latest technology and the best creative minds. Alex Veitch, Head of Multimodal Policy at the Freight Transport Association (FTA), the organisation representing the interests of the logistics sector, unveils some of the innovative projects currently being developed around the world. The teams behind these projects all have a similar ambition: To bring rail freight operations into the digital era. From Artificial Intelligence (AI), automation, the Internet of Things (IoT) to big data, these innovative solutions are helping to reduce logistics costs, drive operational efficiency, unlock new railway capacity and improve safety.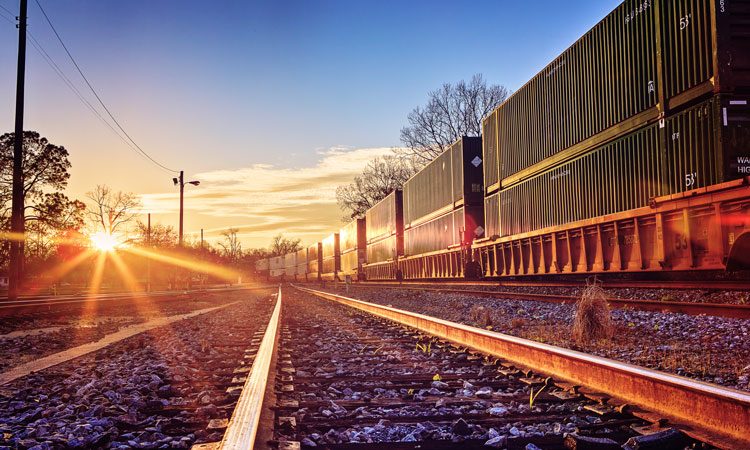 Automation
When looking to the future of transport, automation is a popular theme; various projects to develop driverless cars, HGVs, and ships are underway. This year, Alstom – the French train engineering company – is planning to test automated freight trains in the Netherlands. The prototypes of these trains can travel 100km (60 miles) without driver intervention, freeing the train driver to focus on supervising the train's progress instead. The leadership teams behind many larger European terminals are already contemplating or implementing automation technology, according to HPC, for processes such as container stacking and container transport. But, according to the report, automating train loading and unloading procedures is viewed to be more complex and less feasible at present.
In Western Australia, the mining company Rio Tinto recently undertook its first delivery of iron ore by an autonomous, driverless train. This achievement forms part of its $US 940 million AutoHaul programme, an ambition to automate all trains running to its port facilities in Western Australia.
While advances in technology have now made automated trains a reality, in some countries, regulatory requirements may prevent these types of trains from being used. For example, in the U.S., regulations specify that only a human can move a locomotive.
IoT and big data
Many rail companies across the globe have started to use IoT and big data to analyse and make relevant consignment level information. Most notably, we are seeing the transition from network legacy systems to new digital technologies in Australia's rail network. This movement includes the introduction of new technology systems that promote early detection of safety threats and an early response. For example, Australia's SMART RAIL project allows freight customers to track and trace the location of their cargo using IoT, powered by real-time insights.
One of the more innovative projects in this space is the TRAXENS Digital Freight Train initiative. Connected devices and sensors are placed on wagons to create a digital freight train, which then sends numerous pieces of useful data to railway freight stakeholders. For example, shippers can be provided with regular updates on consignment conditions, wagon location and potential hazards; fleet managers can be provided with accurate mileage monitoring, information on abnormal shocks and axle monitoring. The data flows are tailored to meet the needs of everyone.
The highest-profile rail network currently under development is the link from China to Europe; it will be interesting to see how digital technologies will support its growth. While container traffic is continuing to grow steadily, challenges lie ahead: For example, different gauges used in China, Russia and Europe; delays due to changing locomotives; and major construction works in Poland. Nonetheless, shippers are attracted to this mode as it is quicker and cost-competitive with sea freight; digitisation is a vital component of this, for example, containers are being tagged with e-devices to enable shippers to track progress and flag up any attempted tampering.
UK innovation
The UK rail sector's Digital Railway programme has developed several activities designed to improve both passenger and freight train performance. These include improved train movement control through the Connected Driver Advisory System (C-DAS); safer separation of trains delivered by the ETCS (European Train Control System); and better track worker safety through Traffic Management Protection and Signaller Controlled Warning Systems (SCWS). These projects will be supported by the development of a new CEF Transport Blending Facility, launched by the European Commission and the European Investment Bank to fund projects such as ERTMS.
Within its freight sector programme, the International Union of Railways (UIC) has several initiatives designed to foster innovation and uptake of digital solutions. This includes the RAILDATA group, whose purpose it is to design, develop and run IT services to support the European freight railway business of its members. Current projects include efforts to digitise paperwork through its ORFEUS programme; as part of this, it developed data exchange protocols for consignment notes. The electronic consignment notes will be made compatible with the CIM/SMGS consignment notes and will be extended to other railway undertakings and intermodal operators.
While the rail sector has not historically been synonymous with innovation, the tide is turning; rail companies of all forms are now looking towards digitalisation to drive efficiency, improve safety and boost customer service.
FTA1 members shift more than 90 per cent of all UK rail freight. Factors such as a low environmental impact, growth in intermodal movements and network improvements mean that rail freight is set to play a bigger role in the future movement of goods in the UK and internationally. It's against this backdrop that FTA lobbies for regulatory reform and works to support members to tackle key challenges presented by radically changing demand patterns, network capacity, network access and the constant pressure to drive down costs.
Efficient logistics are vital to keep Britain trading, directly having an impact on more than seven million people employed in the making, selling and moving of goods. With Brexit, new technology and other disruptive forces driving change in the way goods move across borders and through the supply chain, logistics has never been more important to UK plc. A champion and challenger, FTA speaks to Government with one voice on behalf of the whole sector, with members from the road, rail, sea and air industries, as well as the buyers of freight services such as retailers and manufacturers.
Reference
Biography

ALEX VEITCH has both an environmental and a logistics background and has held project management, advocacy and management roles in the environmental non-profit, government agency and railway sectors during his career in the UK and overseas.