Women Inspiring Rail: Q&A with Amanda White, Executive Rail Advisor
For our next Women Inspiring Rail instalment, Amanda White, former Head of Rail at Transport for Greater Manchester and now an independent rail advisor, discusses how she is fascinated with the complex technical, operational and human factors that keep rail services running – or what she likes to call, 'the secret world of railways'.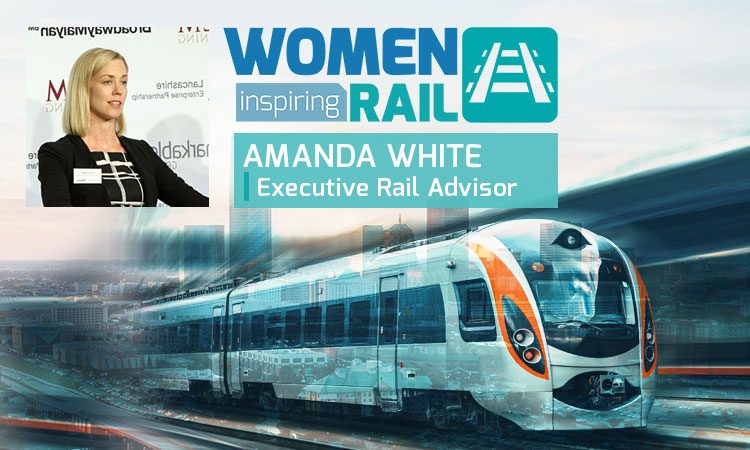 How did your career in rail begin and what does your current job involve?
My railway career started by complete accident. I qualified for an industry placement at my university where I studied Mechanical Engineering. I was looking for a company close to home, that happened to be Network Rail in York. I worked for four months during my summer, Network Rail then sponsored my final year dissertation. Following graduation I joined Network Rail as an Electrification Engineer and I never looked back.
After eight years with Network Rail I moved to HS2 Ltd to work on the early designs for HS2 Phase 2, before my time as the Head of Rail for Transport for Greater Manchester (TfGM). Currently I'm working independently, under my own company A White Ltd, offering strategic rail services to the rail industry. I love it and the work is really varied. Recently, I've been supporting clients in key cities in the north to develop local rail plans and stronger evidence bases for the delivery of HS2 and Northern Powerhouse Rail. I'm also in the early stages of supporting a design firm in expanding their services in Australia.
What aspects of your job do you find the most challenging/rewarding, and why?
I think the most challenging part of most jobs is juggling the conflicting priorities and needs of multiple clients. This was certainly the case in my last role and it's no different now I'm working independently. Of course, in the rail industry politics always puts an interesting twist on every job, but however challenging that becomes, I very much enjoy being able to make sense of the chaos and help to move strategies or programmes forwards. The most rewarding thing for me is seeing my work make a difference, or my recommendations taken forward. If I can save the rail industry money, avoid wasted work or improve the effectiveness of a scheme, then every bit of effort is worthwhile.
What is it about the rail industry that you are most passionate about?
Since joining the industry in 2003 I've been fascinated about how many people it takes to keep services running; I call it the secret world of railways.
Ultimately my passion is about helping others, and the rail industry touches millions of lives each day. Since joining the industry in 2003 I've been fascinated about how many people it takes to keep services running; I call it the secret world of railways – so many complex technical, operational and human factors have to work in harmony each day to move people around the country. I'm constantly learning in this industry and that's such a big part of what makes my work enjoyable to me.
What has been your biggest achievement/proudest moment so far in your rail career?
Its really hard to pinpoint one moment in my career, but three very different times come to mind.
The first was during my time working at HS2 Ltd when the Phase 2B design was confirmed by the then Secretary of State for Transport. Although the announcement was a proud milestone that culminated four years of hard work, the pride I have is for the work at the toughest times in the 12 months prior; at public consultation events or minister meetings where I was able to protect the right outcomes for both the proposed railway and those affected by it.
The second was during my time as Head of Rail at TfGM. There was no one big milestone, but over the course of three years I worked hard to restructure and build a strong team. I couldn't be more proud of the passion and commitment of the team that grew with me.
Finally, I think my most recent move to set up my own business and work independently will become one of the biggest achievements of my career. Its not easy to step away from the comfort of paid employment but the support from my railway network has been overwhelming and I'm eternally grateful for the amazing breadth of experience that I've had in my career so far.
How has the rail industry evolved since you joined? What have been the biggest changes?
There are new pressures on the railway today that didn't exist 16 years ago. More people are travelling by rail than ever before and the infrastructure is under immense pressure. Funding seems to be more and more difficult to access. The management structure of the railway has evolved with the introduction of subnational transport bodies and is set to change even more dramatically following the Williams Review. The performance of services and projects are being publicly scrutinised each day by Metropolitan Mayors and passengers today are accustomed to immediate information. The whole rail industry has needed to evolve quickly to meet this step change in transparency and accountability.
I think one of the biggest changes that we are about to see is the impact of the introduction of HS2. The new railway itself will be an impressive shift for rail travel, but more interesting is the work still needed to redesign and enhance the existing railway to complement and integrate with HS2 and other new railways such as Northern Powerhouse Rail. I think we will ultimately see a step change in how rail infrastructure is used in this country.
Who within the rail community has been an inspiration to you, and why?
There are so many inspirational people in the rail industry. Those that have inspired me have generally been prepared to stand up for the greater cause of the rail industry regardless of politics, bureaucracy, or their own personal gain. Alison Munro, my Chief Executive at HS2 Ltd, was a great inspiration with such integrity and respect for others. She delivered results without the need to use fear, ego or intimidation that is often seen in the boardroom.
What can be done to diversify the workforce in the rail sector? What advice would you give to those thinking about pursuing a career in rail?
I think the only way to truly diversify without positive discrimination is to better promote and educate what it means to work in the rail sector. Few people really understand the huge variety of jobs required to keep the railway running. We need to open up our secret world of railways so that those just starting out in their career automatically consider it in their top three wish list.
I think the best thing about rail is that once you are in the industry, you have a job for life.
For those considering a career in rail I would 100 per cent recommend it. I'd say it is important to be open-minded; it is really not the stereotypical industry that people imagine. I think the best thing about rail is that once you are in the industry, you have a job for life. This means you can either specialise in your chosen practice or move around and try something new. You have complete flexibility as well as bundles of support from the people around you, and whatever you do in the industry, you know you're contributing to an essential social and economical cause that keeps the UK moving.  
If you would like to take part in the Women Inspiring Rail series, or would like to nominate a colleague to part, please email: Craig Waters, Editor, Global Railway Review.