Advances in Australian rail asset management
John Fullerton, Chief Executive Officer and Managing Director of Australian Rail Track Corporation (ARTC) writes that while the fundamentals of asset management have remained the same for decades, new technology and innovations such as sensors, wayside monitoring and drones are making asset management in rail more predictive, efficient and in turn, improving safety and productivity of the permanent way.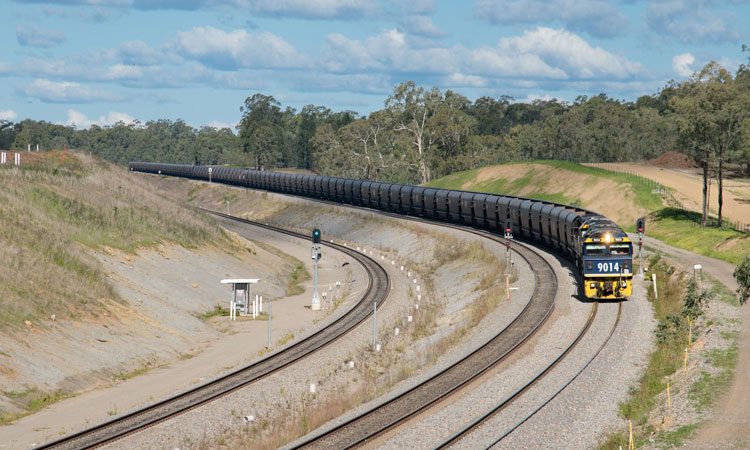 At the Australian Rail Track Corporation (ARTC) we manage more than 8,500 kilometres of network that stretches right across Australia. It means we have significant diversity in our rail operations as well as variety in the history and types of track, soil and weather conditions our teams must manage.
Everything from high intensity, high tonnage coal traffic travelling through the Hunter Valley, to high-speed, 1,800m-long, double-stacked container trains across the South Australian Outback are in operation. During the winter, there might be snow in one part of the network and bushfires in another.
In addition to climate, geographic and train operation differences, ARTC's network has also undergone progressive asset modernisation works over the last 15 years. While this means, for example, the mainline network is entirely concrete sleepered, there is variability in weight of rail, asset structures, track formations and ballast type.
As a result, we need be innovative in the way we manage the asset and, critically, enable our frontline teams to deliver rail maintenance utilising their local knowledge and skillsets.
Our overall focus is moving asset management from traditional 'time and tonnes' thinking – based on length of time around asset age and inspections, against total tonnages running over the asset – to a far more tailored and predictive, risk and condition-based maintenance regime.
Better information to enhance asset management
Our teams receive quarterly reports from a track condition monitoring train we call the 'AK Car' which includes a sophisticated track monitoring set-up.
It captures track geometry recordings via a Vista Geometry System (VGS) as well as Vehicle/Track Interface (VTI) data and measurements. This suite of information enables assessment of how the track is performing against specific track key performance indicators (for example around Track Quality Indices).
Supplementing AK Car information, VTI units are established onboard many of our customer's locomotives.
VTI systems use an array of sensors to accurately measure the dynamic response of a rail vehicle to the track, pinpoint the location of measured anomalies with GPS, and then report those locations in real-time using mobile and broadband telecommunications. Reports can be sent online along with maps, measurement graphs and charts.
In addition, automated notifications of asset issues (prioritised according to different levels of risk) are also delivered directly to asset management teams for input and action via an overarching asset management database. This in-depth information is provided to asset teams in both our planning and maintenance delivery areas.
Importantly, this data is used to map out future asset management requirements informing the 10-year Annual Works Program. In effect, the data gives us the insight to plan for, and deliver asset management tasks around predicted track condition and manage track performance against customer demands.
Visual track patrols, reporting of asset incidents through train control and train driver reports remain an important part of asset management – particularly managing reactive maintenance requirements.
For example, noting the diverse nature of our network, each specific section of the rail corridor and their asset management teams also employ tailored Track Stability Management Plans to account for local asset performance.
Data from our extensive wayside monitoring network also informs our asset management approach.
Wayside systems
ARTC also has an extensive wayside track monitoring network and through cooperation with our rail customers, it results in a safer and more reliable rail network.
The wayside monitoring linked network and database makes it quicker and easier for both track and rolling stock owners to identify common wear and condition history which makes for fewer (and costly) derailments, optimises track and rolling stock maintenance leading to better performing rolling stock on the track and more cost-effective maintenance regimes.
Wayside monitoring at ARTC involves separate pieces of technology including sensors, monitors and high-resolution digital cameras that work together to give information on the condition of rolling stock as it passes the detectors at track speed. The information is processed and stored on databases so both ARTC and its customers can review this information on demand.
All rolling stock on our network is equipped with Automatic Equipment Identification (AEI), a Radio Frequency Identification (RFID) electronic recognition system, consisting of passive tags mounted on each side of rolling stock and active trackside readers to identify individual rolling stock while en route.
Deployed wayside devices on the ARTC network include: 
Wheel Impact Load Detectors (WILD) to measure the effect of wheel impacts on the rail surface under dynamic conditions
Hunting detectors (angle of attack) to measure the position of the wheelset relative to the rail by using three 'TBOGI' arrays to measure tracking error, inter-axle misalignment, hunting, angle of attack and lateral shift. (TBOGI is a laser-based system that measures an advanced array of geometry metrics for each wheelset, bogie and their stability)
Acoustic Bearing Detectors (RailBAM) to identify and monitor bearing faults using acoustic measurements
Wheel profile monitors which are realtime wheel measurement systems that calculate wheel measurements by taking a laser image of the wheel as it travels through the system at track speed
Wheel Noise Detectors (RailSQAD) including wheel flanging and wheel squeal acoustic monitors to monitor noise produced within specific ranges by wheels to trend repeatedly noisy vehicles and analyse operational and environmental conditions
Dragging equipment detectors
Hot Wheel Detectors
Weighbridges to provide insights on train consist loading and weights.
Unmanned vehicles
The growing accessibility of new technology such as unmanned vehicles – either drones or motorised vehicles – is also bringing new benefits to the way ARTC delivers asset management.
For example, we use drones to assist with working at heights and engineering inspections of major structures such as bridges and culverts. A drone specialist captures defect photos in difficult to access locations, making inspections faster and safer. The drone also saves the team time on site and reduces overall costs compared to traditional bridge-access methods such as scaffolding, cranes and scissor lifts.
The versatility of drones also allows the team to conduct multiple structure assessments easily, as opposed to lifting and moving bulky plant and equipment.
ARTC has also piloted mounting high definition video cameras onto remote controlled vehicles as ways to enter confined spaces, especially if there is a concern around potentially hazardous materials.
Managing major weather incidents
Our large national network can often be at Mother Nature's mercy and the consequences in Australia can be catastrophic, so ARTC has extensive weather reporting and forecasting in place.
This includes a specialised Weather Monitoring Service which provides regular reports and alerts on significant weather events directly related to our rail network – it monitors weather systems, rainfall, temperatures and winds.
Weather reports are provided directly into our live-run operations to both warn and adjust train movements where needed, as well as inform and deploy our asset maintenance teams on the ground. Our own weather stations in hard-to-access corners of the rail network supplement this private provider's network.
Additionally, we have a range of rainfall and flooding monitors deployed at known flash flooding zones which trigger alerts that inform train operations and asset inspections. This is especially important when the flooding can lead to track 'washaways'.
Quality data and support to on-the-ground decision-making
The nature of rail asset management however remains executed by frontline asset management and project teams.
ARTC has invested significantly in two core areas to support this over recent years. The first has been a major focus on improving the safety of the rail working environment and the second has been our Asset Management Improvement Program (AMIP).
The AMIP is improving and providing better data, processes and systems – particularly the Asset Management database – and turning it into useful, understandable and actionable information for our teams on the frontline.
Supporting initiatives under this programme include a new asset management system, the implementation of Visual Management Centres (VMC) which map out daily tasks, objectives and reports in a single, simple layout supporting daily team meetings and providing for mobility in the field.
Some teams have progressed to large touchscreen VMCs which allow all decisions and information to be recorded digitally and frontline teams have iPads and iPhones directly connected to the overarching asset management database. This allows the input and action on asset reports in the field directly, reducing paperwork and workflow.
Asset management continues to evolve. Rail infrastructure managers now have a suite of tools, data and systems at their disposal to improve safety, reduce cost, drive productivity and enhance the overall competitiveness of rail.
At ARTC this has allowed us to be more prognostic in our asset planning and guide decision-making based on qualified need, risk and condition demands rather than more arbitrary information. Elsewhere our initiatives are reducing and managing wear rates in rolling stock and track; avoiding impacts of major incidents such as derailments and severe weather events; and, enabling our frontline teams to work more safely, productively and efficiently.
Biography

JOHN FULLERTON has nearly 40 years' experience in the rail industry and currently holds the position as Non-Executive Director of the Australasian Railway Association (ARA) and is the Alternate Non-Executive Director of Hunter Valley Coal Chain Coordinator Ltd. John is also a member of the Freight on Rail Group having served as its inaugural Chairman from 2015 to 2018. He was previously Chief Executive Officer of Freight Link Pty Ltd and Asia Pacific Transport Pty Ltd, as well as Chair and Non-Executive Director of a number of rail industry boards and the South Australian Young Entrepreneur Scheme. John was listed in the Top 100 Influential Engineers in Australia for four consecutive years from 2011 to 2014.