Product Showcase: Rail milling as part of an integrated rail maintenance strategy
Rail re-profiling has become a more widely accepted and necessary requirement to significantly extend the lifecycle of the rail. The Austrian company, LINMAG, is a worldwide provider of high-quality rail maintenance services, utilising Linsinger's well-proven rail milling technology which was successfully introduced to the industry to overcome the limitations and side effects of traditional rail maintenance techniques.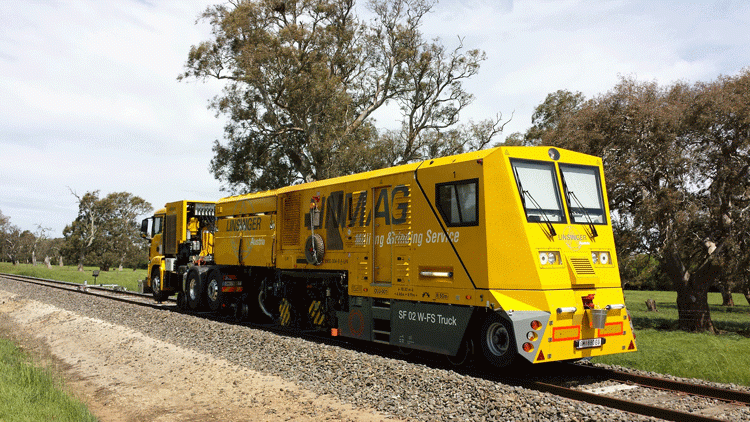 LINMAG's Rail Road Truck SF02-W-FS Truck
The rail – one of the most valuable track assets
Existing rail maintenance strategies and programmes must be adapted in order to successfully implement a new integrated rail maintenance approach. High performance rail milling offers the chance to introduce a predictive maintenance programme. This can be achieved by combining process simulations with well-defined resultant rail surface conditions and advanced rail surface characterisation technologies. Consequently, introducing an integrated rail maintenance approach will lead to significantly increased performance levels of one of the most valuable track assets – the rail.
The cutter heads
Rail milling is a spark- and dust-free rotational cutting process where material is cut out of the rail surface in the form of 'chips'. Each cutter head consists of 140 to 220 carbide inserts, depending on its diameter. Heat from the milling process is mostly transferred to the metal chips, which are then collected on board the milling machine to be recycled after the process is completed. The low heat generated by the milling process prevents 'bluing' or the generation of martensite, an unwanted by-product of heat-related material transformation at the surface of the rail. The shape of the high precision cutter head determines the resulting shape of the rail profile. Any pre-defined rail profile can be produced by the milling process. Multiple profiles can be produced by changing the cutter heads which can be done quickly, depending on the number of milling units on the milling machine.
The maintenance activities
There are two ways to perform rail maintenance activities. A preventive maintenance strategy can help to keep the rail surface free of any defects. However, once Rolling Contact Fatigue (RCF) has formed, a regenerative rail maintenance strategy should be used to completely remove those defects and prevent premature rail replacement. The milling process allows for low to high metal removal rates per pass, dependent on the size of the machine. Therefore, this process can be used for all types of maintenance strategies. Typical milling machines are equipped with one, two or three cutter heads per rail, depending on the application scenario. Furthermore, Linsinger's milling machines can also be used to treat switches and crossings. In urban environments, the resultant periodic cutting structure on the rail surface can cause some unwanted temporary noise effects. To mitigate this, milling machines are equipped with a polishing unit. This unit consists of a completely enclosed longitudinal grinding wheel with a slight offset angle that polishes the running surface of the rail to create a noise optimised, high quality surface finish. No metal removal is carried out during in this process.
Satisfied customers
A variety of rail maintenance activities – especially rail milling – can be introduced as part of an integrated track maintenance approach. Several examples from satisfied customers around the world confirm that rail milling is a successful complementary solution to prevent premature rail replacement and to economically treat mainline track, switches and crossings, resulting in a significant extension of rail life.
Issue
Related organisations