Eliminating risk and creating a safer railway in Great Britain
Level crossing safety in Great Britain continues to be one of Network Rail's key priorities. Since 2009 the infrastructure manager has invested more than £200 million in improving the safety of level crossings and this investment to date has generated over 1,100 level crossing closures and countless safety enhancements across the network. Robert Wainwright, Head of Level Crossings at Network Rail, explains more.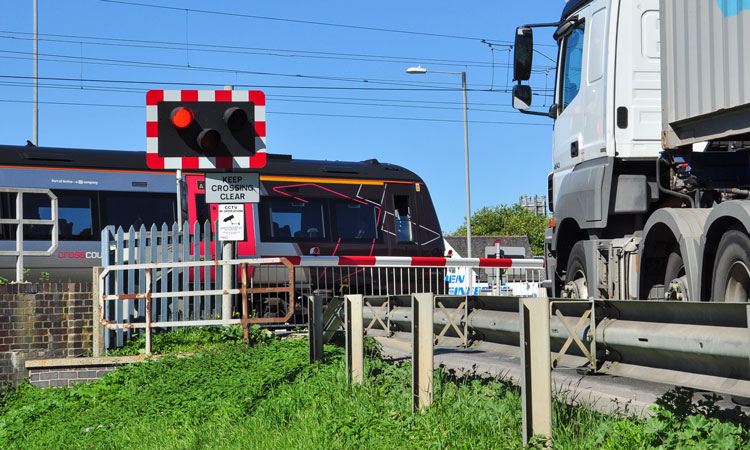 Great Britian has one of the best level crossing safety records in Europe. This is a commendable position given that the rail network in Britain is one of the most intensively used in the world. With track covering 20,000 miles across the country, interfacing with around 6,000 roads and footpath or bridleway systems throughout, the challenge to manage public and passenger safety is immense.
Reducing risk
The ring-fenced fund identified in the CP5 final determination has enabled level crossing risk reduction to go beyond legal requirements through closures and deployment of technology. Developing the next generation of technology remains a primary objective for Network Rail as we progress into CP6 in April 2019.
Network Rail continues to make improvements in level crossing safety, from coordinating the cross-industry level crossing strategy group, where all members work towards the Leading Health and Safety on Britain's Railway strategy. Though working with partners from both inside and outside the industry, Network Rail continues to reduce risk at level crossings and inspire other countries' railway networks to use us as an exemplar to follow. With improved collaboration within the industry, we will continue to see level crossing risk reduction in Britain for the foreseeable future.
The safety strategy
Centred on effective collaboration, Enhancing Level Crossing Safety 2018-2028, is our safety strategy for how level crossing safety will be further improved over the next 10 years and will help prioritise route investment to target the best risk reduction.
Network Rail has approximately 100 dedicated level crossing managers, spread across the country, who continue to lead improvements in level crossing safety. Their expertise, local knowledge and focus on stakeholder engagement, which includes building relationships with authorised users and wider local communities, helps improve everyone's understanding and reduce risks.
Here are some of the key safety initiatives Network Rail are involved with:
Level crossing closures
Since April 2014, we have achieved 367 level crossing closures. In all, this means a total of 1,171 level crossings have closed since the start of April 2009. A further 28 crossings have also been reduced in status to improve safety.
Understanding user numbers
Improved census data continues to deliver better intelligence about the numbers of people and vehicles that use level crossings, whether on foot, in a vehicle or on a bike.
Narrative Risk Assessments (NRAs)
NRAs are enabling better targeting of risk reduction measures; blending quantitative modelled risk with structured observation and judgement from the level crossing manager. Work has begun to review this process with a plan to enhance the NRAs to encompass the whole level crossing asset system and assess wider aspects of level crossing risk.
Audible warning devices
Further progress has been made in the deployment of supplementary audible warning devices at footpath level crossings, protected by whistle boards. The technology uses radar equipment to detect approaching trains and wayside horns to provide a localised audible warning at the crossing. There are now 82 level crossings equipped with this technology with more looking to be installed across the country.
Overlay miniature stop light systems
Deployment of overlay miniature stop light (MSL) systems has continued over the last five years, helping to improve safety at footpath and user worked level crossings. These MSL systems are an affordable alternative to expensive integrated systems and are primarily targeted at locations with insufficient sighting. MSLs warn of approaching trains by providing a red light and audible warning to users. There are now over 50 overlay systems in operation across the network with more programmed for delivery before the end of March 2019.
New types of level crossing
Network Rail successfully developed and commissioned a new type of level crossing to reduce risk to pedestrians at partially barriered automatic crossings. The first Automatic Full Barrier Crossing Locally Monitored system was installed at Princes Street in Ardrossan in January 2018, with two further sites in Dingwall commissioned late in 2018.
Red light safety equipment (RLSE)
RLSE has been installed at 31 public road level crossings to improve user behaviour, deterring deliberate misuse. Trials have demonstrated that these Home Office Type Approved (HOTA) cameras have reduced deliberate misuse by approximately 90 per cent at some locations. Plans are in place to install RLSE at another 50 sites over the coming year.
Mobile safety vehicles
Our fleet of 15 mobile safety vehicles, operated in partnership by the British Transport Police (BTP), continue to target locations of poor user behaviour. Furthermore, the driver education programme remains an effective tool in reducing re-offending rates.
Signs at passive level crossings
Following on from the RSSB's Project T983, which looks at the signs used at private road level crossings, Network Rail has been working collaboratively with the Department for Transport (DfT) and the Office of Rail and Road (ORR) to completely refresh signs for users at passive level crossings. A range of signs has been proposed and will be going into trial shortly. The findings will then be analysed and documented in a report which will make recommendations for deployment across the network.
Safety communication
Safety awareness campaigns remain an important tool in cascading safety communication messages to the public. Network Rail continues to work collaboratively with partners such as the National Farmers Union (NFU), trade groups, Drinkaware, the BTP and more broadly with rail industry colleagues through the International Level Crossing Awareness Day (ILCAD) community. Campaigns target at-risk groups such as those most prone to errors, lapses or deliberate misuse. Each campaign delivers key safety messages to coincide with risk and seasonal trends, keeping information fresh and engaging.
Educating children
In 2018, Network Rail and BTP teamed up with toy giant Mattel to use Thomas the Tank Engine as a platform to educate young children on how to safely use the railway. The Stay Safe with Thomas storybook follows Thomas as he plays on the railway, putting himself and his friends in harm's way. The story tells the dangers of failing to stop at a level crossing, leaving gates open to allow animals onto the tracks and standing too close to the platform edge. The book was created following statistics that the number of young people taking risks on the railway has increased by almost 80 per cent in the last five years. Copies of the book were distributed to local libraries, nurseries and doctors' surgeries across the country as well as being downloadable for schools.
Innovative solutions from suppliers
Network Rail is working to secure innovative solutions from suppliers to provide affordable, user-based warning systems which meet recognised safety integrity levels such as the 'Meerkat' system for passive footpath crossings. The 'Meerkat' system will be available from 2019.
Overlay solution for AHBs
In the light of recent examples of deliberate misuse at Automatic Half Barriers (AHB) crossings, Network Rail is developing an overlay solution to provide additional barriers and obstacle detection for targeted deployment at higher risk AHBs.
Biography

ROBERT WAINWRIGHT currently works for Network Rail as Head of Level Crossings. His role is to lead the strategic direction for level crossing risk reduction for the business. Until his appointment in December 2017, Robert's career had seen him work within Timetabling, Operations and since 2014 within the Quality, Health, Safety and Environment team as the National Train Accident Risk Reduction Specialist. Robert has been responsible for the movement to leading indicators to measure performance for train accident risk reduction and the creation of the prioritisation methodology for Network Rail's national safety improvement projects.