New rail operations and training centre to keep jobs in York
Plans for a flagship rail operating and training facility in York have been announced by Network Rail…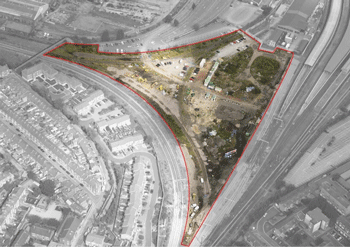 Ariel view of site - site of proposed Rail Operating Centre (ROC) and training facility
Plans for a flagship rail operating and training facility in York have been announced by Network Rail.
The Rail Operating Centre (ROC), which would be one of just 14 proposed centres across Great Britain, that will eventually coordinate and control all rail operations on the London North Eastern route and help to expand the number of rail related jobs in the city. The workforce development centre will consolidate services already provided at several different locations into a single, purpose-built facility.
Robin Gisby, managing director of network operations for Network Rail, said; "York has a proud railway history and these new facilities will allow us to continue that whilst providing a modern, efficient service. The ROC is a key part of our strategy to improve reliability whilst driving down the cost of running and maintaining the railway. It will allow us to retain jobs in the city as well as bringing future employment opportunities to the area, which is vital for long term economic growth and prosperity."
The proposed ROC, to be located on disused land adjacent to York station, would be the largest centre in the UK and will enable services such as signalling and traffic control to be consolidated into a centralised unit.
The proposals are at an early stage and consultation will be undertaken with the local community and interested groups over the coming months before the plans are finalised.
Related organisations
Related people