Roomdimensions chosen to modernize the biggest control center of the Lithuanian Railways
The Lithuanian Railways to modernize the country's biggest railway control center…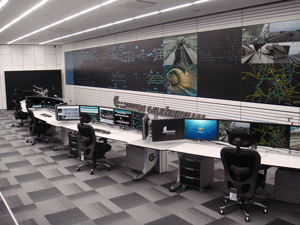 Lithuanian Railways control center
The Lithuanian Railways (Lietuvos Gelezinkeliai) have opted for Spanish technology to modernize the country's biggest railway control center.
For this project, completed in November 2011, the Spanish company Roomdimension S.L. has collaborated with Indra Sistemas for the implementation of a new operating environment, equipped with the latest railway management technology. The best architectural solutions —such as control consoles fully developed in our country— have been used for this project.
International Qualitative Step of the Rail Technology
Regarding this project for the Lithuanian Railways, Roomdimension has been responsible for the integral design of the operating environment, the technical assistance for the coordination and supervision of all different activities, and the supply and set up of all the technical and auxiliary furniture used, both in the control center and in the crisis room and control power room.
A highlight among the implemented solutions in the remodeling of the control centre is the so-called Kompas control console, which allows an ideal management and organization of all work environments of the coordinated operators and equipments. It represents an innovative technology within the field of control consoles which has become a national and international point of reference.
According to Roomdimensions' Director, this project is particularly relevant for it strengthens the company's position in foreign markets, being already present in Portugal, Mexico, Brazil, Mozambique, Angola and Guinea.
*About Roomdimensions:
Roomdimensions is a group specializing in state-of-the-art technology and services for the control and monitoring systems market.
The Spanish-Portuguese group operates through two differentiated companies: Roomdimensions Ibérica, S.L. and Roomdimensions, Ltda, their scope being the Iberian Peninsula, Portugal, Brazil, Mozambique, Angola, and Guinea.
Due to its firm commitment to innovation, the company has become a technological point of reference in the integral design and development of 24×7 operating environments, as well as in technical solutions for the start up of such environments.