CHSRA board approves 90-mile San Jose to Merced project section
CHSRA board have unanimously approved the project section following the certification of the Final Environmental Impact Report.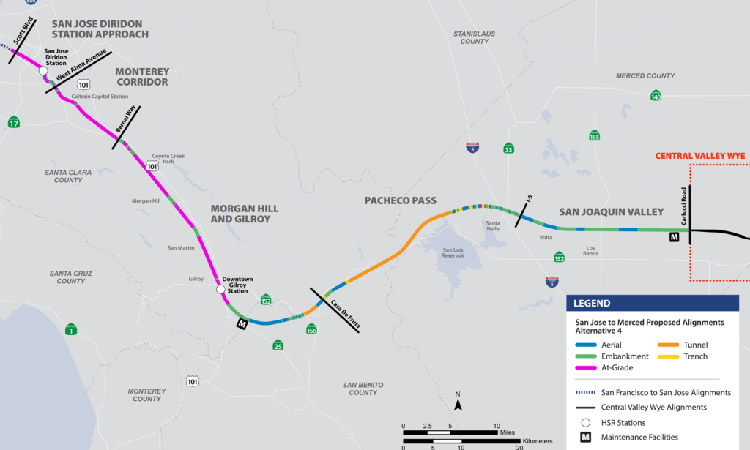 Credit: CHSRA
The California High-Speed Rail Authority (Authority) Board of Directors have certified the Final Environmental Impact Report/Environmental Impact Statement (EIR/EIS) and unanimously approved the approximately 90-mile San Jose to Merced project section in Northern California. This action completes the environmental clearance for nearly 400 miles of the high-speed rail project's 500-mile Phase 1 alignment from San Francisco to Los Angeles/Anaheim, including an adjoining stretch between Merced and Palmdale.
"This approval represents another major milestone and brings us one step closer to delivering high-speed rail between the Silicon Valley and the Central Valley," Brian Kelly, CEO of Authority, said. "The Authority is poised to make the vision of high-speed rail in the Bay Area a reality. We look forward to continued collaboration with our federal, state, and local partners to advance the project in Northern California."
This project section will connect the existing construction in the Central Valley to San Jose's Diridon Station, slashing travel times and improving mobility in both regions. The high-speed rail system will make the trip from Fresno to San Jose in just one hour as opposed to three hours by car.
"I am grateful, as are all of us in the City of San Jose, for the extraordinary work that's now culminated in this environmental document reflecting thousands of hours of stakeholder outreach and an enormous amount of environmental analysis," Sam Liccardo, Mayor of San Jose, said. "Completion of this critically important high-speed rail project helps the state expand economic opportunity and affordable housing, two critical goals for all of us."
The Board's certification of the San Jose to Merced Final EIR/EIS and approval of the project section is a critical milestone that moves the project section closer to being shovel ready for when pre-construction and construction funding becomes available.