Bombardier named Systems Supplier of the Year at the Revista Ferroviaria Awards in Brazil
Bombardier has received the prestigious award for System Supplier of the Year…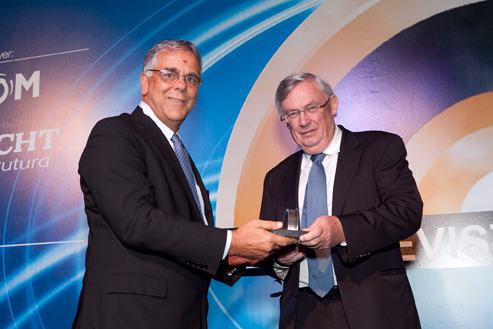 Carlos José da Cunha, President of SuperVia (commuter trains operator in Rio de Janeiro) and André Guyvarch, President of Bombardier Transportation Brazil
Bombardier Transportation, the world leader in rail transportation technology, has received the prestigious award for System Supplier of the Year at the 2012 Revista Ferroviaria Awards, held in São Paulo, Brazil. Jurandir Fernandes, São Paulo Secretary of State for Transport, presented the accolade to Bombardier Transportation Brazil executives André Guyvarch, President, André Richez, Head of Rail Control Solutions and Eduardo Saccaro, Director Systems.
Bombardier has won the award for its game changing INNOVIA Monorail 300 system, delivered with the CITYFLO 650 automatic train control solution. Cost effective to introduce without requiring major infrastructure or civil works, it offers transport capacity up to 48,000 passengers per hour per direction. In consortium with the Brazilian civil contractors Queiroz Galvão and OAS, Bombardier will design, supply and install a 24 km, 17 station INNOVIA Monorail 300 system, with the CITYFLO 650 communications-based train control (CBTC) technology that enables short 75 second headways between trains.
The new line will serve as an extension of Metro São Paulo's Line 2 between the urban areas of Vila Prudente and Cidade Tiradentes. A total of 54 new monorail trains will operate on this line, carrying as many as 1,000 passengers each. This journey currently takes almost two hours and the new INNOVIA Monorail system will reduce the journey time to approximately 50 minutes, benefiting more than 500,000 users daily.
"This award recognizes Bombardier's focus on providing truly innovative mobility solutions," said André Guyvarch, President, Brazil, Bombardier Transportation. "The new high capacity INNOVIA Monorail 300 system offers a transportation capacity similar to that of a metro, yet the light infrastructure required reduces the construction price and the implementation schedule by up to 50%, bringing quality-of-life benefits to passengers sooner and more cost-effectively."
The 23rd annual Revista Ferroviaria Awards are acknowledged as the most prestigious annual prizes for individuals and companies operating in the railway sector in Brazil. The most high profile projects and developments of the year are selected by the editorial board of the Revista Ferroviaria magazine. These are then voted on by readers of the magazine and its online version.
About Bombardier Transportation in Brazil
Bombardier's main offices and two fleet maintenance depots are located in São Paulo, and it operates a railway vehicle refurbishment engineering centre in Hortolândia, Campinas. The company is strongly investing in Brazil, and is already one of the major companies in the national railway industry, where it leads the railway vehicle modernisation market sector. Bombardier's investment plan initiated in 2009 aims to triple the local number of employees, reaching 600 people in 2012, and to quadruple its industrial area in Hortolândia. In addition to the existing vehicle refurbishment capacity, the Hortolândia site is being equipped to manufacture new rolling stock.
Bombardier is also delivering rail control solutions for São Paulo's Companhia Paulista de Trens Metropolitanos (BOMBARDIER INTERFLO 200 technology) and Salvador de Bahia (CITYFLO 350 technology) mass transit systems as well as the first European Rail Traffic Management (ERTMS) contract to be awarded in South America, on the Rio de Janeiro commuter train network.
Related organisations
Related regions