ATOC's EU Representative and Sustainability Manager joins Global Railway Review Editorial Board
Alex Vetch has joined our Editorial Board…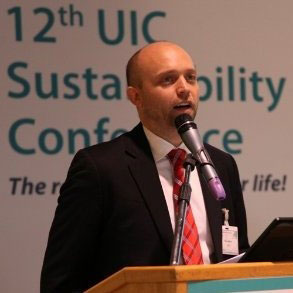 Alex Vetch, EU Representative and Sustainability Manager at ATOC
Global Railway Review is pleased to announce that Alex Vetch, EU Representative and Sustainability Manager at ATOC has joined the Editorial Board of the publication.
Alex is currently EU Representative and Sustainability Manager at ATOC, the Association of Train Operating Companies in the UK. Alex began his career as an environmental campaigner in the year 2000, lobbying on transport and climate change legislation in the United States, before working as transport strategy manager at the Energy Saving Trust, the UK government agency on climate change. Alex moved into rail in 2007, managing projects on multi-modal connections and integrated ticketing at ATOC, then taking a 2-year secondment to the UIC in Paris where he became Head of Unit, Sustainable Development. His experience at the UIC included working with railways across the world to promote and support their sustainable development expertise, and provided the opportunity to represent railways at the United Nations. Alex is a Board Director of ACT-TravelWise the professional association for sustainable transport practitioners in the UK, and has a BA from the University of Manchester and an MSc from SOAS, University of London.
Commenting on joining the Editorial Board, Alex said: "Throughout my experience in the domestic and international railway sector, I have found that Global Railway Review has been a consistent source of well-researched and well-written information about the international railway sector. Speaking as someone with a particular interest in sustainability and environmental issues, I particularly appreciate the efforts by Global Railway Review to highlight topics such as noise and energy efficiency, which are crucial to the sustainability performance of railways, and also critical operational issues. I am excited to bring my experience of working with railways around the world and in the European market to the Editorial Board of the publication.
Related organisations
Related people