Rail halt approved
Plans for the construction of a new rail halt at The James Cook University Hospital have been approved by Middlesbrough Council's planning committee…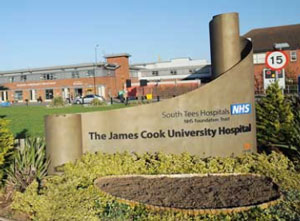 Plans for the construction of a new rail halt at The James Cook University Hospital have been approved by Middlesbrough Council's planning committee.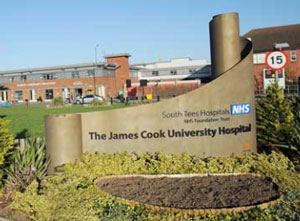 Construction on the project will begin this summer, with completion scheduled for March 2014.
Funding for the new station was secured following a successful bid by Tees Valley Unlimited to the Local Sustainable Transport Fund.
Welcoming the latest development, TVU managing director Stephen Catchpole said: "This new station is a long standing aspiration which is being funded as part of the £4.5 million received through the Local Sustainable Transport Fund, alongside the improvements at 11 existing Tees Valley stations.
"It will help us realise one of our priority transport ambitions, enhancing our existing rail network and supporting the economic regeneration of the area by increasing the mobility of workers and the accessibility of a key site."
The 113m halt will be to the south of the hospital next to the existing blue footbridge which currently serves the hospital and the Park End and Berwick Hills estates.
The existing footbridge and upgraded pedestrian and cycle routes will be used to access the platform from the east of the single track railway line.
The station will be lit and covered by CCTV with waiting shelters and other passenger facilities.
Councillor Nicky Walker, Middlesbrough Council's executive member for transport, said: "The transport infrastructure of Middlesbrough and the Teesside area is fragile and any transport initiative is extremely welcome.
"For a number of years we have been advancing the proposal of a rail halt at The James Cook University Hospital and I am really pleased this will be realised.
"This new station halt will fill a critical gap in the Tees Valley's rail network, providing rail access to one of the main trip generators within Middlesbrough which currently has no rail connection.
"Over 50% of traffic in Marton Road enters the hospital and I am sure that over a period of time a new rail halt will reduce the number of cars substantially which will therefore affect other parts of Middlesbrough."
Phil Verster, route managing director for Network Rail, said: "More and more passengers are using the railway today and they quite rightly expect and deserve new stations nearer to important facilities.
"This investment in Middlesbrough will make it easier for people to use public transport. It will be used to access the area as a destination for employment, health appointments, leisure trips and cultural activities."
South Tees Hospitals NHS Foundation Trust has a target of reducing reliance on car journeys by 20% as part of its commitment to encouraging sustainable travel for employees, visitors and patients.
Trust director of planning Jill Moulton said: "The rail link will be a major boost for the trust, our staff and our patients.
"It is something we have been talking about for over 25 years and will greatly improve access for patients.
"The James Cook is a busy hospital site so we also hope it will encourage more staff to leave their cars at home and help us to reduce our carbon footprint."
Use of the new rail station will be actively encouraged through season ticket discounts and ensuring that hospital appointments can be aligned with the new rail service timetable.
It will be served by 16 trains per day in each direction with each existing service on the Esk Valley line calling at the halt, and an additional four trains extended from Middlesbrough to terminate at Nunthorpe.