Pars nova presents a modernised carriage for ČD long-distance
Pars nova presented a prototype of a modernised type Bdmpee 2nd class passenger carriage for ČD…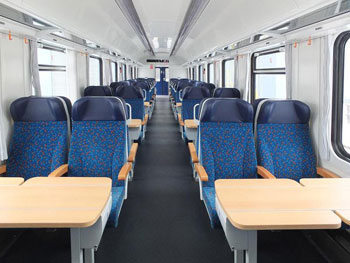 Pars nova presents a modernised carriage for ČD long-distance
The company Pars nova, a member of the Škoda Transportation holding, presented a prototype of a modernised type Bdmpee 2nd class passenger carriage for ČD. The carriage is intended for express trains and EuroCity connections travelling at speeds of up to 160 km/h.
The carriage underwent a comprehensive modernisation and reconstruction of its interior. A type Bmee compartment carriage dating from the late 1980s was converted into a type Bdmpee open carriage with 80 seats and space for large luggage, including bicycles. The carriage features many new amenities, including floors, wall panelling, windows, seats, lighting, audio-visual information system and a closed-system WC. The carriage is air-conditioned, and passengers will be able to use 230V electrical outlets for charging small electronic devices. Other technical units were modernised as well, such as GP 200 undercarriages, magnetic brakes and new electrical armatures. "We will gradually deploy carriages mainly in express and EuroCity trains. Specifically, these will be the express trains on the Praha – Olomouc – Ostrava – Žilina route and international fast trains from Prague to Munich," explains Jiří Ješeta, director of ČD's Department of Long-Distance and International Transport.
The prototype of the modernised passenger carriage will undergo the necessary tests in the coming days, including tests at the VUZ test circuit in Velim. ČD expects to deploy the first carriage for test operations no later than in mid-2013. The company Pars nova, a member of the Škoda Transportation holding, has until mid-2014 to modernise 40 carriages. The contract is worth CZK 695.6 million (c. EUR 27.3 million).