Crossrail's tunnelling giant Phyllis reaches Bond Street station
Crossrail's lead tunnelling machine has arrived at the new Crossrail Bond Street station…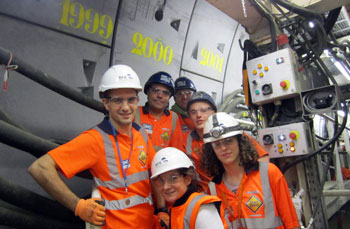 TBM Phyllis completes 2000th tunnel ring as she arrives at Bond Street station, March 2013
Crossrail's lead tunnelling machine has arrived at the new Crossrail Bond Street station and has constructed her 2000th tunnel ring as she passes through the first metres of the station.
Tunnelling machine Phyllis has reached the south of the new Bond Street western ticket hall at Davies Street having completed 3.2 kilometres / 2 miles of new tunnels. Phyllis is one of eight tunnelling machines constructing a marathon-equivalent 26 miles / 42 kilometres of tunnels between Royal Oak in west London and Woolwich in southeast London.
The new Crossrail Bond Street station features two new ticket halls at Davies Street and Hanover Square. Around 220,000 passengers a day will pass through the new station, helping boost visitor numbers to the thriving cultural and retail destinations in Oxford Street and the West End. The Bond Street ticket halls will also each feature over-station property developments, helping create new business space, retail opportunities and jobs for Londoners on top of the world-class new transport links being delivered.
Crossrail has excavated two of five levels for the new western ticket hall and will reach tunnel level later this year. Over the next two weeks, tunnelling machine Phyllis will travel 250 metres to the eastern ticket hall at Hanover Square and pass the halfway mark in her journey. There, she will meet a specially made underground chamber where workers will be able to reach the face of the cutterhead for the first time since she began her tunnel journey, allowing maintenance work to take place.
Bringing up the rear is tunnelling machine Ada who will reach the new Bond Street station later in the spring. Both machines will reach Farringdon at the end of the year where they will finish their journey. Collectively Phyllis and Ada have constructed over 5.5 kilometres (3.7 miles) of new rail tunnels. Together with three other tunnelling machines in the east nearly 7 kilometres of the 42 kilometres of new tunnels have been constructed so far on the Crossrail route.
Andy Mitchell, Crossrail Programme Director said: "Phyllis' arrival at Bond Street is a significant milestone for Crossrail and within the next few weeks she will mark the half way point in her tunnel journey. When completed Crossrail will provide essential new links and additional transport capacity with an extra 1.5 million people able to reach Oxford Street within 45 minutes. These transport improvements together with the new commercial space created above the station will help boost the West End's position as a thriving cultural and retail destination."
Bond Street station will be a major central London interchange connecting with London Underground services on the Central and Jubilee lines. Transport for London is also undertaking upgrades to the existing station, building a new station entrance on Marylebone Lane, on the north side of Oxford Street, leading to a new ticket hall. New escalators and lifts will be installed to provide step-free access between street and platform level.
Related organisations
Related people