Major improvement work for the West Coast Main line at Watford
Major improvement work on the West Coast Main Line at Watford will get underway in 2014…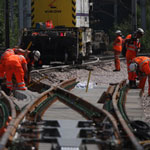 Major improvement work on the West Coast Main Line at Watford will get underway in 2014 to improve the punctuality of train services on Britain's busiest mixed-use railway line.
The £81m improvement scheme begins in May 2014 and continues over 16 days between 9-25 August 2014. Further work is also scheduled to take place over Christmas 2014 and in early 2015.
During the project, passenger trains will be unable to use a 12-mile section of the West Coast Main Line around Watford Junction station. Train operators will be making alternative arrangements to help passengers complete their journeys during the line closure.
Dyan Crowther, Network Rail route managing director, said: "This scheme represents significant investment in the southern end of the West Coast Main Line to improve punctuality and make the railway more reliable.
"This line has seen tremendous growth in traffic and passengers over the last five years with the section at Watford being one of the most intensively used, high-speed sections of track in the UK. This work is absolutely essential to maintain the punctuality that passengers and our freight customers rightly expect."
Usually, Network Rail would have carried out work of this kind over a number of weekends, requiring train services to be replaced repeatedly by alternative transport. The work at Watford would have required 54 complete weekend closures of the line, disrupting passengers for well over a year. By carrying out the work in five longer closures, engineers expect to be able to install the new signalling, replace track and junctions earlier and avoid disrupting rail travel plans for a large number of weekends throughout 2014 and 2015.
Dyan Crowther continued: "There is never a good time to carry out major work on such a busy route. However, after careful discussion with the train operators and industry partners, it became apparent that carrying out this vital investment over five longer closures between May 2014 and Easter 2015 when fewer people travel would, overall, cause less disruption."
During the project, the signalling at Watford will be upgraded alongside new junctions and track to provide more flexibility for train services and better reliability.
To enable the work to be completed, trains will be unable to run on the West Coast Main Line through Watford on the following dates from May 2014:
3-5 May 2014
8-25 August 2014
25-29 December 2014
14-22 February 2015
3-6 April 2015
Chris Gibb, chief operating officer for Virgin Trains, said: "We shall ensure that all customers have a reliable way of travelling to and from London principally by being able to use other train operators' services but in some cases by taking a replacement coach service for a short portion of the journey. We are starting a dialogue now with industry partners that puts the customer first, but at the same time allows Network Rail to carry out this essential work."
Patrick Verwer, London Midland managing director, added: "We want our customers to have good journeys with minimum disruption. This is much needed investment and a series of closures is the quickest way of bringing the benefits of this major upgrade to our passengers. It gives certainty and allows us to plan good quality alternative travel arrangements. We are now working closely with Network Rail and other industry partners to ensure that there is a comprehensive programme of communication with good passenger information available well ahead of and during the closures. It's vital that passengers are aware of what's going on so they can plan their journeys and allow enough time to get to their destinations."
The work at Watford is in addition to the £40m of investment announced by Network Rail last month to improve performance on the southern end of the West Coast Main Line through a programme of work aimed at tackling the most common cause of delay.
Alongside this project, Network Rail intends to increase the line speed of the fast lines through Watford to 125mph, from the current 80mph, and is investigating the feasibility of this.
Related organisations
Related people