Four Vectron locomotives for boxXpress
BoxXpress has placed an order with Siemens to supply four Vectron AC locomotives which will be handed over at the Siemens locomotive works in Munich-Allach…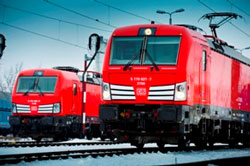 Vectron at DB Schenker Rail Polska
BoxXpress has placed an order with Siemens to supply four Vectron AC locomotives. The locomotives will be handed over to the customer this year at the Siemens locomotive works in Munich-Allach. Siemens will also perform the full service for the vehicles.
The ordered locomotives are planned for deployment in cross-border services between Germany and Austria. Alongside national train protection systems, all the vehicles will also be equipped with the European Train Control System (ETCS). The locomotives have a maximum power output of 6,400 kW and a top speed of 160 km/h. The decisive factors for placing the order with Siemens were the good experiences had by boxXpress in operating its fleet of Siemens locomotives in terms of performance and reliability as well as the short delivery time.
BoxXpress is one of the leading providers of combined transportation solutions and and transports a total annual container volume of over 700,000 TEUs within German-speaking Europe.
Vectron becomes kilometer millionaire
The Vectron fleet has cleared its first million operating kilometers. Railpool's six Vectron AC locomotives have already covered more than 320,000 kilometers. The four Vectron DC units in Poland, three of which are with DB Schenker Rail Polska, have together racked up approximately 370,000 kilometers. The Scandinavian Vectron AC, currently operating in Sweden, has passed the 120,000 kilometer mark. The remaining kilometers in the million-plus total come from the other locomotives in the series, which are used for test, certification and demonstration runs in many countries.
The components installed in the Vectron models have accumulated even greater operating experience. A power converter platform developed as part of the Vectron program has already been used in several other projects: the 120 Type HLE18/19 locomotives for Belgian National Railways (SNCB/NMBS), for example, feature Vectron MS power converters, the 221 Type 2ES10 double locomotives ordered by Russian Railways (RZD) carry slightly modified Vectron DC power converters and high performance Vectron AC power converters have been fitted to 22 KZ4AC locomotives for Kazakhstan railways.
The power converters being installed in the 70 ACS64 locomotives for Amtrak are also based on the high performance Vectron AC. Vectron power converters have successfully completed over 45 million kilometers equivalent to circling the Earth more than 1,000 times so far in these various applications.